Hi there, friends!
Jorden here, and I'm back with a review of my course, Killer Cold Emailing, from another amazing student. 🙂
Today, we're talking to Kat, a successful freelance writer in the health niche!
If you missed the other KCE student reviews, you can check those out right here:
And if you're READY to learn cold emailing so you can grow a writing business and increase your freedom…
Click here to learn more about Killer Cold Emailing and enroll!
Now, let's talk to Kat about her experience with the course.
Killer Cold Emailing

Review: How Health Writer Kat 4x'ed Her Income!
1. Tell us a little about yourself and your business! 
Hi! My name is Kat.
I started writing health content online back in 2013 partly for fun and partly to promote my health coaching business I was running at the time. After some time people started reaching out to me to write for them. I had no idea that you can make money from writing and was happy for the extra cash.
Eventually, I learned that freelance writing was a 'thing', and started looking into it more. I got some clients from ProBlogger and Facebook groups, and also convinced one of the sites I was contributing for free to pay me, but always avoided Upwork and content mills.
I was looking at writing as a 'side-gig' for quite a while, but when I decided to make it my full-time work, everything fell into place within a month.
Though I was full-time, I had too many short-term gigs, and I wasn't completely happy with my pay either.
Deep inside I knew I could earn more and have more ideal clients!
Changing my mindset was key, and I also realized that I had to raise my fees.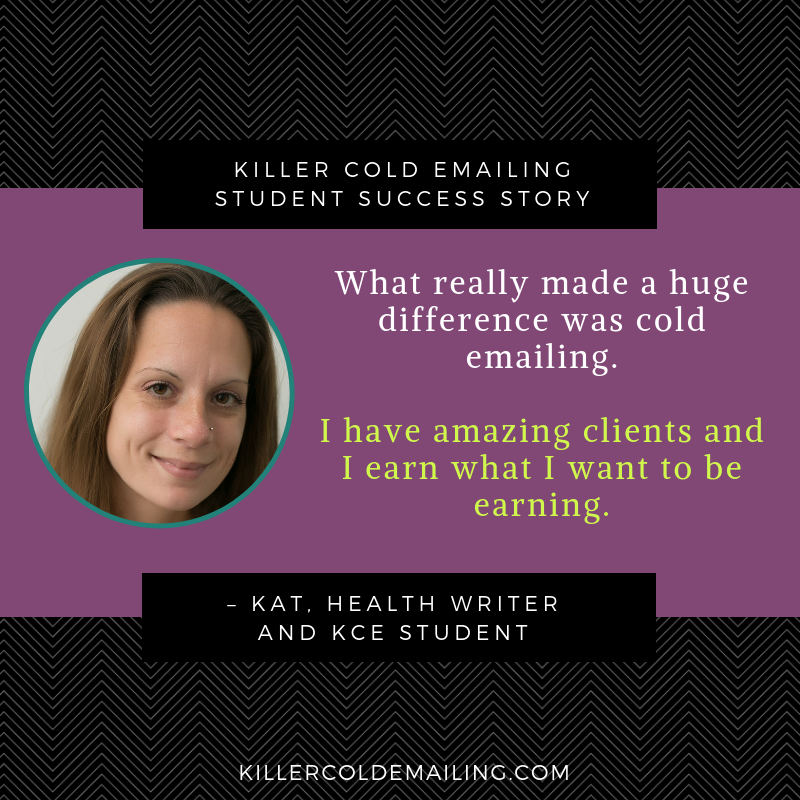 However, what really made a huge difference was cold emailing.
I have amazing clients and I earn what I want to be earning.
I can organize my life around my work, instead of the other way around. I can take my work anywhere with me – which is key for any lifelong traveler and nomad, like myself.
All thanks to cold emailing and some mindset shifts!
If you want to say hi, check out my website: https://www.nobsfreelancer.com/
Visit my Facebook: https://www.facebook.com/katgalwriter/
You can find my email, Linkedin, and other fun info on these pages.
Be sure to say hi, I love meeting other writers!!!
2. What is your niche / what kinds of clients do you work with?
I'm a health writer.
I work with functional and holistic doctors, as well as holistic health and nutrition brands.
I mostly write long-form blog posts and ebooks.
3. What problems were you facing in your business that prompted you to join the

Killer Cold Emailing

course? Why did you decide to join?
I knew I could do more, earn more, and have more long-term clients. I just wasn't sure how.
When I first heard about cold-emailing, I said:
"Absolutely NO freaking way I would EVER do that!"
Slowly I got interested and realized that it may be the right way to go.
I had nothing to lose, however, I wanted to do it right from the beginning.
I was hoping that the course would give me all the information I need and a structure to follow.
It did!
4. Did you have any hesitations about joining the

Killer Cold Emailing course

? If so, what were they?
Yes. Obviously, it is a big financial investment, and I don't like wasting money.
I was afraid that I wouldn't get much out of the course and would leave disappointed.
I decided to trust you, and I'm so glad I did! 
5. What results have you seen since implementing what you learned in

Killer Cold Emailing?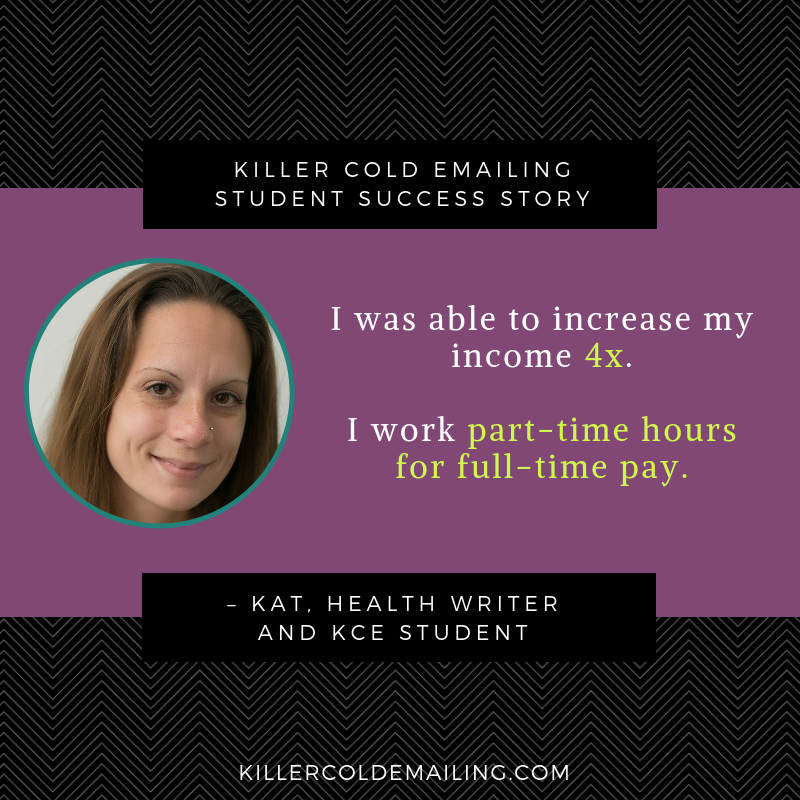 I was able to increase my income 4x.
I work part-time hours for full-time pay.
It's more than the money though!
I was also able to stop working with some clients I didn't like and take on short-term or one-off projects. I work with some amazing long-term clients who give me regular work.
6. How long did it take you to see those results?
I think it took me maybe a month to get my first cold emailing client. 
7. What would be the main reason(s) you'd recommend this course to other freelance writers?
The course has all the information that you need if you are new to cold emailing or new to freelance writing in general.
It provides a great structure and saves you time by giving you everything you need in one package.
There are fantastic examples and templates to follow.
If you still don't have a niche, the course gives you a good strategy on how to pick a profitable niche.
The Facebook group is super supportive as well if you are looking for a small community of writers and other cold email newbies.
8. Is there anything else you'd like to add?
Believe in yourself and don't give up!
Remember, this is not a competition, so stop comparing yourself to other writers.
If you are hesitant about cold emailing, don't be. I was skeptical at first and cringed from the idea of it.
Now, I can't shut up about it! 
Do YOU want to be the next

Killer Cold Emailing

success story?
If YOU want to be the next freelance writing success story, you NEED to learn cold emailing.
…And you can do that inside my course, even if you're a total beginner who has no portfolio and has never written professionally before!
Click here to learn more about Killer Cold Emailing and enroll so you can put yourself on the path to the career you want and the freedom you deserve.
See you inside the course! 🙂