The ONLY class you need to learn how you can make
$1,000 freelance writing in 45 days

–– with ZERO experience!

"Take this free class on how to make your first $1,000 freelance writing – which is the class I used to land my first quality client!"
Kaleena S., Freelance Copywriter
Enjoyed by over 13,000 writers! Get instant access for free. No spam – ever.
How a Broke, Clueless College Dropout Grew a $5,000/mo Writing Business in 4 Months!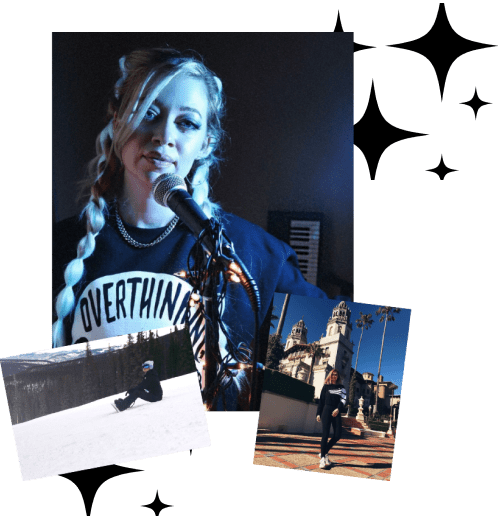 I spent my early 20's wasting my time and potential at a miserable dead-end job:
Working in technical support at a call center.
Fast-forward to today, and I've built an incredible online business that has allowed me to travel full-time, retire my spouse, and gain all the financial and time freedom I always wanted.
If I can do it, you can too! Click below to read my story and learn how I had my first $5,000 freelance writing in just 4 months after I unexpectedly lost my job!
Get your step-by-step freelance writing plan for when shit hits the fan.
Find your #1 problem below, and I'll give you the solution. All you've gotta do is click and take action.
(PSST! For best results, click just ONE of the buttons above and focus on that one thing. Make sure to follow the steps in order!)
My incredible students are living proof that you can write for a living, even if you're a total beginner with no experience!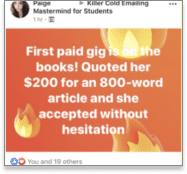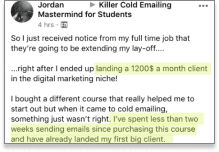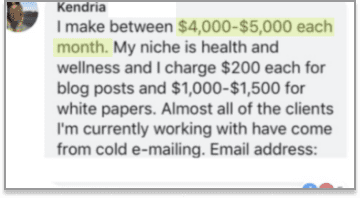 You don't need a college degree, an impressive work history, or any experience to make a damn good living as a freelance copywriter.
…You just need the GUTS to go all in on your dream, even when you're scared shitless.
Take action now by joining my top
free masterclass on how to make $1,000 freelance writing in 45 days

or less –– with NO experience!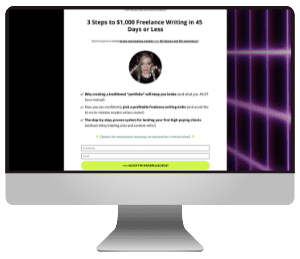 (Like, seriously… don't waste a SINGLE SECOND LONGER settling for anything less than your dream life. Start NOW.)
Wanna learn how you can get freelance writing clients, become a better copywriter, and lots more?
Ummm… Why are you still scrolling? It's time to take action and grow your freelance writing business!
Take the first step now by joining our supportive community via the free weekly newsletter –– full of inspiring stories, freelance writing tutorials, writing jobs, and lots more.