If you've been around here a while, you know I'm OBSESSED with cold pitching as a method for landing freelance writing clients.
Like, OBSESSED obsessed.
Because I know it works.
I've seen cold pitching work WONDERS for my own business (I made $800 my first month cold pitching which laid the foundation for me making $5,000/mo by my 4th month as a freelance writer!).
Aaaaand I've seen it work wonders for so many of my amazing students, including Krystal Crawford, a medical writer and Killer Cold Emailing course student!
She used the course to land new clients within JUST TWO WEEKS from cold emailing AND LinkedIn (another one of my favorite marketing strategies and something you'll learn about in the Killer Cold Emailing course!).
So, let's talk to Krystal about her experience with her course and how she grew her business.
Cold Pitching Success Story: How Krystal Made $3,600 Freelance Writing in Two Weeks After Enrolling in Killer Cold Emailing!
1. Hi Krystal! Tell us a bit about you and your freelance writing business.
I am a Naturopathic Doctor, Formulation Chemist, and Medical Writer.
I schedule naturopathic and dietary recommendations for my clients 30% of the time, but the other 70% I am writing case studies, white papers, supplement and personal care formulations, blog posts, and regulatory and medical device documents. I am well-versed in formulation legal standards in both Europe and the US.
drcrawfordndms.com
https://www.linkedin.com/in/dr-krystal-crawford-nd-ms-rh-7a19a3163/
2. What is your niche / what kinds of clients do you work with?
Regulatory Medical Writing with sub niches in naturopathic medicine, regulatory clinical trials, chemical formulations and biostatistical analysis for pharmaceutical drugs and medical devices.
I work with clients from pharmaceutical industries, hospitals, medical schools, and nutraceutical manufacturing companies.
I've developed hair and skin formulations for cosmetologists or revised current formulations for seasoned skin and hair care companies.
3. What problems were you facing in your business that prompted you to join the Killer Cold Emailing course? Why did you decide to join?
I have tried cold-emailing in the past but had zero success.
I would cold-call companies, but sometimes I wasn't able to call the companies I wanted due to the request of wanting to be contacted via email.
I wanted to give cold-emailing another try, but this time, to see what was wrong with my strategy where I wasn't getting responses.
I was a member of the Writing Revolters Facebook group and read all the positive feedback of the course so decided to give it a try. I wanted to see for myself if her course could help me figure out what to do when it comes to my cold-emailing strategy to attracting clients. 
4. Did you have any hesitations about joining the Killer Cold Emailing course? If so, what were they?
I was hesitant to enroll in the course at first because I've enrolled in two previous cold-emailing courses and used their templates and strategies.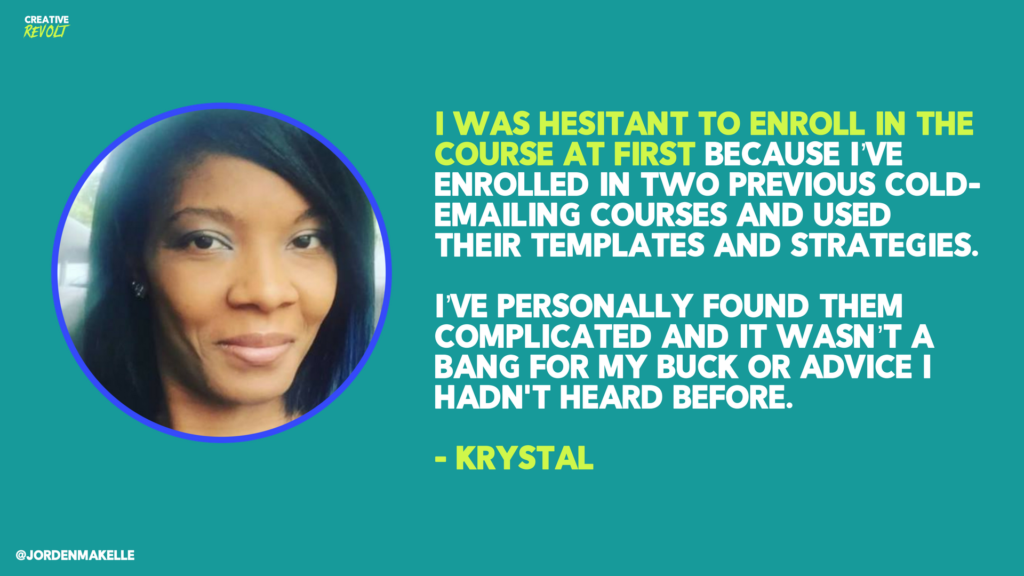 I've personally found them complicated and it wasn't a bang for my buck or advice I haven't heard before. I thought this was just another cold-emailing course with little substance like the previous courses.
However, after reading the positive reviews (I didn't see many from the previous courses) from the Facebook group, I decided to enroll.
5. What results have you seen since implementing what you learned in

Killer Cold Emailing

?
After changing my cold-emailing strategy and Linkedln profile, I was able to attract and write for three high-paying clients all over $1,200 for each project the second week since enrolling in the course.
As compared to previously having zero or one client response (usually stating my services were not needed) to 6-8 clients a week responding and at least 4 wanting me to write for their company. That is a major improvement!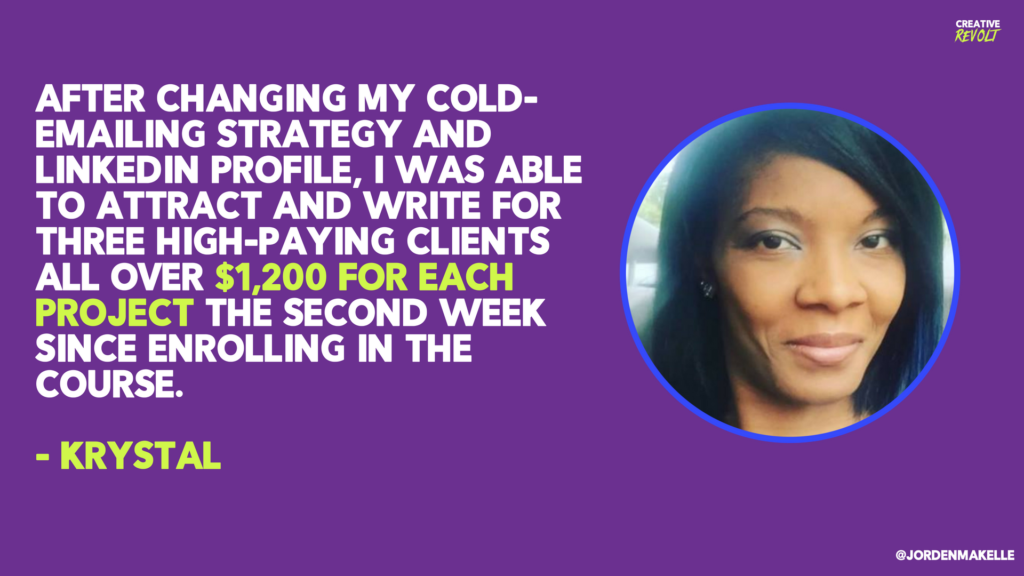 6. How long did it take you to see those results?
Two weeks.
7. What would be the main reason(s) you'd recommend this course to other freelance writers?
With an overwhelming amount of courses and advice out there, it's hard to determine what really works especially for new writers. This leaves you frustrated and confused.
This course was realistic, helpful, and Jorden does an excellent job breaking down every strategy and why it works.
She has addressed every strategy of attracting clients so you are not limited to only cold-emailing. You are given valuable tools on how to pick a profitable niche, how to better utilize your Linkedln, have an attractive website, improving your client calling skills and much more.
I wish I knew about this course when I first started out as a freelance writer. I was able to attract high-paying clients quicker than what I have done previously.
8. Is there anything else you'd like to add?
I highly-recommend this course, not only for newbie writers but for seasoned professionals as well who want to brush up on specific strategies to attracting clients.
Do YOU want to be the next cold pitching success story? My bestselling course, Killer Cold Emailing, is now available!
This course bundle is your step-by-step process for creating a full-time freelance writing business.
Enroll, and you'll discover the EXACT marketing methods I used to make my first $1,000 (and beyond!) as a freelance writer!
Click here to learn more about Killer Cold Emailing, and enroll so you can learn how to pitch your way to your first $1,000 and become a full-time freelance writer this year
See you inside the course. 🙂