If you're just getting started as a freelance writer, the #1 question you're probably asking yourself is:
Where the heck am I supposed to find freelance writing jobs? 
Well, my friend…
By asking yourself that question, you've made a small (but critical!) mistake.
Why?
Because if you're looking for "jobs," you have an employee mindset.
In other words, you don't see yourself as a business owner who works together with clients toward a common goal.
Instead, you see yourself as just another employee.
Someone who does what they're told.
Someone who accepts whatever pay they can get.
Someone who doesn't feel like they have the power to negotiate or work on their own terms.
…Cut that shit out, okay?
And I mean that in the most loving way possible.
Because your employee mindset is stopping you from getting to the next level as a freelance writer, and it's time for that to change.
Allow me to help by giving you the swift ass-kicking you need to start seeing yourself as an entrepreneur – not an employee.
Here's the mindset shift:
You need to stop looking for freelance writing jobs, and start looking for clients.
(If you aren't sure how, enroll in my free class that has already helped over 7,000 writers JUST LIKE YOU learn how to make their first $1,000 WITHOUT Upwork and content mills!) Seriously.
Seriously…
Stop spending 100% of your marketing efforts applying for freelance writing jobs.
You can win clients on your own terms – even if you're just starting out.
It's not super easy, but it's also not as difficult as you think.
Try one of these client-snagging methods:
Cold emailing. What's your niche? Figure that out, create a website that positions your niche expertise, and start sending out cold emails to your target clients. This method WORKS, and if you don't believe it, read this blog post about 6 freelance writers who grew their business like crazy with cold emailing.
Reaching out to your network. Think about it – do you have a family member, friend, or past employer who might want to work with you or give you a referral? Chances are, you do.
Making the most of social media. LinkedIn has been one of my biggest sources of freelance writing work. Optimizing my profile for certain keywords has allowed me to attract my target clients like crazy. Find out more on that here.
SEO-ing the shit out of your website. My freelance writer website is optimized for local SEO. I currently rank #1 for the keyword I'm targeting, and organic search is my #1 source of traffic to my freelance writer website. So if you aren't using SEO on your site right now, get to work!
Now, I'm not telling you all job boards are bad.
And I'm not saying that total newbies should avoid job boards at all costs.
I mean, if I were saying that, I'd be a huge hypocrite. I've found some amazing high-paying clients from the ProBlogger Job Board.
But I have never used job boards as my sole source of clients, and I have never used them as a way to avoid marketing my business independently or cold emailing (the #1 way to get clients as a beginner). 
You shouldn't either.
And when you DO apply for freelance writing jobs, be picky.
You want to avoid red flags like:
"Pay is based on traffic."
"Has the potential to pay when our business starts making money" (because really, WTF)
Anything that implies the client is going to treat you like an employee
Again, don't use job boards as a crutch.
Market yourself independently so you can land your own clients. 
Related: Free class – 3 Simple Steps to Making $1,000 Freelance Writing in 45 Days (Even as a Total Beginner!)
How to Make The Mindset Shift from "Freelance Writing Jobs" to Freelance Writing Clients!
Realize that you are running a business and OWN it.
When people ask you what you do for a living, don't just say "I'm a freelancer" or "I'm a writer."
Because let's face it – that's pretty much just another way to say "I'm struggling." (Even if you actually AREN'T struggling!)
Instead, say something like this:
"I own a copywriting business where I help technology companies win more customers."
(In this example, you're a freelance technology copywriter.)
See how that works?
You position yourself as a business owner, mention your target clients, and talk about how you help them.
Not only will this help you get the respect you deserve from others – it'll help you change your own mindset about what you do.
Be professional.
You're not an employee anymore.
So, stop thinking it's "okay" to miss deadlines just because that worked out fine for you at your 9-to-5.
Stop trying to manage your projects with a clusterfuck of Google Docs and spreadsheets.
Stop letting yourself get away with sleeping in until 2PM every day and working "whenever" (because if you're anything like me, sleeping in every day would totally ruin your productivity).
Don't get me wrong, though.
Being professional doesn't mean that you have to be boring or hide your personality.
And it doesn't mean you can't create your own schedule or build the life/business you want.
It just means you have to treat people right, run your business like a business, and respect clients the way you want to be respected.
Invest in yourself
When I first started freelance writing, I paid for Basecamp (my favorite project management app) right away.
I also paid for hosting (Bluehost) so I could set up a professional-looking WordPress website for myself.
And you know what?
I was broke as shit at the time.
I had just been fired from my 9-to-5 job, and my husband's contract ended that same day.
Just a few days before all this happened, I had some pretty scary medical issues come up, so I knew I'd need to set aside some money for that too.
But I didn't let any of that hold me back from investing in myself.
Because know that successful entrepreneurs don't just look at the price tag of something – they think about the return they're going to get on their investment.
I knew that having a professional website + a project management system would allow me to attract and retain high-paying clients.
The decision was as simple as that.
So, don't sit there thinking:
I don't want to invest in my business until it's already making a lot of money.
Because that isn't how it works.
Related reading: How I Built a $5K/mo Freelance Writing Business in 4 Months (Month-by-month breakdown!)
Stop letting clients push you around.
If you've been freelancing for a while, I bet you've dealt with all kinds of difficult clients.
Clients who say your rates are way too high (when that really isn't the case).
Clients who think it's okay to call you any time they want to (2AM? No problem!).
Clients who increase the scope of the project without understanding that they need to pay you more.
And before long, you're stuck in a toxic business relationship like this one:
And while you might not literally get your head bashed in with a barbed-wire-covered baseball bat, you will start to feel anxious non-stop.
You'll feel like you need to comply with whatever your clients want – even though it's actually terrible for your own well-being and your business.
Because an employee/employer relationship causes you to make fear-based decisions about your business.
And fear-based decisions keep you broke and miserable.
Sounds dramatic, but it's true.
Don't think that it has to be that way.
It's your responsibility to set the right expectations with clients.
They should know it's not okay to expect you to work weekends or call you at 9PM on a Wednesday or whatever other crazy thing they're doing.
And hey, if you have a client who insists on being difficult, market your business until you find a new client who can replace them.
Never stop learning and improving.
At a typical day job, you can get away with sticking to what you know.
You don't really need to soak up new knowledge all of the time because you end up doing the same shit every day.
That's not the case when you have a freelance writing business.
You should always strive to improve – and I'm not just talking about your writing.
I'm talking about your business too.
For example, you might set a goal to re-design your freelance writer website based on some web design research you discovered.
Or you might decide to get your name out there by writing a set number of guest blog posts.
Be strategic, and learn/improve based on what you want your business to look like in the future.
Because the last thing you want to do is stagnate.
See yourself as equal to your clients.
If you're marketing yourself the right way, your clients will view you as an expert.
An equal who can help them reach a business goal.
On the flipside, if you're not marketing yourself correctly, your clients will see you as someone they can boss around.
An employee who is simply doing a "job" for them.
So, how can you market yourself correctly?
Well, the first step is to pick a profitable freelance writing niche and market your expertise.
You also need to see every client relationship as two business owners working together toward a common goal.
Viewing yourself as equal to your clients changes everything about the way you market yourself and collaborate.
(That being said, don't be a dick or argue with clients for no reason. Know your shit if you're going to dish out advice, okay?)
What's stopping you from going after your own clients rather than applying for freelance writing jobs?
Seriously – I want to know.
Throw your answer down in the comments section.
And if you want help marketing yourself independently, I have an AMAZING free class to help you get started!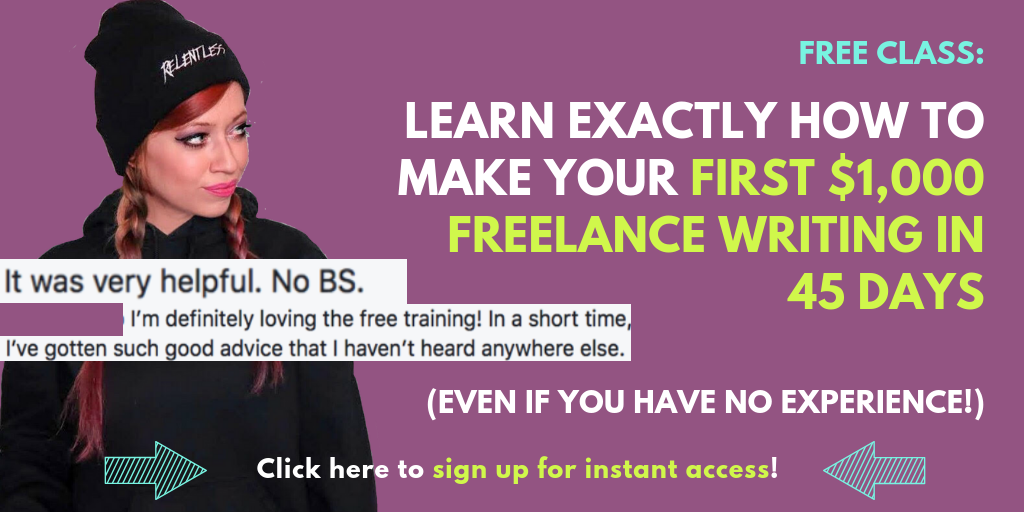 Click here to join over 7,000 writers in the class now. You can seriously sign up for free and get instant access right now! 🙂
Will today finally be the day you get your shit together and go after your own freelance writing clients?
I hope so.
Because if you're going to build a freelance writing business, you might as well do it on your own terms.