When I started out trying to land freelance writing clients using LinkedIn, I was broke, clueless, and had just been fired from my full-time job.
…So I guess you could say that my confidence wasn't EXACTLY at an all-time high. 🙂
I had spent a lot of time at my previous job researching how to get freelance writing clients as a beginner.
But frankly, I couldn't find much info online that would work for me.
See, I knew cold emailing and pitching were necessary, but I also wanted to find a marketing method that would easily attract clients to ME – no pitching required.
? ENTER LINKEDIN. ?
After a bit of experimenting and lots of trial and error (because tbh, the LinkedIn tips I found elsewhere online were basically useless fluff), I found a "set it and forget it" way to use LinkedIn to attract amazing and high-paying clients, almost like magic.
And because of this method – the exact one you're about to learn – I ended up landing over $10,000 in freelance writing work from LinkedIn.
WITHOUT pitching.
And this happened though I was an inexperienced college dropout.
…To be clear, I'm a HUGE advocate for pitching and cold emailing, and I always will be.
Pitching is a necessary skill if you want to become a successful writer.
BUT:
At some point, you'll also want to make sure you can get high-paying freelance writing clients coming to you on autopilot.
As a beginner freelance writer, I got more website traffic and freelance writing clients from LinkedIn than from any other social media site. BY FAR.
And that's exactly the following LinkedIn strategy is going to allow you to do too!
So today, I want to share the exact method I used to get clients from LinkedIn as a newbie freelance writer with no connections and no college degree.
That way, you can turn your LinkedIn profile into a client-generating machine.
That's right — use LinkedIn the right way, and you'll get to the point where you won't even have to pitch tons of potential clients.
They'll be the ones reaching out to you.
Let's get started.
Step 1: Pick a freelance writing niche, and make it your bitch.
That's right. Before you ever even THINK about using LinkedIn, you need a niche.
…AKA your area of speciality as a freelance writer.
You can niche down one of 3 ways:
By industry – "Finance Writer"
By content type – "Case Study Writer"
By industry AND content type – "Finance Case Study Writer"
So pick one, and go with it.
And most of all…
DO NOT months agonizing over which niche to choose.
Just fucking pick, and run with it.
You don't need work experience in an industry to write about it and make it your niche.
And I'm not just saying that – I've written about education technology and real estate with ZERO formal experience in either!
The most important thing is, again, that you just fucking choose something and don't waste time.
You can always change your writing niche later, and it's much better to hit the ground running and learn from mistakes than it is to sit around procrastinating out of fear and end up never actually taking action.
Now, if you're already so overwhelmed by the whole "niche" things that you're considering entering the fetal position and giving up on freelance writing completely…
STOP, BREATHE, and read this in-depth blog post on how to pick a profitable freelance writing niche.
Then, pick something.
Doesn't have to be the perfect niche or the one you're committed to writing in forever.
Just has to be a niche.
So tell your fears about this decision to kick rocks, decide on something, and then move on to step 2.
Remember:
Picking a niche is ABSOLUTELY CRITICAL to your success on LinkedIn (and as a freelance writer in general!), so do NOT skip this step and then email me saying LinkedIn isn't working for you.
Because I WILL (lovingly) call you out. 🙂
Step 2: Fill out your LinkedIn profile in a way that'll have your ideal freelance writing clients dying to work with you.
Here's something you aren't going to like, but I'm going to tell you anyway because it'll hugely benefit you:
You can be the BEST DAMN WRITER on the planet, but if you can't MARKET yourself, you'll fail miserably.
…Meanwhile, you'll see ol' Joe Schmo rollin' in the dough.
(Aw, look at me, unintentionally writing beautiful poetry in my blog posts and shit. YOU'RE SO WELCOME.)
Yes, Joe Schmo, the mediocre writer, will make more money than you, even though you're a much better writer, because he actually took the time to learn marketing.
So, my friend:
Realize that you're going to have to learn how to *GASP* SELL your writing services.
And that especially applies on LinkedIn.
So let's talk about how to optimize your headline and your summary so YOU can start attracting clients.
This is the little blurb next to your lovely face on your LinkedIn profile, where most people simply have their job title and the company they work for.
But if you want to get freelance writing clients on LinkedIn, you've got to do something different.
More specifically, you need to make your niche crystal fucking clear in your headline.
This is the #1 most important thing you'll do to get discovered on LinkedIn.
So make a list of keywords related to your niche (B2B, Realtors, Real Estate, Finance, etc.).
Then, put those in your headline in the most search-friendly way possible!
You can see exactly how I did it in a way that landed me tons of clients in this free LinkedIn profile cheat sheet.
Click here to download the free LinkedIn profile cheat sheet with screenshots from my client-winning LinkedIn profile.
You'll thank me later. 🙂
Now, moving right along, let's answer this question:
WHAT exactly is the reason you need to optimize your LinkedIn profile for niche keywords?
Well, because…
Your potential clients are using LinkedIn like a SEARCH ENGINE.
That's right – they're getting tasked by their boss to "find a writer to write (type of content) about (topic/industry)."
And then they're logging into LinkedIn and using search terms related to that *specific* type of content and the *specific* industry they work in.
You wanna pop up when business folks search for writers?
Then you better have a CLEAR NICHE, and you better have niche keywords in your headline and the rest of your LinkedIn profile, including…
YOUR LINKEDIN SUMMARY SECTION:
Let's start by pointing out what you should NEVER, EVER say in your LinkedIn summary (or anywhere in your profile, for that matter):
❌"I am a highly motivated and skilled freelance writer who creates content for B2B and B2C businesses." ❌
Yawn. I'm bored.
…And so are your potential clients.
Seriously.
A LinkedIn summary written like the above blurb wouldn't sell writing services to even the most desperate client on the planet.

So, I've gotta ask…
Does your LinkedIn summary look similar to that?
Does it read like a boring, jargon-filled resume summary?
If so, don't sweat it – we all start somewhere.
At the beginning of my career, my LinkedIn profile was probably about as appealing to potential clients as the thought of jumping into a pile of barbed wire (ouch).
But right now, you need to do better than that, so it's time for you to make some changes that will have clients reaching out to you like crazy.
Here's why the LinkedIn summary example above doesn't work and what you can do to fix it:
MISTAKE #1: Words like "motivated" and "skilled" and "creative" don't mean shit. The thing about a generic adjective like "skilled" is that any random writer can use it, even if it's not true. So, those kinds of adjectives are pretty much meaningless to potential clients. If you're truly "skilled," then show proof that you're skilled – I don't know, maybe by actually having a well-written profile and writing portfolio!
MISTAKE #2: You haven't stated a niche

. Okay… so you kinda stated a niche when you said "B2B and B2C." But wait… isn't that pretty much every single business ever? Yeah, it is, and therefore it isn't really a niche at all. If you're starting out, I suggest going very niche.  For example, when I started out, I didn't just specialize in B2B content – I specialized in writing B2B content for IT service providers. Having that small, weird niche helped me land more clients than I'd have ever been able to otherwise because it positioned me as the go-to person for IT content.

NICHE THE FUCK DOWN, FOLKS!
MISTAKE #3: You aren't telling the client why they should be DYING to work with you (and pay you well!). Put yourself in a client's shoes, and think about their goals and pain points. How can you help them overcome their challenges and reach their goals with your freelance writing services?

Clients don't give a baboon's butthole about your jargon and how much you love writing.

They only want to know how you can help THEM and grow their business.
Make sure you include keywords in your summary section too.
Of course, you never, EVER want to stuff a bunch of keywords in there just for the sake of it.
Key words should always fit naturally.
For example, my brother is a web developer, so I helped him optimize his LinkedIn profile for that.
We started out by getting CLEAR on what specialties his prospective employers (yes, he was looking for a job and not freelance clients – the process is the same!) were looking for.
Like, literally, what would they be searching on LinkedIn?
Then, we put those keywords throughout his profile, still making it look like it was written for humans and breaking up the text so it was easy to read.
And, like magic, he started getting shit-tons of recruiters reaching out to him using this simple process.
Even though he was just out of college and didn't have much experience.
So again…
You MUST think of LinkedIn like a search engine potential clients use to find writers.
What are they typing in the search box when they look for a writer like you?
Use your answer to guide your decisions about the key words you use.
If you want to take a peek at exactly what I made my LinkedIn profile look like to land clients, click right here for a free LinkedIn profile cheat sheet.
And if you only take one thing away from this entire blog post, let it be this:
If you write your summary like a resume, clients will treat you like their employee.
If you write it like an expert business owner, they'll treat you like an expert business owner.
Tip #1 in this cheat sheet is something I never saw elsewhere online, but I thankfully tried it anyway and I KNOW it helped me a TON as far as landing clients on LinkedIn.
So definitely grab the cheat sheet before you leave this blog post!
The extra effort you put into positioning yourself in an enticing way will make all the difference for your business.
PSST! Wanna learn the 3-step process for making your first $1,000 freelance writing in 45 days or less? Click right here to join over 7,000 writers in my FREE class on how to get high-paying clients as a BEGINNER! 🙂
Now, you could stop right here at Step 2, and I'm confident you'd start attracting clients to your profile.
BUT… let's take it a bit further to give you the absolute best chance of getting paid freelance writing work from LinkedIn, and I'll share some other methods that have worked great for me.
Step #3: Start adding potential clients and interacting with them.
When I say "potential clients," I don't mean every single content marketing manager ever.
I specifically mean potential clients who are likely to hire you based on your niche.
For example, let's say you specialize in writing B2B blog content for IT service providers.
You'd want to start researching on LinkedIn to find IT service providers and looking for the specific people at those companies in charge of content marketing, like:
Marketing managers at IT service provider businesses
Content marketing managers at IT service provider businesses
Head copywriters at IT service provider businesses
You get the picture. Basically, this is YOUR time to use LinkedIn like a search engine for potential clients!
Now, it's important that you've optimized your profile before you start connecting with ideal clients. ✔️✔️
When those clients check out your profile, they should be able to tell right away that you specialize in their industry.
You should also have a link to your professional, niche optimized writing portfolio website in your LinkedIn profile. This is absolutely key to landing clients!

Once you have this set up, BOOM – you can start connecting and you're on a potential client's radar as a writer who knows their shit.
From there, you can start interacting with their posts by liking, commenting, or sharing.
The point of all this is to build a relationship with the potential client and stay on their radar.
That way, you're the first person who comes to mind next time they need a niche writer like you.
And later on, when you cold email them, they'll recognize who you are! You can use your LinkedIn connection with them as a way to build rapport in your cold email, which is exactly what I teach in my best-selling Killer Cold Emailing course.
A word of warning:
Don't be spammy when you're adding connections.
Personalize each message, keep it short, and NEVER, EVER PITCH SOMEONE IN YOUR CONNECTION REQUEST.
Yes, I'm yelling at you in all caps.
… BUT only because I care and want to save you from the inevitable embarrassment of pitching in a connection request. 🙂
Step #4: Use LinkedIn Publisher to establish your authority.
Once you've added your potential clients as connections, you can publish a few posts using LinkedIn Publisher that make *those specific clients* want to work with you.
Not sure what I mean?
Let me show you a couple of the posts I published to LinkedIn after I added some of the IT service providers I wanted to work with: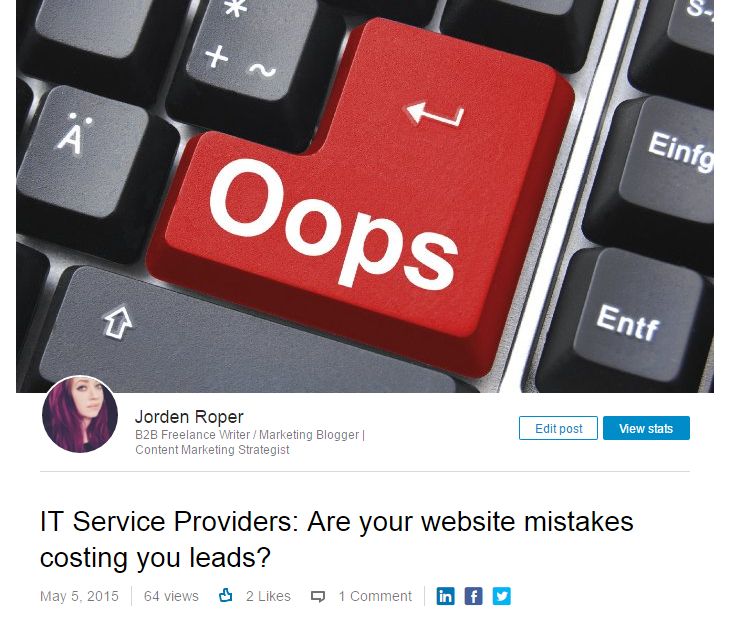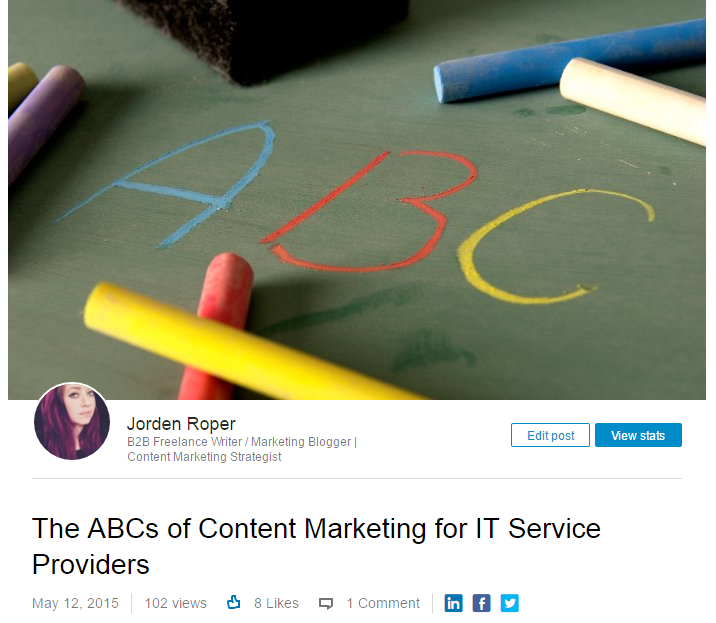 Now, first of all, let's look at the seemingly shitty results I got from those posts.
Very few views, likes, or comments.
But guess what?
The few people who did interact with my posts are the ones who mattered.
Several people reached out to me after seeing me show my **IT marketing expertise** in these posts.
…That's the power of the NICHE, my friend!
By writing about content marketing specifically for IT service providers, I established my authority on that topic, and I knew that anyone who read the post was likely interested in improving their content marketing.
In other words, they were interested in hiring someone exactly like me – an IT/Tech writer.
So, think about who your ideal client is and how you can show off your expertise in a LinkedIn post.
And, most importantly, write a persuasive, specific, RELEVANT headline that will make your target clients (based on your niche) stop scrolling and read.
For example, if you write blog content for realtors, write a post called "X Ways Realtors Can Use Blog Content To Win More Business" or something along those lines.
The more specific you are, the easier it will be for you to attract new clients.
Now, some of you are probably thinking this:
Heeeeeellll no. I'm not going to do this because it means I have to write for free.
I kinda don't blame you.
If you're already swamped with high-paying client work, you might not want to use this strategy.
But at the same time, if you really need clients, how else are you going to spend your time?
Digging through Craigslist and Upwork for clients who pay $1 for 1000 words?
Posting on Instagram for a few measly likes that never turn into actual client work?
Sharing your work on Facebook to your audience of your mom and grandma?
LOL, no.
…Not if you want to actually land paid work, at least.
Do the frickin' work (like this!), and start landing clients.
Want to get more bang for your buck (er, time) out of your LinkedIn Publisher blog posts?
Publish the original post on your niche-optimized freelance writer website first.
Then, repost it using LinkedIn Publisher with a few minor changes, and include a link to your site at the top, like this:

That way, you can drive traffic back to your site and keep your blog updated with fresh content for your target clients.
Step #5: Start reaching out to your ideal clients. (An optional, but also highly encouraged, step!)
After you've built a presence on LinkedIn (even a small presence!), it's time to start sending out cold emails.
In case you're asking yourself, "What the F is a cold email and – oh God, do I REALLY have to learn how to pitch and sell my writing?"
Yes, you do have to learn how to pitch/cold email and sell.
Otherwise, you're just another good writer who ends up being broke as shit.
Now as far as what cold emailing means:
A client-winning cold emailing strategy for freelance writers means sending a tailored, high-quality email to a potential client in your niche.
In this email, you make your niche crystal clear.
And you introduce yourself in a relevant, trust-building way.
(This is exactly what I teach in my best-selling cold emailing course for freelance writers, Killer Cold Emailing.)
The "cold" in cold emailing means they're a cold lead.
…A stranger who has probably never heard of you.
You can improve the effectiveness of your cold emails by "warming them up" – AKA sending the emails to people you've already connected with in some way.
This way, they HAVE heard of you, and you can use that in your cold email to make them more likely to reply and hire you.
So, don't be afraid to send some pitches, even if you're not feeling 100% sure of yourself.

You don't have to "warm up" your cold emails for them to be effective. I didn't, and I got over $800 in paid writing work from cold emailing the first month I tried it.
But it's a good idea to do it, at least sometimes, and especially if you're going after higher-caliber clients a bit later in your career.
In this case, as long as you've connected with the potential client in some way, they should at least be receptive to your message.
Even if they don't hire you right away, there's a good chance they'll keep you in mind for later or reach out to you with a referral at some point.
One more thing:
When you're using LinkedIn to supplement your pitching and cold emailing efforts, always remember:
You need to cold EMAIL them, not send them a cold message via InMail.
Get organized here, and keep a spreadsheet of the people you connect with so you can send all of them cold emails in batches.
(My Killer Cold Emailing course includes a helpful spreadsheet like this – and everything else you need to know to make your first $1,000 freelance writing!)
Step #6: Use LinkedIn Groups to your advantage. (Another optional, but encouraged, step.)
Here are 2 types of groups I suggest joining and participating in:
1. LinkedIn groups full of your target freelance writing clients.
Make sure you do this in a *very* niche-specific way.
For example, if you audience is realtors, maybe join a group of realtors who are specifically in the group to share and learn marketing strategies.
And, this is important:
DO NOT spam the group with your content and sales pitches.
Instead, show your value and expertise by responding to their questions about content marketing (or whatever it is you do).
If you do this consistently, there's a good chance that you'll get people reaching out to you who are interested in hiring you because of how you've already shown that you're a helpful expert.
2. LinkedIn groups full of other freelance writers.
Not only is this an awesome way to meet new people and feel less alone when you're working from home as a freelancer…
It's also a great way to land referrals from other writers who have work they need to outsource.
And that, my friend, is all there is to it.
But remember… you have to actually do the work to get results from it.
So:
Seriously. After you use this "set it and forget it" strategy, you won't have to put much effort into your LinkedIn marketing anymore because your profile will do the work for you.
Now, if you're looking for even MORE help getting freelance writing clients and want an all-in-one, step-by-step class to help you get to your first $1,000 (even as a total beginner)…
Click here to join over 7,000 writers in my FREE CLASS on how to make your first $1,000 writing online.
Look – I get that a lot of these online classes suck. But this one doesn't.
I've had loads of positive feedback and writers who have told me that they landed PAID CLIENT WORK after simply implementing what they learned in the class.
So if you're serious about this… And if you want to wake up 6 months from now working from home (or anywhere in the world) instead of dragging your ass to your soul-sucking job…
Take the class. And do the work.

Seriously.
This is YOUR YEAR. It's your time to finally grab life by the balls and make this happen!
So….
Click here to sign up for INSTANT access to my free class on how to make your first $1,000 as a freelance writer. 
See you there! 🙂
– @JordenMakelle