I get a lot of cold emails.
Some from people who want to pitch me a guest post idea.
Some from people who want to pitch me their business services.
…And some from people who want me to give them my bank account number so they can send me "the sum of 1 million dollars." (AKA the worst cold emails ever.)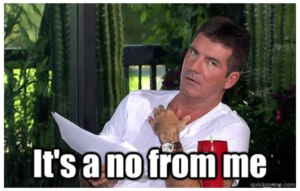 Since I teach a course on cold emailing, I'm always:
Picking these cold emails apart.
Examining my own thoughts upon reading the emails.
Thinking about what the sender could have done differently to make me NOT want to hit "Delete" immediately.
So rather than silently judging these emails all alone (*evil laughter*), I figured today I'd share some of the worst I've received with you.
I even made a special folder in my Gmail account in preparation for writing this post.
Let's jump right in, starting with one of my biggest cold emailing pet peeves.
7 of the Worst Cold Emails Freelance Writers Should Never, EVER Send
1. "Dear Business Owner"
Look – if you aren't even going to try to use the person's name in your cold email, you might as well not even send it.
I mean, even just using "Hello" or something similar is better than "Dear Business Owner of Cutthroatcopy.com."
Don't make this mistake.
Take 10 seconds to find the name of the person you're emailing, and tailor the email to them specifically.
Because successful cold emailing is all about making a genuine connection with someone.
That isn't going to happen if you don't even use their name.
2. The Unwanted Guest Post
I have to say…
I get some pretty damn awesome guest post pitches.
Unfortunately, this wasn't one of them:

Not only did they fail to use my name – they completely forgot to add my business name in what is CLEARLY a template.
("I'm here to be a guest contributor at ,")
They also asked me to tell them if the topic would be a good fit for my blog.
Um…. what topic?
There's no topic presented in the email.
They haven't indicated in ANY way that they know my blog is about freelance writing. Probably because they don't even know.
So, there's no WAY I'm going to respond to their email – much less consider publishing their post on my site.
Related Reading: How to Write a Guest Post Pitch That Gets Accepted Every Damn Time (+ Pitch Screenshots!)
3. The LinkedIn Spammer
Do not – I repeat, do NOT – add someone to your newsletter just because they connected with you on LinkedIn.
Sure, it might seem like an easy way to get them on your list.
But you know what?
It's only going to piss them off.
Seriously. They're not going to want to work with you.
They're just going to think:
WTF is this irrelevant newsletter doing in my inbox without my permission? *hits unsubscribe* How annoying. This business is on my shit list for sure now.
That was my reaction when I got this email:
Don't get me wrong here – it's totally fine to send a personalized, well-thought-out cold email to a LinkedIn connection.
But never, ever add someone to a newsletter or generic email list without their permission.
That's just bad business, yo.
When you're cold emailing, you have to think about long-term relationship building as opposed to instant gratification.
4. The "All About Me" Cold Email
When I get a cold email, I want to know a little bit about the sender.
…But that doesn't mean I want to read multiple paragraphs about them without any mention of how they plan to help my business.

Honestly, I don't give a crap about how much growth this person's business has experienced.
And even if I found that interesting, there's NO mention of the business name and no link for me to check out their website to learn more.
No writing samples either.
In other words, I don't know anything about who they are or what kind of content they can write.
Yikes.
On top of the "all about me" issue here, it's clear that the sender hasn't really reviewed my site.
They say they want to submit a post about marketing. Then, they list about a bunch of generic marketing topics.
Well, I write about marketing, but only for freelance writers.
I guarantee you, if I had given them the OK to send me some topics, none of them would have been tailored to a freelance writing audience.
And that's a BIG problem.
Learn from this cold email, and make sure you're focusing on the client's business needs – not just talking about what YOU want from them.
Sure, you want to mention relevant stuff about yourself (your niche, past results you've achieved for clients, etc.).
But the key to cold emailing success is making it more about the person on the receiving end + how you can help them.

5. The Impersonal Hard Sell
Can I be real with you?
After reading the first line of the email I'm about to show you, I totally had the "Jim Halpert reaction" look on my face.
Take a look: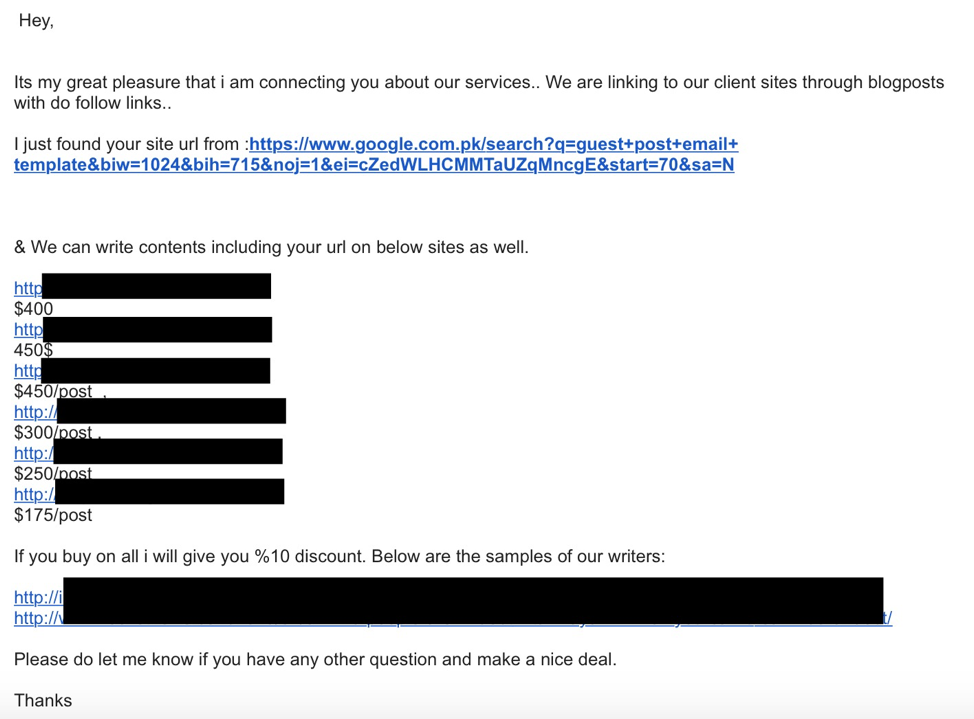 It's their pleasure to tell me about their services, huh?
Well, they haven't given me any reason to be pleased with what they're offering.
No personalization, nothing. Just someone who's trying to sell me – hard – on something before they've built any rapport with me at all.
And they even admit that they "just found my site" from a Google search.
With how impersonal this email is, I believe it.
Now, you may be thinking:
Wait a second. Aren't most cold emails sent to people you don't know – and even people you JUST came across online?
Sometimes, yes.
But regardless, you don't ever want to approach cold emailing like:
"Hey random person, I just found you with a quick Google search. I don't know anything about your business. But buy my shit plz."
Even if you DID just come across their site, take the time to personalize the email.
Show how a business relationship with you would be beneficial for them.
And for the love of the Flying Spaghetti Monster, don't say "make a nice deal."
Related Reading: How Cold Emailing Grew These 6 Badass Freelance Writing Businesses 
6. The Irrelevant Job Application
You know, if I were a hiring manager, I would actually appreciate a personal email as opposed to the typical "send off a resume and hope for the best" approach.
That wasn't the case here though.
I'm not hiring, and I don't have any job postings online.
And even if I did – this email is impersonal and totally focused on the sender's needs ONLY.
The entire email before the screenshot above pretty much just told me about the sender's work experience.
And guess what?
None of their experience had anything to do with writing or anything relevant to my business.
Again, the main takeaway here is to focus on how you can help the person you're emailing.
Say you're sending a pitch in for a freelance writing job you found online.
You wouldn't make your email all about how the job would benefit you.
Instead, you'd show why you're the PERFECT fit for that gig specifically (which you can do by showcasing your industry expertise and sharing relevant writing samples).
7. The Information Withholder
When you're writing a cold email, you want to keep it as concise as possible.
Chances are, the person you're cold emailing is busy.
So, they're not going to sit around and read several giant paragraphs from someone they've never met.
…But that doesn't mean you should send a 2-sentence email with barely any information at all either.

This kind of guest post pitch tells me a few things:
The person didn't take the time to review my site
This same shitty template is probably being sent to hundreds of people since there is zero personalization
This isn't going to be someone who cares about how they can positively affect my business
In other words…
*hits delete button*
This email would have been way more effective if the sender had used my name, talked about how they could help my business (or even just MENTIONED something about my business that would indicate that this isn't a template!), and pitched a few relevant topics.
But instead they did none of that.
#BoyBye
Learn from the mistakes in this post, and start sending cold emails!
I hope you know this post isn't meant to be mean-spirited.
We all start somewhere. I get that.
No one is born knowing how to write cold emails that win clients.
And honestly?
Cold emailing takes balls, which I can appreciate.
Even if the actual email being sent is um…. less than effective.
The reason I published this round-up is simple:
I want YOU to be successful at winning freelance writing clients with cold emails.
Don't be the person whose cold emails end up getting deleted.
To write cold emails that win you new freelance writing clients, put yourself in the shoes of the person you're emailing.
Think:
What would make ME want to work with a freelance writer?
The answer sure as hell isn't "an impersonal email where the person tries to sell me something right off the bat."
You need to personalize each email and tailor it to the recipient's needs.
Show what makes YOU the best fit to work with them. 
Make a genuine connection with the reader, and build rapport.
If you want help writing cold emails that win you work, snag this free (recently re-vamped!) guide:

It explains the EXACT step-by-step process I used to win over $800 in freelance writing work the VERY first month I tried cold emailing.
(Or, REALLY fast-track your freelance writing career in my cold emailing program right here.)
Then, it's time to take action.
Seriously. Don't underestimate the power of cold emailing.
It can work wonders for your freelance writing business – even if you're a total newbie.
What's stopping you from cold emailing? Let me know in the comments section below. You know, so I can tell you to get over it and send cold emails anyway. 😉