When I was 12 years old, my parents split up.
I'll spare you the Lifetime movie-esque details, but basically:
We (mom, brother, me) left suddenly one day.
And we needed a place to stay.
So, my mom took my brother and I to go live with my grandma.
…In a tiny town HOURS away from the larger city we'd been living in.
And suddenly, my mom found herself raising two kids on a teacher's salary.
The worst part?
My parents split around summertime, so my mom wasn't able to find work as a teacher.
Talk about shitty timing.
There were virtually no jobs nearby.
Seriously. My grandma lives in a tiny, East Texas town.
…I'm pretty sure the saying "in the middle of bumfuck nowhere" was created based on this town.
We needed money, like, yesterday.
So my mom couldn't afford to be picky about getting a job.
She also couldn't afford to wait around and do nothing.
So she had to take whatever she could find.
Long story short:
That summer, my mom got a job working in a factory.
Loading candle wicks.
In a place with NO air conditioning in the miserable Texas summer heat.
…For $5.15 per hour.
Even at age 12, this affected me.
In that ONE day where we left, our lives had been completely turned upside-down.
My brother and I went from a fancy private school where we had lots of friends (even if we were the "poor kids at the rich kid school" – kinda like Ron Weasley at Hogwarts) to a run-down public school with all new people.
We went from a big city I LOVED living in to a tiny town (population: 5,000) that I hated from day one.
And…
We went from being financially comfortable to barely scraping by.
I thought:
How could my mom, who had been a teacher and had all kinds of other work experience, suddenly have to work in horrible conditions for minimum wage?
This created a mindset that would affect me for a long time:
"Money is scarce. It can all be lost at any time."
Even when my parents were together, they (especially my dad) would often talk about money stress, debt, etc.
So the "money is scarce" feeling had been there for a while on a smaller scale.
…But the sudden loss of everything?
…Seeing my mom, someone with lots of talent, work experience, and a college degree have to work this job?
THAT is what finally had a serious impact on my attitude toward money.
For a very long time, I thought:
"There is never enough money. I need to hold on to every penny possible."
My attitude about money was completely fear-based.
…
A couple years ago, I came across an online course I wanted – no, NEEDED – to buy.
I say "needed" because I truly needed it.
The course was teaching a complex, new-to-me process that would've taken me months, or maybe even YEARS, to learn via trial and error and a shit-ton of Google-ing.
And even then, I probably would've gotten something wrong, which would've cost me big time.
…The problem?
The course was going to cost over $1,000.
I literally felt sick to my stomach as my mouse hovered over the "Buy" button.
I had never made this big of an investment in my business at once before.
I panicked and checked my bank account.
I had just enough saved to cover the cost of the course.
…But it was still going to be a MAJOR investment for me and a big deal financially.
EVERYTHING I experienced with money up until this point in my life was screaming:
"WHAT THE FUCK ARE YOU THINKING spending $1,000 on something like this!? THAT'S RENT AND your car payment! Are you INSANE??? You need to hold on to that money, because you could lose EVERYTHING at any time."
This fear-based voice had been there my entire adult life.
….But fortunately, this time, another voice in my head was speaking up too:
"Jorden, this is an INVESTMENT. You're a business owner now. Think about the return on your investment here. And remember, this isn't your money: this is your business' money. You're literally buying a BETTER FUTURE for yourself."
Thankfully, the small, rational voice won.
In spite of the sick feeling in my stomach.
I hit the "BUY" button.
And you know what?
That course and investment gave me the ass-kicking and plan I needed to accomplish a business goal I had been after for a long time.
…Which resulted in TENS OF THOUSANDS OF DOLLARS in revenue.
(Damn good ROI if you ask me!)
—-
So, why am I telling you this today?
Let me be clear:
It's NOT because I expect anyone to feel sorry for me or my family.
In a lot of ways, we were extremely lucky, even during our worst times. We had a place to go, and my mom's difficult job situation was only temporary.
…And I'm also NOT telling you this because I think everyone needs to go buy a $1,000 course.
You might need that, but you might not.
I'm telling you this because I want you to realize…
You CANNOT let your money mindset issues stop you from making smart investments in your business.
This is something I've had to remind myself CONSTANTLY over the years, like when I:
Invested over $100 on hosting for a new website (this felt CRAZY when I first started my business as a broke-ass college dropout who had just been fired)
Invested in a new software I needed for $500 (this is still hard for me to do today, even as a six-figure business owner, but I do it because it's necessary to grow)
Invested over $2,000 in personal development (coaching, courses, books) in 2018 so far
Let me tell you…
My business would NOT have grown to six figures if I had held myself back due to a fucked up, fear-based money mindset.
What got you to where you are today will NOT get you to the next level. You're going to have to invest in yourself and treat freelance writing like a BUSINESS. 

If you DON'T invest, your "business" will stay a hobby.
I'll leave you with this recent Tweet: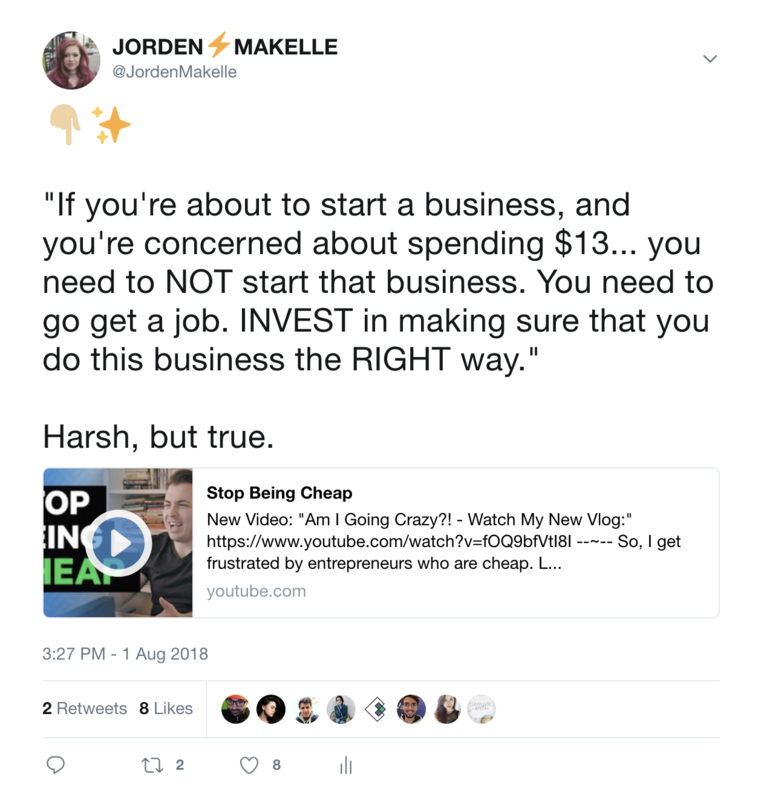 I know this may seem harsh, but it's the truth.
99% of you reading this CAN afford to make smart investments in your business.
Even if it means selling something, taking on a side hustle for a little while, etc. (Both of which I've done)
You just REFUSE to actually invest because…
You're like I used to be.
Stuck in a "money is scarce" mindset.
But I want to encourage you to be smart with your money.
Yes, sometimes that means saving it.
(I drive an 11-year-old Mitsubishi, which saves me a LOT of money. And I don't mind, because I could care less about having a fancy car.)
But sometimes that means investing it in something useful NOW so you can make more money later.
(I spent over $2K on coaching/courses/books in JUST the first 6 months of 2018, which I know will pay off massively for me later.)
​Remember:
You're a business owner now.
If you want to be a successful freelance writer, you've got to approach money like a business owner. NOT like a scared 12-year old who's always felt like there's never enough.
Want help building your freelance writing biz and getting clients? Check out these free resources: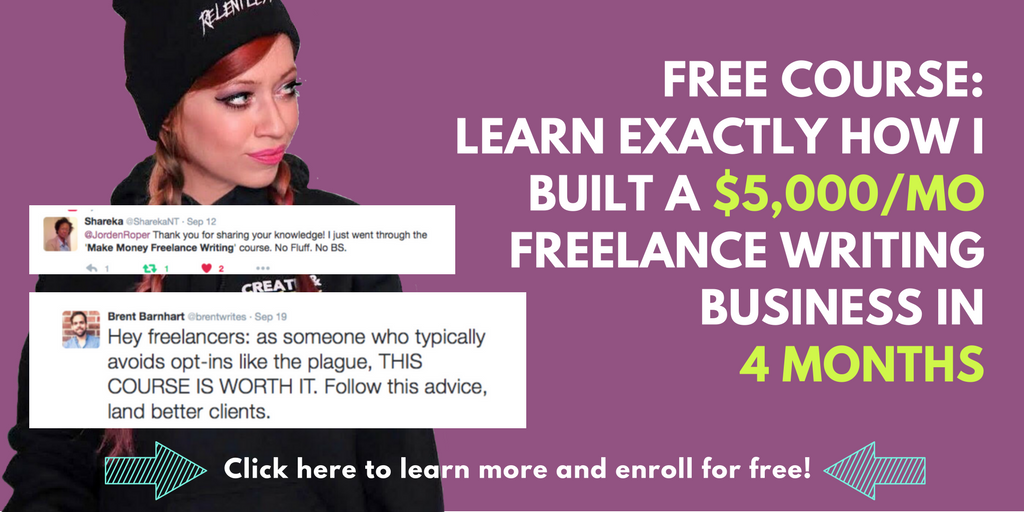 Enjoy! And if you found this blog post helpful, click here to share it on Twitter. I have a pre-written Tweet ready to go for you, so it'll only take a few seconds… and I'd really appreciate the support. 🙂