My experience reading business books these days goes something like this:
Step 1: See neat-o book recommended by someone I respect online.
Step 2: Download audiobook version from Amazon.
Step 3: Use audiobook as motivation to go to the gym.
(…Extra motivation to go to the gym if I only get to listen to it while on the elliptical, you know?) 
Right now, I've got a lot of books wasting away in what I like to call:
☠️The Audible Graveyard☠️
AKA the unfinished books that didn't hold my interest/attention long enough.
(And there are LOTS of them! #ShortAttentionSpan)
BUT…
I've also read a lot of AMAZING books over the years.
And I get asked about what books I'm reading pretty often.
So I figured I'd whip up this quick blog post to share my top 5 business books for freelance writers.
Before we start…
A disclaimer:
Only one of the following books is actually about writing.
This is because:
Now that that's out of the way…
Let's start with my favorite and #1 recommendation.
1. You Are a Badass by Jen Sincero
I love this book.
The author, Jen Sincero, was totally broke at 40, but went on to become a SUPER successful author and business owner.  
(And the fact that she 's worked as a freelance writer makes her pretty relatable!)
But I won't sugarcoat it:
If someone had handed me this book a couple years back…
I'd have laughed and thought it was really fucking silly.
Yeah. It's "woo woo." For sure.
Long story short:
This is a mindset book.
Now, I know. There's a lot of bullshit out there.
But I want you to give this book a chance.
Because from what I've seen in my own business AND over the years I've spent coaching writers…
Your mindset has a direct impact on how much money you can make as a writer.
It's practical stuff, even if it doesn't seem like it.
For example:
—> If you really believe in yourself and your worth as a writer, you'll easily command the rates you deserve.
On the other hand…
—> If you don't believe in yourself, your writing skills, and your ability to thrive as a freelance writer, you have no hope of becoming successful.
Everyone who makes over $5,000/mo as a freelance writer started out by BELIEVING it was possible.
Seriously.
Mindset is KEY.
…Of course, you have to combine mindset with the business-building steps too.
You need both.
Get the business-building steps here on my blog (or in my free class!), and then read Jen Sincero's book for mindset help. 🙂
 >>>> Check out You Are a Badass here! <<<<
PSST: Want to learn the step-by-step process you can use to grow a full-time freelance writing business? Join over 3,000 writers and get instant access to my free class here:
3 Simple Steps to Making $1,000 Freelance Writing in 45 Days or Less (Even If You Have NO Experience!)
2. The Copywriter's Handbook by Robert Bly
This is the first copywriting book I ever read.
When I was still at my full-time job, I'd keep in in my desk drawer and read it on my lunch break every day.
And let me tell you…
I consider this an essential book for beginner copywriters.
Copywriting is so different than just "writing."
To succeed at copywriting, you have to understand how to sell with words.
…Which is what this book is all about.
Even if you're not planning on writing sales copy specifically, I still recommend picking this book up.
After all, you're gonna need to sell your own services on your website and elsewhere online.
Might as well learn how to do it from one of the best!
One thing to note about this book is that parts of it are a biiiiiit outdated.
It was published in 2007, so you're not going to get advice that's super on-trend and up-to-date on stuff like social media marketing – it's more of a book of copywriting fundamentals (which is great for any newbie!).
>>>> Check out The Copywriter's Handbook <<<<
3. Essentialism by Greg McKeown
After my business started growing, my inbox started growing too.
While this isn't the worst problem in the world to have (new clients, customers, etc.)…
But it can be a huge problem.
Especially when you're trying to stay focused and get shit done.
Enter Essentialism.
The main point of this book is to focus on what is essential and eliminate everything else.
Essentialism really forced me to evaluate how I was spending my time.
It also played a role in my decision to hire someone to manage my inbox (ONE OF THE BEST BIZ DECISIONS I'VE EVER MADE, HOLY SHITTT).
This is so important because, in business, time is money.
You waste a day because you're unfocused?
You waste two hours in your inbox because you just can't pull yourself away from it?
That's valuable time you could've spent making money, writing, pitching, networking, etc.
So, if you're feeling unfocused / stretched too thin and want to take back control of your time, read this book!
>>>> Check out Essentialism. <<<<
4. Deep Work by Cal Newport
I spend a shit-ton of time on Instagram…
Usually on accident.
…For no other reason than I compulsively picked up my phone and started scrolling.
Not only is this not healthy.
It's not conducive to running a successful business.
You need to do "deep work" – focused, undistracted work – to become a successful business owner.
And these days, there's SO. MUCH. STUFF. getting in the way.
Slack notifications. Gmail. Tweets.
ARGGHHH.
Deep Work will teach you how to get shit done anyway – for real.
This is one of my favorite takeaways from the book:
High-Quality Work Produced = (Time Spent) x (Intensity of Focus)
I started approaching my days TOTALLY differently after reading the book, which made a big difference for my business.
Definitely recommend. Because again, time is money.
You've got to learn how to focus and manage your time if you want to make a good living writing.
>>>> Check out Deep Work. <<<<
5. You Are a Badass at Money by Jen Sincero
When I was a kid, we were on food stamps for a while.
Money was tight – to say the least.
Many years later, I dropped out of college and lost the place I was living, any stability I had in my life, and my hope of getting a degree… which pretty much felt like losing everything at the time.
I ended up having to take a shitty door-to-door sales job as a result of this.
…That took me TWO HOURS to get to every day.
…That barely paid anything.
…That I had to quit because the job left me so broke that my car ended up weeks away from getting repossessed.
Again, money was tight.
These two experiences had a big impact on my attitude about money:
"Money is scarce. I'll never have a lot of money. I can't spend on what I want."
I had a loooot of "money blocks" – as they call 'em in the self-help book world. 🙂
You Are a Badass at Making Money helped me take steps to overcome all of that and develop a better mindset:
"I always have enough. I can make money any time. I can spend on what I want/need."
This is important for lots of reasons, one of them being:
—> So, SO many freelance writers don't believe they're capable of making a good full-time living (so they don't).
—> AND, tons of writers are unwilling to invest in themselves and their business to reach the level of success they want (so they don't succeed).
This book is essential for avoiding these two problems – and just changing the way you think about money and your earning potential in general.
Because if you don't believe in your ability to make money?
You won't.
And if you don't invest in your business and treat it like a REAL business?
It'll stay a hobby.
>>>> Check out You Are a Badass at Making Money here. <<<<
So, there you have it! My 5 favorite books for freelance writers at the moment.
Now, if you're looking to start/grow a freelance writing business, the most important step you can take right now is this:
Figure out what's stopping you from reaching your freelance writing income goal. Then, consume information based on that ONE THING.
(Money mindset? Lack of confidence? Lack of knowledge on how to get clients and set up your business?)
That way, you can stay focused and avoid getting overwhelmed.
And if the "thing" you're missing is a step-by-step plan for landing high-paying clients…
I want to see YOU inside my free class right here, where you'll learn how to make your first $1,000 freelance writing as a total beginner with ZERO experience!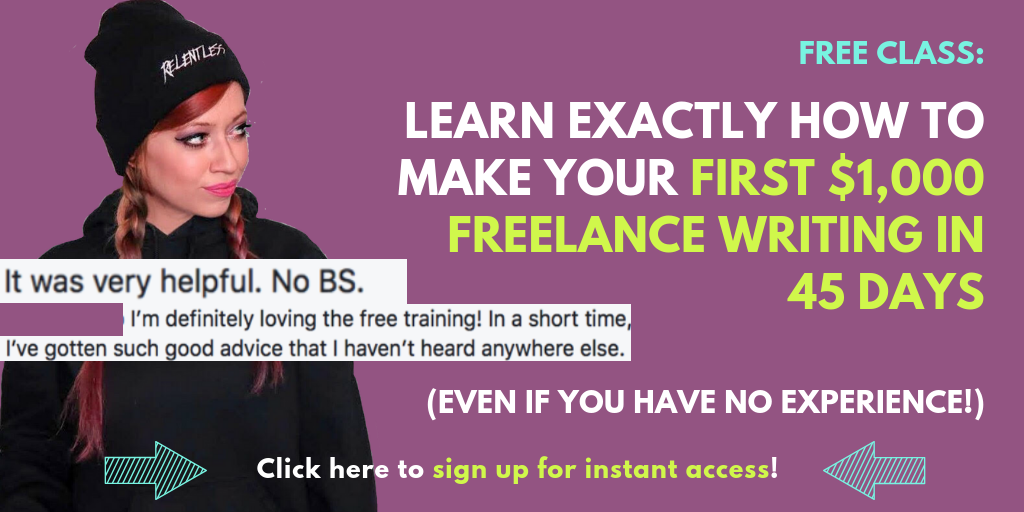 Click here to sign up and get instant access for free!
See you there! 🙂
What are your favorite books for freelance writers? Comment below and share so we can all fill up our bookshelves. 🙂