If you're wondering how to start freelance writing WITHOUT selling your soul to the devil (aka content mills), you're not alone.
It can be confusing – there's so much information out there. Some of it is contradictory. And some of it is just plain overwhelming.
You've probably got a few questions:
Where and how the hell am I supposed to find clients as a newbie?
Do I need a freelance writer website? How would I even set one up?
Is it really possible for me to find clients who pay well when I don't have much experience?
I'll go ahead and answer that last question now — yes, it is possible.
I became a full-time freelance writer in April of 2015. By August, I was making $5K/mo.
I never once used content mills during that time.
So today, I want to share my methods. If you're ready to work your ass off, you can set up your own freelance writing business within a week and win new clients soon after that (if not during that time!).
No resorting to shitty content mills and bidding sites like Fiverr and UpWork.
Just client-winning strategies that set you up for long-term success.
Let's start with the first step.
Decide on a niche
I can say without a doubt that my freelance writing business would not have taken off as quickly as it did if I hadn't picked a narrow niche: writing copy for IT service providers.
Weird niche, right?
But picking that narrow of a niche made my target clients immediately recognize me as a subject matter expert.
After all, how many other writers do you know who specialize in writing for IT service providers?
Probably none. So I didn't have much competition.
Sure, those IT service providers could have hired a general "freelance writer" instead of me, but why would they want to?
I'm not saying that because I'm some great writer – I'm saying it because every client wants a writer who specializes in the content they need. Not a generalist who might be able to deliver.
The moral of the story here?
Pick a niche if you want your freelance writing business to grow quickly. And don't be afraid to pick a super narrow niche like I did – it'll help you stand out more and sell more of your freelance writing services — especially as a newbie.
Now, when you're choosing a niche, you have a few different options:
— Specialize in a type of content – For example, this guy specializes in writing whitepapers and has branded himself as THE whitepaper expert. And this freelance team specializes in case studies. See how both of them immediately stand out for their expertise? You can bet that clients who need badass whitepapers or case studies would pick those guys over a general writer.
— Specialize in helping a specific type of client – This is what I did when my niche was writing all types of content for IT service providers. You could help insurance companies, real estate agents, marketing agencies… the possibilities are kinda endless here.
— Specialize in writing a specific type of content for a specific client – For example, you might write blog posts about marketing for marketing agencies. Or you might write email newsletters for bloggers and online entrepreneurs. This option is a great way to set yourself apart as a go-to writer for a specific type of content.
Whatever you do, don't specialize in "B2B and B2C content" when you're a newbie. That's not a niche – that's just another way of saying "I have no niche."
And make sure you plaster your niche all over your social media profiles and your freelance writer website. Your goal is to help your ideal client immediately recognize you as a writer who has knowledge of their industry.
Related: How to Pick a Highly Profitable Freelance Writing Niche and Use it To Win High-paying Clients
Lots of freelance writers ask me if a blog is all they need to get started freelance writing.
Sure, you can use your blog as your freelance writer website if you want, but you'll be a lot more successful if you set up a site that's dedicated to selling your services to one type of target client.
And it doesn't have to be some crazy badass site that cost you thousands to set up.
It just has to have your niche and some samples that are relevant to your target audience.
Take a look at my first freelance writer website (OMG this is old!):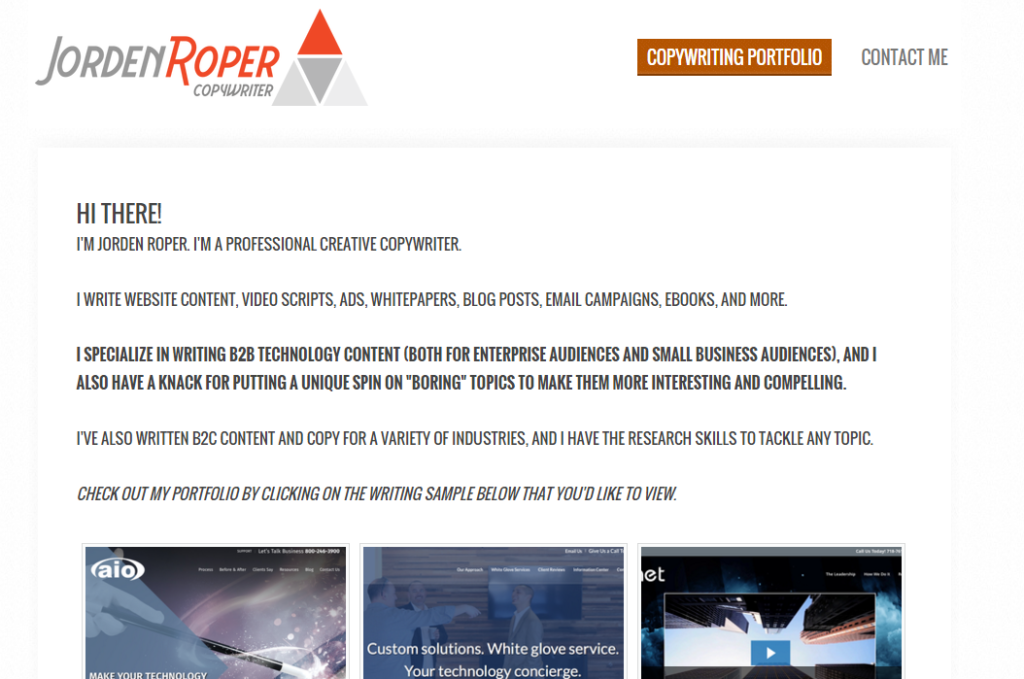 Ugly, right?
(It's okay – I can handle the truth.)
But guess what?
That basic-as-fuck site helped me land clients while I worked on a better site.
Mostly because of the bolded line at the bottom here:
See how I defined my niche clearly to attract one type of client (B2B/tech)?
On top of that, all my writing samples showed my expertise in writing B2B/tech content (for IT service providers).
So, make sure your website has your niche and relevant samples (which I'll talk about more later this post).
As far as setting up your site, you'll need to buy a domain (your website URL) first. You need a custom domain because it looks more professional than something like "mysite.wordpress.com" and helps clients view your freelance writing business as an actual business.
You can get a cheap domain at Bluehost, which is what I use for this blog and my freelance writer website. If you've never bought a domain and created a website before, trust me – it's a lot less scary than it sounds. 🙂
To get started, click here, and you'll see this page: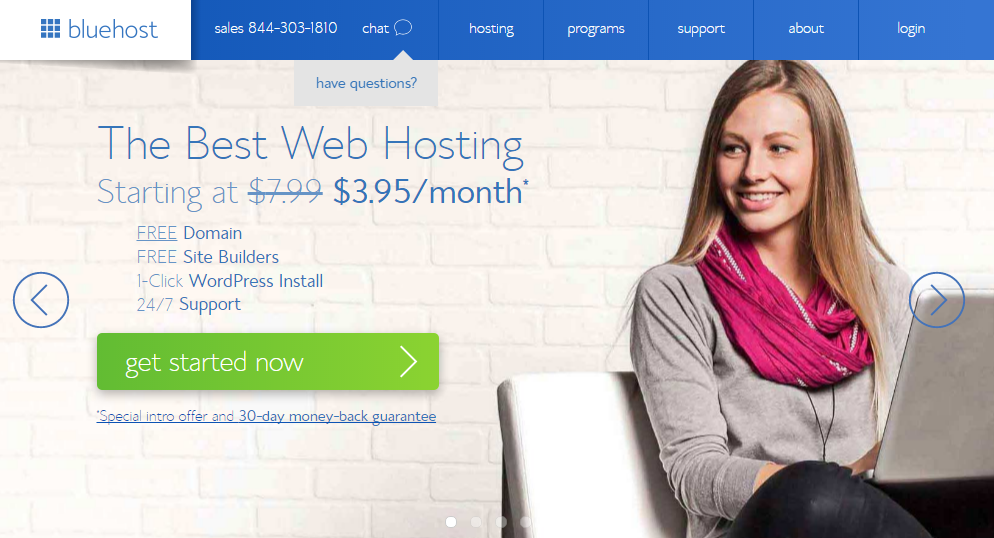 Woohoo! You've officially taken the first step toward building a site that'll help you land freelance writing clients.
Now, click that big ol' "Get Started Now" button, and you'll see their pricing plans.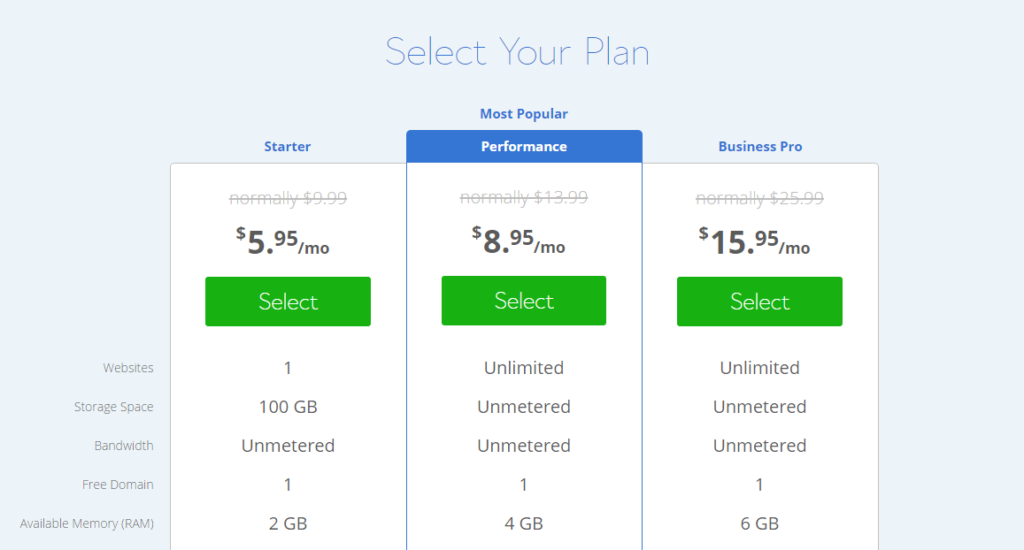 If you're ballin' on a budget like I was when I started out, you'll probably want to go with the cheapest option, which should be fine for your freelance writer website.
Click that shit.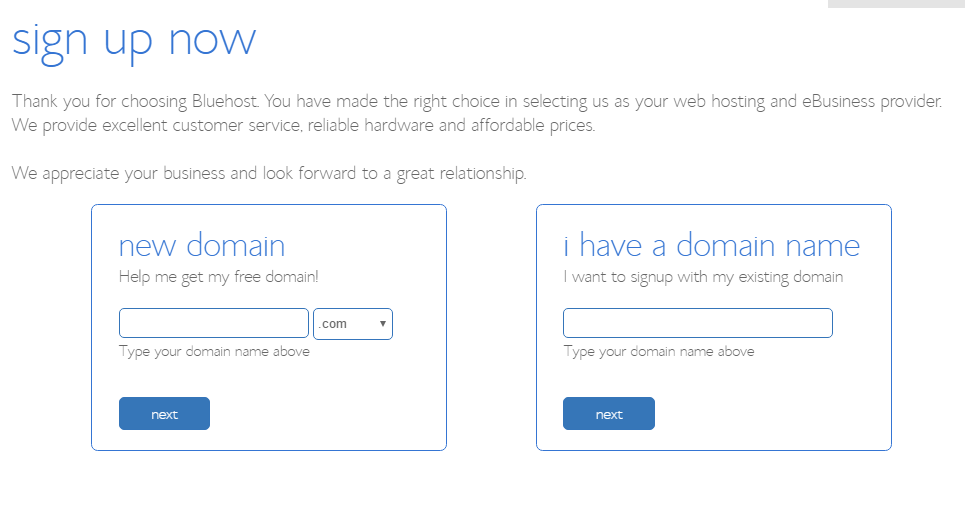 Now for the fun part – you get to pick your own custom domain! Type what you want the name of your site to be under "new domain."
I call my freelance writing business Cutthroat Copy, so my domain is cutthroatcopy.com. But lots of successful freelance writers use their first and last name as their domain, so that's definitely a good option too.
Decide what you want to do, and type your domain of choice into the box. Then, click "next."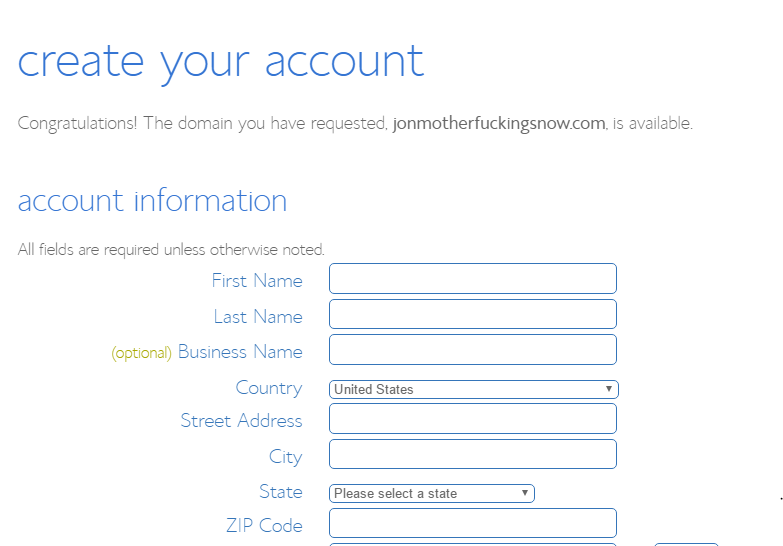 Congrats to me – JonMotherfuckingSnow.com is available! 🙂
(Shoutout to my fellow GoT nerds!)
Chances are, the website domain you want will be available too. If not, you may have to try a few different options before you get one that you can use.
Then, you just fill out the rest of your information and hit "submit."
And BAM – just like that, you've got your custom freelance writer website domain.
If you want to use your domain to set up a WordPress site, hit up BlueHost's chat customer service. They literally walked me through setting everything up when I switched to WordPress. Super easy process!
You can also check out this article:
Start Your Website In 5 Minutes of Less with WordPress
That wasn't so bad now, was it?
If WordPress scares you, go with an easy, drag-and-drop website builder like Wix or Weebly. When I first started out, I used Weebly, and it worked fine while I worked on building my WordPress site.
And BlueHost has tons of resources for setting up your site, regardless of which option you pick.
The most important thing is that you TAKE ACTION and set up your site so you can start pitching.
Don't worry about it being perfect – hell, don't even worry about it being good.
It won't be good at first (mine wasn't!) — you can improve it over time as you learn more. As a newbie, you just need a decent site that states your niche and shows off samples that establish you as an expert in that niche.
Aaaaaand that brings me to my next point.
Write some relevant samples
If you've defined a niche, you've also defined a target audience.
For example, if your niche is writing whitepapers, your audience is B2B companies.
If your niche is writing blog posts for dentists, then dentists are your target audience.
You get the picture.
When you're starting out, all or most of your samples should be crafted to attract your specific audience to your services.
For example, here's a sample I wrote when I was writing copy for IT service providers: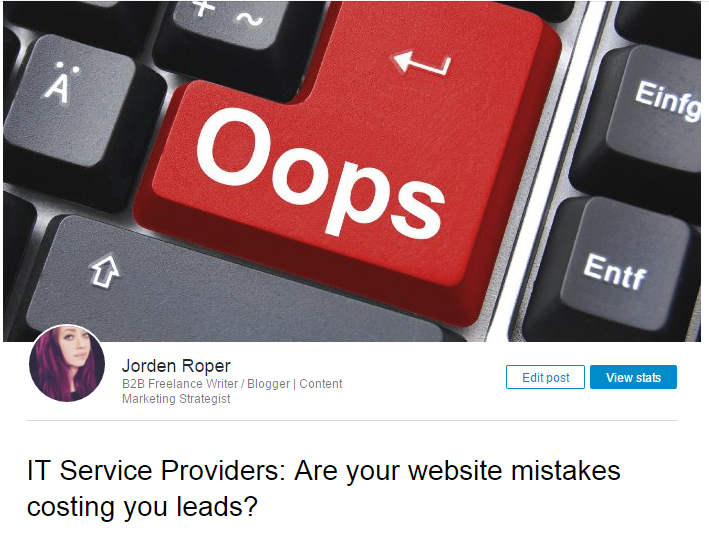 And here's a blog post I wrote to attract new clients when I changed my niche to writing B2B blog posts: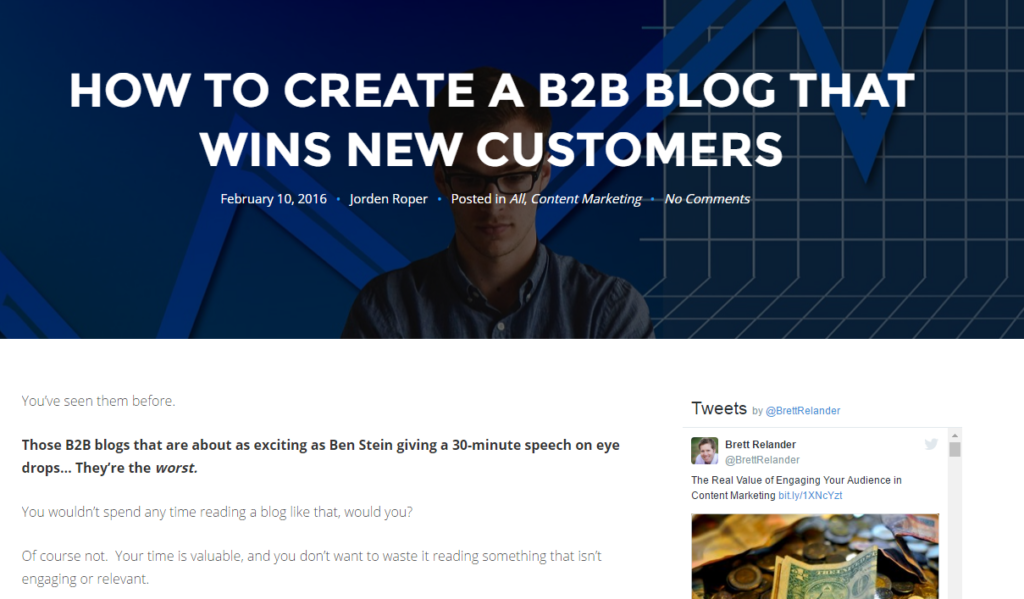 See how both of those posts would make my target audience in each situation want to work with me? They establish me as a subject matter expert and also get the client thinking about how the content I write could help them get better business results.
Now, I'll almost never tell you to work for free. But if you're just starting out, I absolutely recommend writing some targeted samples (like the examples above) on your own time.
Pitch those samples as guest posts. Publish them on the blog section of your freelance writer website. Use LinkedIn Publisher to share them after you've added your target clients as connections.
Or do all of those things.
Don't get me wrong – you shouldn't get in the habit of working for free. But when you're a newbie and you're trying to build trust with clients, it's a great option.
And remember:
Your niche expertise as shown on your site is what will make clients trust you enough to want to work with you – even when you don't have lots of experience.
Cold email clients
If you're committed to making freelance writing work, you can get your site set up and write some samples in 2-3 days (maybe even one day if you're hustlin' hard!).
Once you've done that, it's time for you to become a pitching machine.
Plan to send 20+ customized pitches every day if you're a newbie.
Spoiler alert with pitching:
You're going to get rejected – a lot.
You might get the interest of 2-3 clients after sending 75-100 cold emails.
That's why you've got to hustle like crazy at first!
But if you have picked a niche, set up your freelance writer website correctly, and followed my tips for writing an effective cold email, you should absolutely be able to find clients quickly.
If you want help setting up your marketing strategy and preparing to pitch…
Click here to sign up for my FREE class on how to make your first $1,000 as a freelance writer!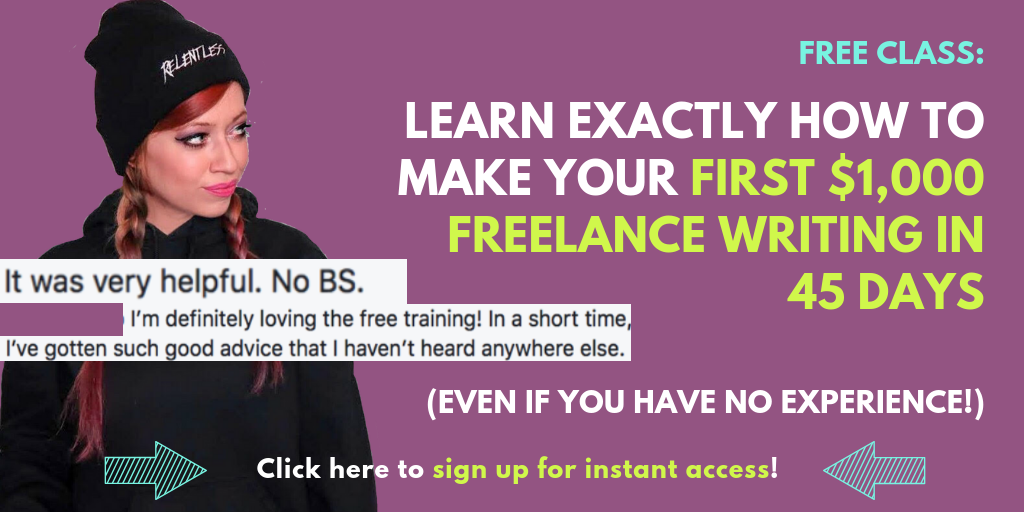 And don't worry – you won't always have to hustle like crazy. Just at first.
Cold emailing was the #1 way I found high-paying clients as a newbie freelance writer, but I don't do it much anymore because my social media profiles and websites generate clients for me. You'll get to that point too.
A word of warning:
If you use social media to send cold messages, make sure you've built a relationship with the person first by interacting with them and their posts. No one wants to be bombarded with sales pitches from some random person they've never seen online before!
Set up your social media profiles
LinkedIn and Twitter are full of businesses that need writers like you. All you've got to do is get yourself in front of them and start building relationships that turn into business deals.
How, you ask?
Here are a few tips:
— Use lots of key words. No, I don't suggest keyword stuffing, but I do recommend using words that define your niche + what you do (like "freelance writer" or "insurance copywriter" or "B2B content strategist") in your Twitter bio, LinkedIn summary, and LinkedIn Headline. You want to make it easy for your target clients to find you when they're searching for a writer.
— Share your targeted samples often. Before you do this, make sure you've connected with your target clients so you're not just sharing your samples with people who aren't likely to be interested in your services. That means following target clients on Twitter and/or sending (personalized!) connection requests on LinkedIn.
— Pay attention to who's interacting with you. On LinkedIn, you can check out who has viewed your profile. On Twitter, you can see who has favorited or retweeted your work. Reach out to those people, introduce yourself, and let them know how you can help their business.
And remember, you have to be patient with your social media efforts. Don't expect fast results – that's what cold emailing is for! As long as you're consistent and approach social media the right way, your efforts will pay off.
Related: How I Use LinkedIn to Find and Land High-paying Freelance Writing Clients
Avoid the temptation of content mills and bidding sites.
If you read this blog regularly, you know that I hate content mills and bidding sites. I even made this ultra classy graphic to get my point across: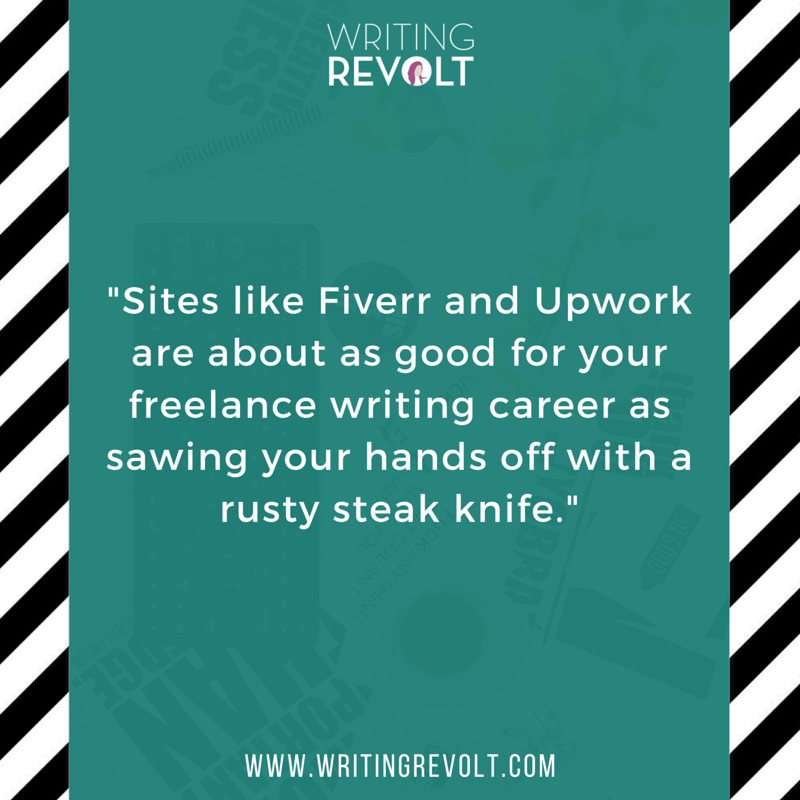 Mostly because they set freelance writers up for career failure and offer low-paying gigs from clients who don't see much value in content.
It's a much better idea to pick a niche, set up your site, cold email like crazy, and start using social media for marketing.
And I'm not just saying that – I'm living PROOF that you can make it happen.
Related: How I Built a $5K/mo Freelance Writing Business in 4 Months (an in-depth, month-by-month breakdown!)
When I started out, I had no degree, no connections (in fact, I had just been fired from my full-time copywriting job!), and no clue how to work with clients.
So, if I can do it, why can't you?
To help you out, I've even got this free class, where you'll learn EXACTLY how to make your first $1,000 as a freelance writer.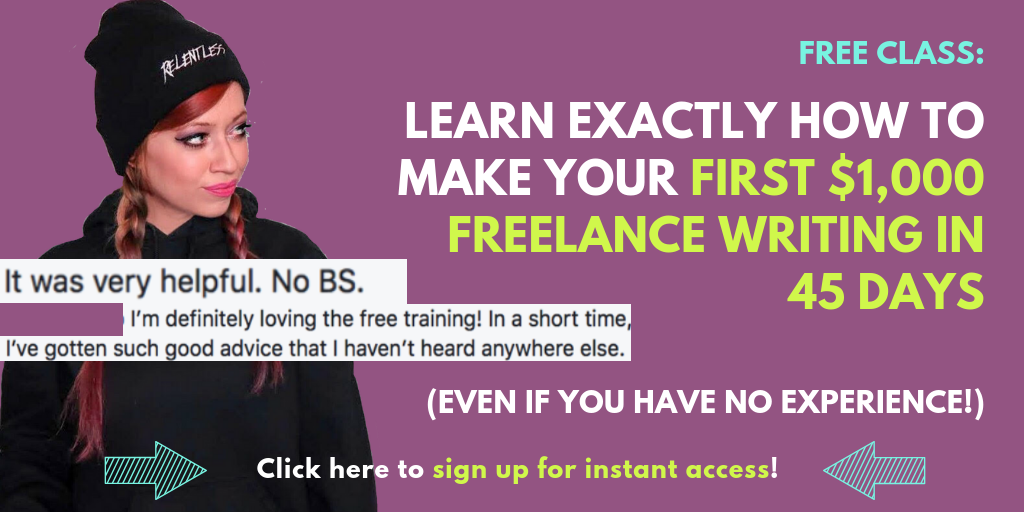 Click here to sign up for instant access to the class so you can get to work building that badass freelance writing business you've been dreaming about. 🙂
Note: This blog post contains affiliate links, but please know that I only recommend stuff I've used and loved.