In this ultimate-guide style tutorial, you're gonna learn how to build your writing portfolio from scratch.
First, some good news that'll bring you a big ol' sigh of relief:
You don't have to be published yet in order to create a writing portfolio! In fact, many writers choose not publish content until they've established their name within the freelance community first.

Your portfolio being set up

correctly,

the way you'll learn in this blog post, allows you to get hired even over writers with more experience than you.
You don't need any experience at all or a college degree to make a great living writing. You just need the guts to chase your dream of becoming a writer.
How do I know?
…Well, because I'm living proof. 🙂
I built my freelance writing business to $5,000/mo in just 4 months after losing my job, even though I was a broke-ass, inexperienced college dropout!
And the specific way I approached my portfolio was literally the reason I was able to get hired and charge way more for my work than most beginners.
You're gonna learn everything you need to know about my proven writing portfolio process today, including:
✅ Exactly what a writer's portfolio should include (the 5 key portfolio website pages you MUST have!)
✅ How to build a freelance writing portfolio quickly and easily, even if you're not tech-savvy!
✅ How to create writing portfolio samples, even if you've never been published or had a client before (3 key methods)
✅ Freelance writing portfolio examples from writers who have incredible, results-driven marketing
✅ Answers to your top questions about building a portfolio site… like, "What if I want to write in multiple niches?"
Let's jump into the process in-depth so you can bring in the big bucks as a freelance writer too.
…No experience needed!
First things first:
What is a Freelance Writing Portfolio?
Your freelance writing portfolio is a dedicated business website where you sell you writing, showcase your work, and get new clients to contact you.
That's right…
A business website.
Not a Fiverr profile. ❌
Not an Upwork profile. ❌
A. Business. Website. ✅
(Side note: Please ditch exploitative sites like Fiverr and Upwork, and get away from content mills! You don't have to "pay your dues" making pennies per word.)
Your portfolio is a key part of your marketing that allows you to get awesome, high-paying freelance writing jobs, even as a total beginner!
However, you need to set your portfolio up the right way to get hired, meaning:
Your entire writing portfolio must be niche-specific.

However, do

not

waste time stressing over the niche decision, because I've seen it hold writers back for literally months due to their perfectionism and fear or failure!

Take action to start your site now

and get a little bit of momentum going, and you can finalize your writing niche and website later on .

You need a

custom domain for your portfolio website

(more on this below).

No exceptions! In other words, your business name dot com. Clients won't take you seriously if you don't have this, so don't try to get away with a "free website," okay?

You need 5 specific pages to get hired. You'll learn what they are in this blog post.

Make sure to keep reading, because missing just

one

of these key pages could totally sabotage your ability to get writing jobs!
Again, please don't hold yourself back from starting your writing portfolio due to perfectionism.
One of the biggest mistakes beginner freelance writers make is thinking they have to have everything perfectly planned before getting started.
And before they know it, a year has passed, and they're still sitting around client-less, still at a job they hate, and scared to take any action at all.
I want to challenge you to at least get your domain and start planning your writer website today.
No more procrastination or letting fear hold you back!
Before we jump into the step-by-step process, let's cover some freelance writing portfolio examples so you can get inspired.
This next section will give you a general idea of what you're aiming for when you create your writer website.
The Top Freelance Writing Portfolio Examples
Example #1: Sarah Turner, Health Copywriter
Sarah is actually one of my Killer Cold Emailing students, and she's done an incredible job of marketing herself on her writing portfolio site.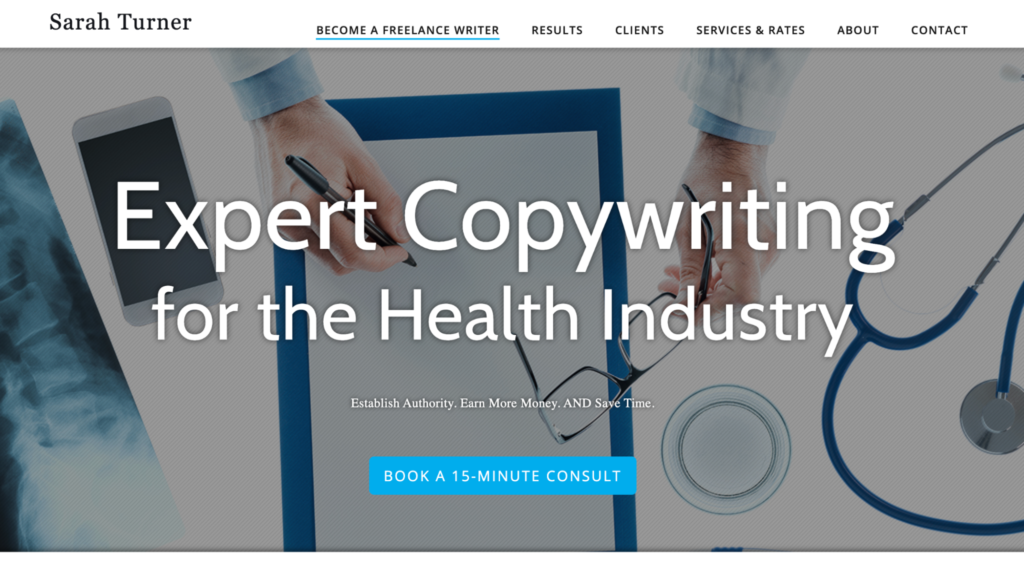 You can see she has a clearly defined writing niche – copywriting in the health industry.
Plus, her home page includes loads of social proof.
She's got probably one of the beefiest social proof sections I've ever seen on a home page!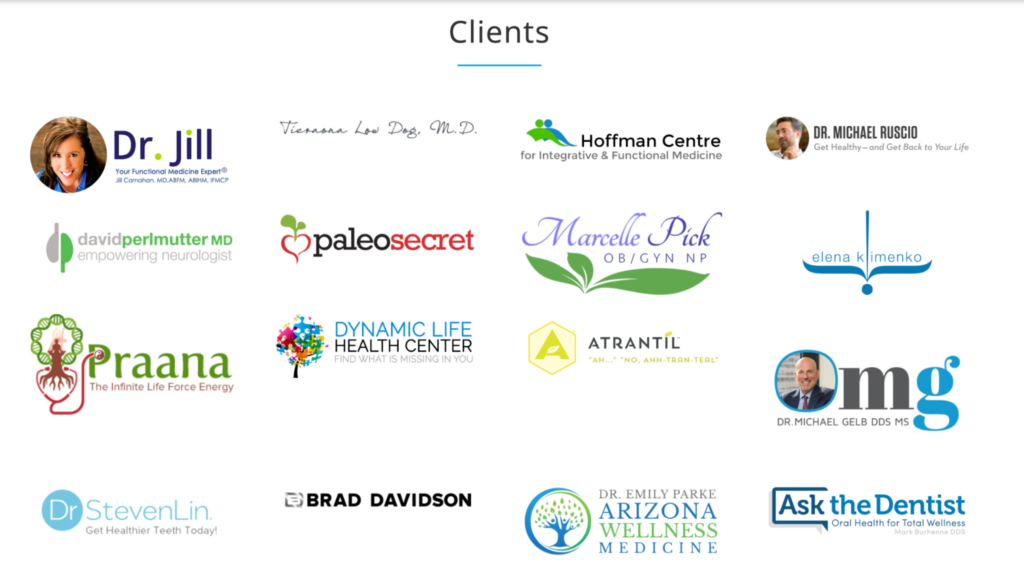 Of course, you won't have this much social proof as a beginner writer.
You may not have any at all… and that's okay!
Testimonials and social proof will build over time.
The most important thing is to just get started creating your portfolio, and then you can perfect it later on.
Example #2: Case Study Buddy by Joel Klettke
This is expert copywriter Joel Klettke's case study writing company.
Clearly, he's got his niche marketing down, and the site design is top-notch.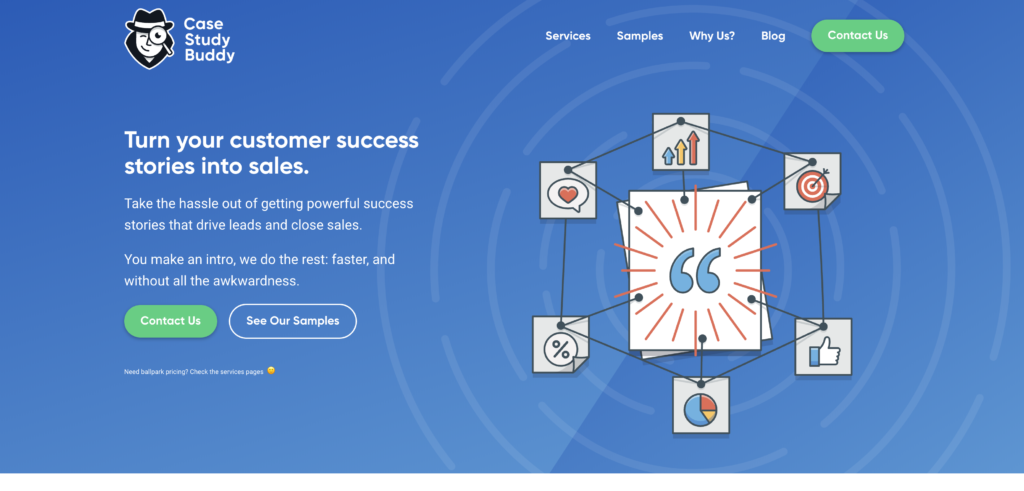 As far as trust-building, you'll see tons of social proof on his home page.
Not only does he include logos – he also has testimonials with client photos.

This is exactly what you want to do as you grow your business and get social proof.
Put that shit everywhere, including your home page!
Example #3: Sarah Andersen, Email Copywriter
https://proemailcopy.com/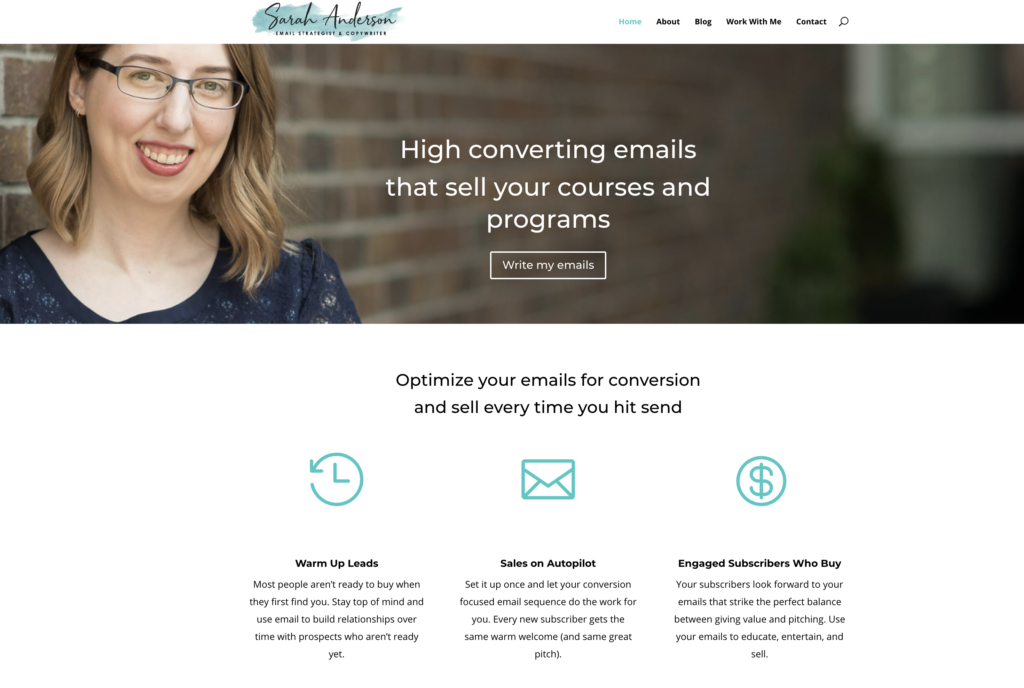 Right when her site loads, Sarah's niche is clear.
Plus, she's got a professional picture of her right at the top, which helps build trust and positions her as a true pro.
On top of that, she uses social proof and copy that states the benefits of working with her on her home page. 
Again, only does this look great – it builds trust, which is essential to getting paid to write.
The common theme with all these freelance writing portfolio examples?
All of them have a professional business website with a custom domain and a clear, profitable writing niche.
Keep that in mind as we get into the nitty-gritty of building a portfolio. 🙂
How to Build a Writing Portfolio as a Beginner
Let's dive right in to the step-by-step process!
And by the way, you can watch the video version of this tutorial right here:
Step 1: Get a custom domain and hosting.
If your portfolio is anything other than a dedicated business website with a custom domain, you'll look unprofessional and clients won't take you seriously.
Period.
A custom domain builds trust and says you're taking writing seriously and treating it like a business, which is essential to you getting hired.
Especially if you're a beginner with no experience.
…And fortunately, it's a tiny investment, especially when you consider you'll easily make your investment back with just one small writing job!
👇👇
I've actually got an exclusive discount via Bluehost, my favorite hosting company that I personally use, right here just for my readers.
Click here now to claim your hosting discount and get a free domain for your writer website. 
Note: All Bluehost links in this blog post are affiliate links, meaning I receive a commission when you use them. This costs you nothing extra to use! I only recommend Bluehost because I personally use their service. I appreciate the support as it allows me to keep writing tutorial blog posts like this one! 🙂
Bluehost makes your writer website extremely simple to set up.
So even if you're not "tech-y," you'll be able to get your site started quickly.
To get your custom domain and hosting. you'll need to follow these steps.
Click here to start your writing portfolio with Bluehost. You'll get an exclusive discount, making it even easier to get started fast and get writing jobs in no time!
Pick your

domain (free domain only available via Bluehost – click here to claim!)

. This is just what readers will type into their browser in order to find your writing portfolio!

I cannot stress this enough: Do not obsess over this decision and allow it to delay you getting started.

I recommend something simple at first, like yournamewrites dot com. With Bluehost, you can actually claim the discount now and then finalize a domain name later!
Congratulate yourself, because you're already further than most beginner freelance writers ever get. Seriously, investing in yourself means you're taking your writing career seriously…and clients will notice! In my over 6 years of experience coaching writers, I've seen that

those who invest in themselves

before it feels comfortable

are the ones who succeed the fastest.
Now that you've got your domain…
It's time to decide where you'll actually be building your online writing portfolio!
Step 2: Decide on a Website Builder
A website builder is simply where you're going to create your online writing portfolio.
This is where all of the magic happens!
Right now, there are two main website builder options I highly recommend:
Option #1: WordPress
I personally use WordPress for my blog, and it's a great option for large sites or anyone looking for the best possible website builder out there.
However, there's a bit of a learning curve.
If building a writing portfolio scares you and you just want the quickest and easiest solution for getting started freelance writing, WordPress may not be right for you.
Option #2: Wix
I actually have a personal website on Wix, and it took me basically no time to set up.
Their interface is truly drag-and-drop, making it incredibly easy to get an online writing portfolio up and running quickly.
While there are some design and functionality limitations, I think those are totally worth it for those unfamiliar with WordPress or anyone who isn't tech-savvy.
If you want me to just tell you straight-up what I recommend…
WordPress for those who have experience using it or those willing to deal with a tech learning curve.
Wix for non-techie folks

and those wanting to get a simple, "minimum viable product" version of their writing portfolio up and running quickly so they can start getting writing jobs ASAP.
You can't go wrong with either option though.
So please don't stress over this decision or let perfectionism hold you back.
Get your free writing portfolio domain via Bluehost now, and just pick one of the site builders above.
Take action!
Seriously:
Don't procrastinate due to perfectionism.
Most writers do this, and it stops their career before they even truly get started.
If you want to be the exception and make money writing, you've gotta be the exception and do it scared!
Step 3: Pick Your Freelance Writing "Niche For Now"
When I started freelance writing, I wrote long-form blog posts for B2B companies.
So, I marketed myself accordingly on my writer website, like this:
Let me be clear here:
You need a clear niche on your website too… 
Right in a big-ass headline!
In fact:
Choosing a profitable freelance writing niche is key to your success as a writer.
After over 6 years coaching writers, I've noticed that every single one of my successful students has a clear and defined niche on their writer website.
(Just like in the examples we covered earlier in this guide!)
Totally unsure of which freelance writing niche to choose?
Grab this free guide with 101 profitable freelance writing niches if you don't have a niche yet.
It'll teach you everything you need to know to make the best niche decision.
Once you get the 101 niches guide, pick a niche on the list and start marketing yourself.
I call this your "freelance writing niche for now" because it takes the pressure off and helps you avoid stalling due to perfectionism and a fear of choosing the wrong niche (super common fear, by the way!).
You may end up changing your writing niche later, which is fine!
Know what's NOT fine?
Wasting months – or even years – obsessing over the niche decision to the point where you never take any action at all.
Entrepreneurs don't wait around for perfection and certainty (no such thing!).
We feel the fear and dive in head-first anyway.
Grab the free guide with 101 profitable writing niches now so you can make a good decision, pick your niche, and get started.
Your niche is important because you'll use it to write the content for each of the pages on your freelance writer website (aka your portfolio!).
If you still can't pick a niche after grabbing the guide…
Take my free quiz right here to learn the best freelance writing niche for you!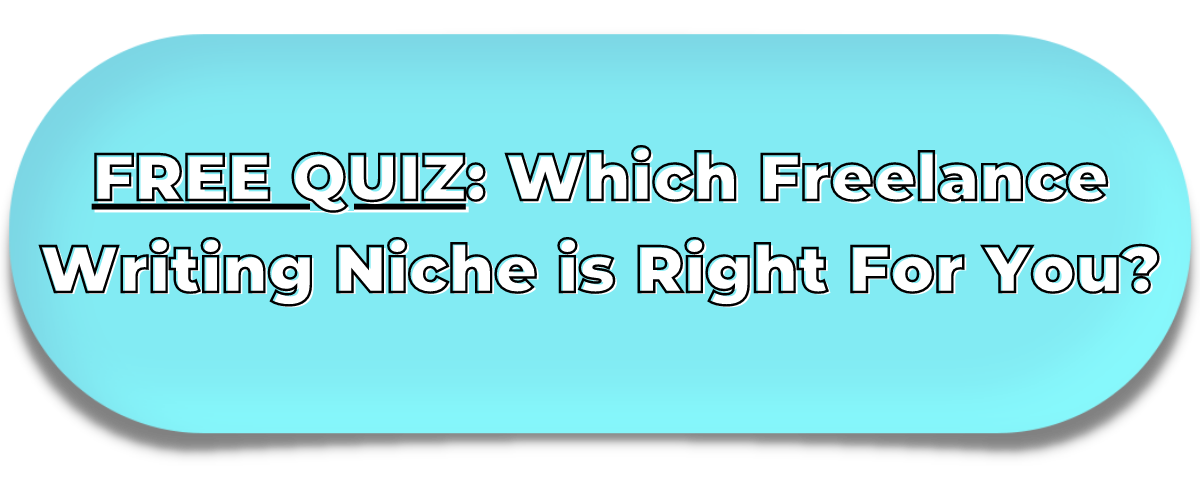 Now…
Let's talk about which pages you need on your writing portfolio website and exactly how to approach them.
Step 4: Build the Pages for Your Writing Portfolio Website
Page #1: Home Page
This is your freelance writing portfolio's home page, so you'll want to make it count. The point of this page is to showcase what makes you worth hiring for freelance jobs in general.
Here's what you've gotta have on your portfolio home page as a beginner:
A gigantic headline above the fold that states your niche / who you help.

A brief bio and a photo that shows your face.

What you do and why clients should work with you.
Here's what you need to add to the home page as soon as possible:
Testimonials. When a client is happy with your work, reply by asking for a testimonial. If you can get a photo of them to put next to it, even better.

Other forms of social proof. For example, a "Places I'm Published" section with logos is a great addition to your site and builds tons of trust. Just like in the example below!
Be intentional here, and try to get a testimonial from your first few clients.
Then, add those to your site immediately.
As far as a "Places I'm Published" section, you can build this by guest posting strategically. In other words, writing for notable sites in your niche.
We'll talk about samples and exactly how to get guest posting opportunities as a beginner later in this post, so stay tuned. 🙂
An important note before we move on:
Your home page is not a place to share your life story or talk endlessly about things clients don't care about, like your novels and poetry.
This is a business website meant to sell your writing.
So, resist the urge to make it overly artistic or personal at the cost of losing clients.
Note: You can learn exactly how to approach every section of your website and get your first clients inside my best-selling Killer Cold Emailing course. Learn more here!
Page #2: About Page
On your About page, talk about yourself but make sure to keep it in the context of what's most relevant to your clients.
Your about page should answer these questions:
Who are you?

What kind of writing do you do? Talk about it, and include a picture of your face to build trust.
Who do you help / what do you do?

Simply talk about your niche and the types of clients you help. It's important to reiterate this throughout your writer website!
Why should potential clients trust and hire you?

The best way to communicate this is to show PROOF via testimonials. If you're a beginner and can't do that yet, that's okay. Just get started and improve your site later.
Pro copywriter Kira Hug has an excellent About page: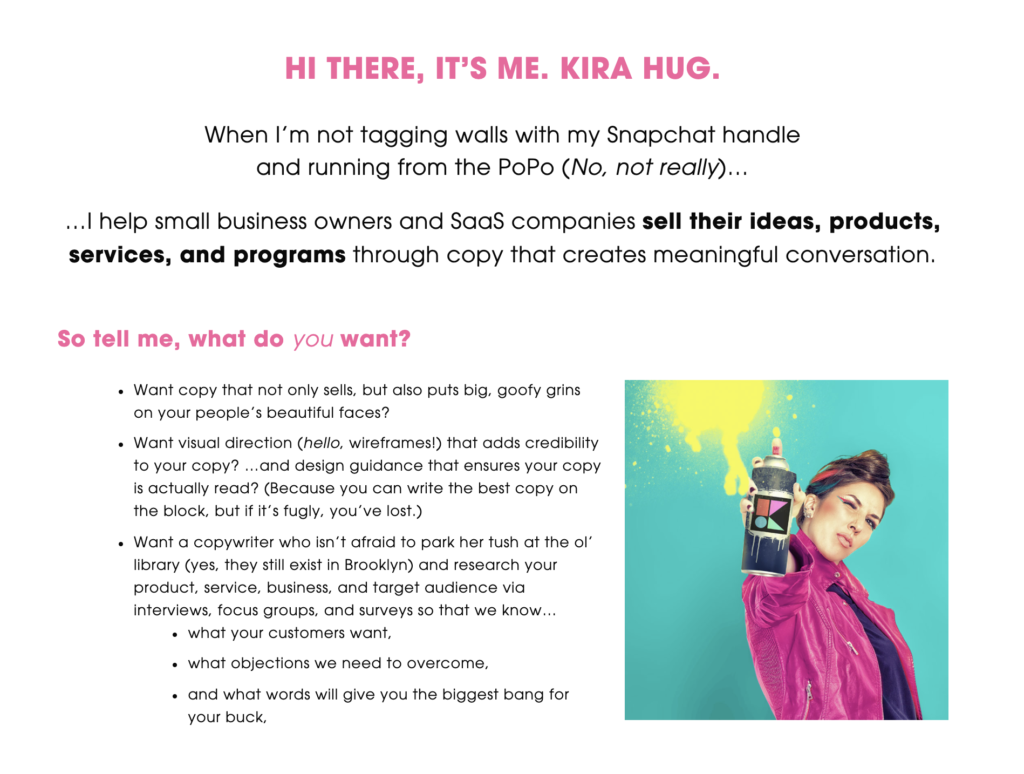 Right away, you get a sense of who she is and understand exactly what her niche is and who she helps. 
Now, you don't necessarily need to have incredible branding like Kira does if you're a total beginner writer. 
(Seriously, her branding is top-notch and I'm sure it was an investment of both time and money!)
But…
You absolutely want to nail the fundamentals that will help you sell, like stating your niche. 
So make sure you do!
And if you need help, you can get step-by-step guidance on how to start freelance writing right here.
Page #3: Services/Rates Page
Building this page is pretty straightforward. You simply share what services you offer and how much they cost.
I recommend building the value of your services before anyone sees a number. 
Don't just say "I do blog post writing for $200." 
Give 'em an idea of what all your blog post writing entails first! 
After that, talk numbers.
…And yes, I absolutely recommend posting your rates on your writer website!
As far as how to word your writing rates, choose one of these options:
"Rates for (type of project) typically start at…"
"Rates for (type of project) typically range from…"
Then…
Clarify that exact rates vary depending on project scope, and that the client needs to get in touch with you for an exact quote.
Just like that, you'll be able to weed out lowballing clients and get people who are a good fit blowin' up your inbox!
Plus, by saying that "exact rates vary based on project scope," you give yourself the flexibility to charge more for more in-depth projects.
Other than that…
Just reiterate what your freelance writing niche is, who you help, and what services you offer on this page.
Keep it simple at first. You can always use more advanced pricing strategies, like retainers and monthly packages, later on.
Page #4: Portfolio Page
We've finally made it to the portfolio page! This is where you get to showcase your best, most relevant writing work.
Let's talk about exactly how to approach this section in the form of answering the most common portfolio questions.
How many writing samples do I need?

Create 2-3 niche-relevant samples to start out. Up to 6-10 samples total for when you've gotten more work.

What exactly do I write about?

The same things you'd write about for a client in your freelance writing niche.

How do I get published writing samples when I've never had a client?

Self-publishing, guest posting, or doing 1-2 pro bono projects. More on this later!

Other than samples, what goes on my portfolio page?

I recommend adding your niche in a headline, and also putting in social proof when you have it.

How do I showcase my writing samples visually?

See the image below for an example of this. 🙂
Now…
Do you know what's more important than the number of samples, the way your samples are presented visually, or where your samples are published?
Niche relevancy.
In other words, your portfolio will flop if you write a blog post reviewing the top hiking boots when your actual niche is writing about pets.
You must write samples that showcase your writing niche expertise.
Your niche is the #1 thing that builds trust with clients, which is why it's so important to choose a writing niche as a beginner.
(We'll talk about exactly how to get published samples in detail – even as a total beginner – shortly below in this blog post!)
Page #5: Contact Page
You've gotta give clients a quick and easy way to get in touch.
Pretty obvious, right?
Not so much.
You'd be surprised how many freelance writers make it extremely difficult to find a way to contact them on their writing portfolio website!
The problem with that?
If clients have to spend more than two seconds figuring out how to contact you…
They'll get frustrated and move on to the next writer.
That's why you must have a dedicated contact page on your website, and include it in your website navigation bar.
I recommend including a simple contact form on this page as well as your email address.
If you're a beginner freelance writer, ask for three simple pieces of information in your contact form:
The client's name

The client's business website URL

How you can help the client / what they're looking for
As you grow your business, raise your rates, and get pickier, you can use a more in-depth form and ask for things like budget, timeline, etc.
But don't complicate it at first.
Just include the 3 simple form fields and your email address!
Step 5: Create your first writing samples for your portfolio.
To get started getting freelance writing jobs, you'll need to create 2 to 3 portfolio pieces that showcase your niche expertise and writing abilities.
Fortunately, you don't need any experience at all to get client-winning samples!
Using the 3 simple methods outlined below, you can get your portfolio pieces completed in as little as a day.
Here's how:
Method #1: Guest Posting
Guest posting simply means a blog post for a website other than your own.
Here's an example of a guest post I wrote for ProBlogger just a few months after I lost my job and started freelance writing.
The best guest posts are niche-relevant, meaning you write for a site in your niche, about a topic that showcases your niche expertise.
For example, if you're a pet care writer, maybe you could write a guest post called "5 Simple Steps to Train Your Chihuahua to Sit" for a pet care blog.
This would be the perfect portfolio piece to showcase your niche!
Method #2: Self-publishing
Self publishing a blog post means, ideally, you publish a niche-relevant blog post yourself on a site that you can have control over, like Medium or LinkedIn publisher.
Again, let's say you're a freelance writer who writes about pets and pet care:
You decide to create a blog post called "How to Keep Your Cat from Peeing in the House" as a self-published piece for your writing portfolio
You could easily open up LinkedIn, and use LinkedIn Publisher to publish the piece online in a day or less!
(Bonus points if you use my LinkedIn profile optimization method for freelance writers that made me $10,000.)
Easy peasy, and the niche relevancy is on point!
Here's an example of a blog post writing sample that I self-published when I started out as a IT/Tech copywriter: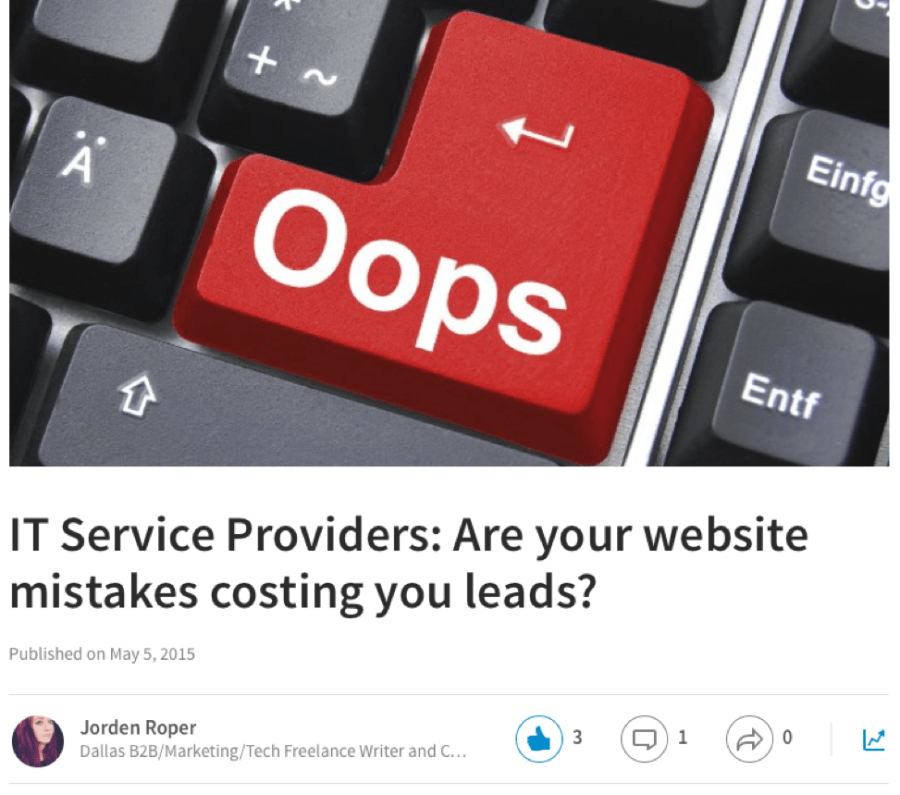 Something simple like this, where you can actually link out to a piece from your portfolio page (as opposed to it being on your own blog), goes a long way in giving you credibility as an online writer.
On that note:
Don't use a "blog" page on your writer website as your portfolio.
You need actual, linked-out-to writing samples, even if they're self-published.
Method #3: Limited pro-bono work.
Pro-bono work means writing for free.
Now, I want to be clear:
If you choose to take on pro bono projects:
Only choose niche-relevant projects that will actually become excellent portfolio pieces and get you hired later.

Otherwise, you're wasting your time because there's no strategy behind your pro bono work.

Don't work for free for a client who you eventually want to pay you well.

Your $5 client will never become a $5,000 client. Once you've shared your pricing, the associated value is cemented into your client's brain! So don't choose your dream clients for pro bono projects. Maybe just go with a small, local business who needs some help.

Only write for free once or twice, and only with a clear strategy.

Seriously, don't get stuck in the cycle of writing for free (or low pay). Your only goal here is to get 1-2

niche-relevant

writing samples. Once you're done…

you're done!
Also, know that you do not have to work for free as a writer – ever.
That's a common myth, and frankly, it's total bullshit. 😉
If you'd prefer to start by self-publishing or guest posting, that's totally fine!
Now, you may be wondering exactly how to approach your writing samples for your specific niche.
So, let's cover a few examples of stellar writing samples!
To be clear: Do not copy any of these samples.
These are to help you get ideas of a general good approach, not for you to steal.
(Seriously, just don't do it! You could get in major legal trouble. I've unfortunately had to come after many folks who have blatantly copied my writing, and I know the other pros mentioned below would do the same. We cool? Cool.)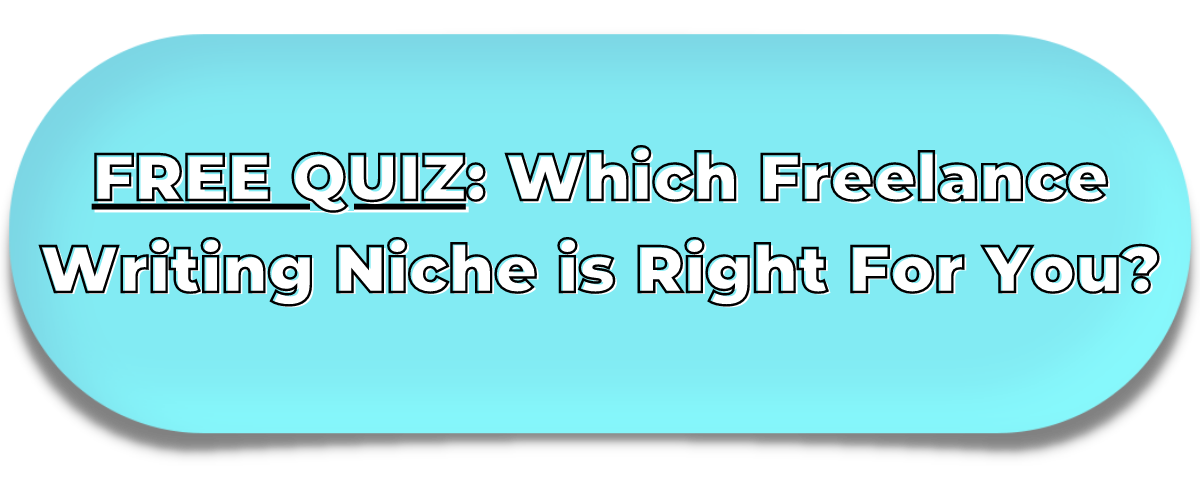 Writing Sample Example 1: Blog Post Writing
If you're targeting software companies who mostly publish long-form blog posts about marketing (think the OptInMonster or Contently blog)…
You would then write a long-form blog post about a marketing topic.
As someone who primarily writes long-form marketing blog posts, here's a writing sample I've used to get more writing jobs in my specific niche: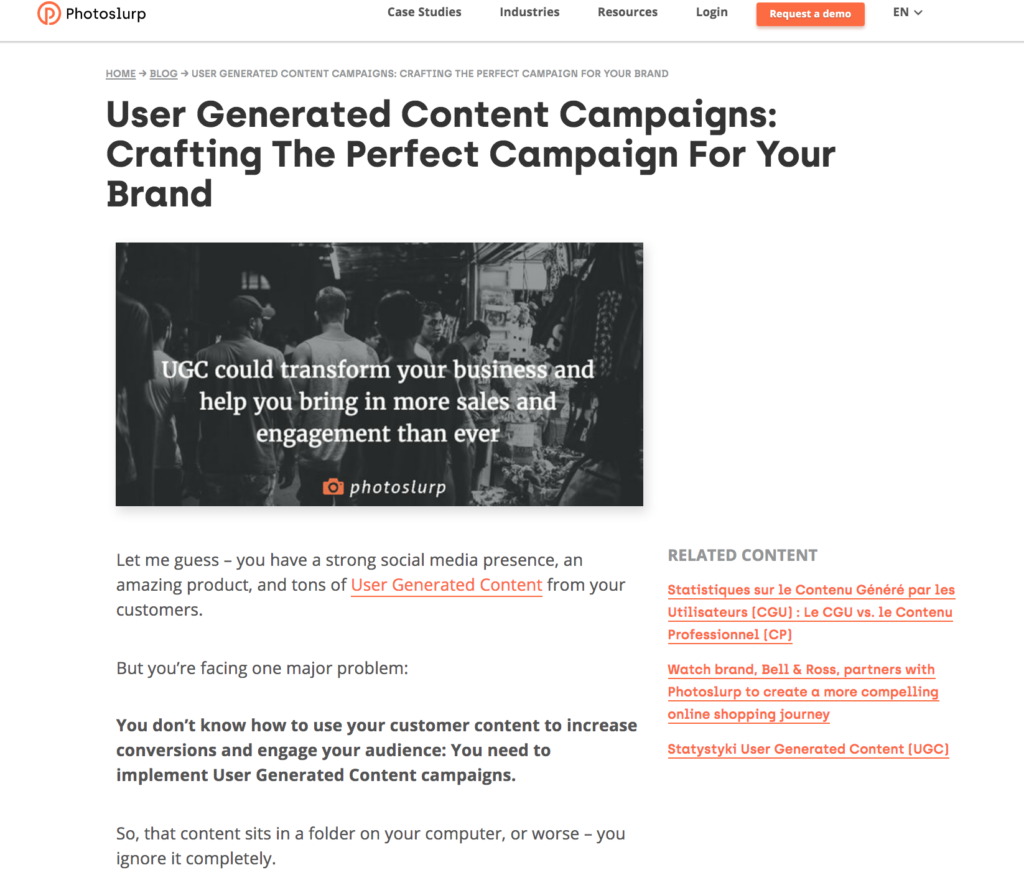 This sample works especially well to sell my writing to clients who want "eCommerce marketing" topics since that's what the post covers, but it's a great writing sample for getting me hired to write about general online marketing topics too.
Writing Sample Example 2: Email Newsletter Writing
A lot of writers get hung up on how to present their non-blog-post samples.
Honestly, just follow a few rules of thumb, and you'll be fine:
Do not make the client download a PDF, especially if you're a beginner with no social proof. I would never, ever download something off a stranger's site. Your client won't either. No PDFs!
Include a simple screenshot of the piece with the title, and then more details when they click. For example, maybe you could screenshot the email newsletter and then include the full copy for the newsletter once they click that image.
When ghostwriting an email newsletter or funnel (or anything, really!), make sure to ask the client before putting it on your portfolio website.
If you cannot put an email newsletter writing sample on your website, consider instead creating a dedicated page where you talk about the project and share a client testimonial.
Here's an example from copywriter Susan Greene: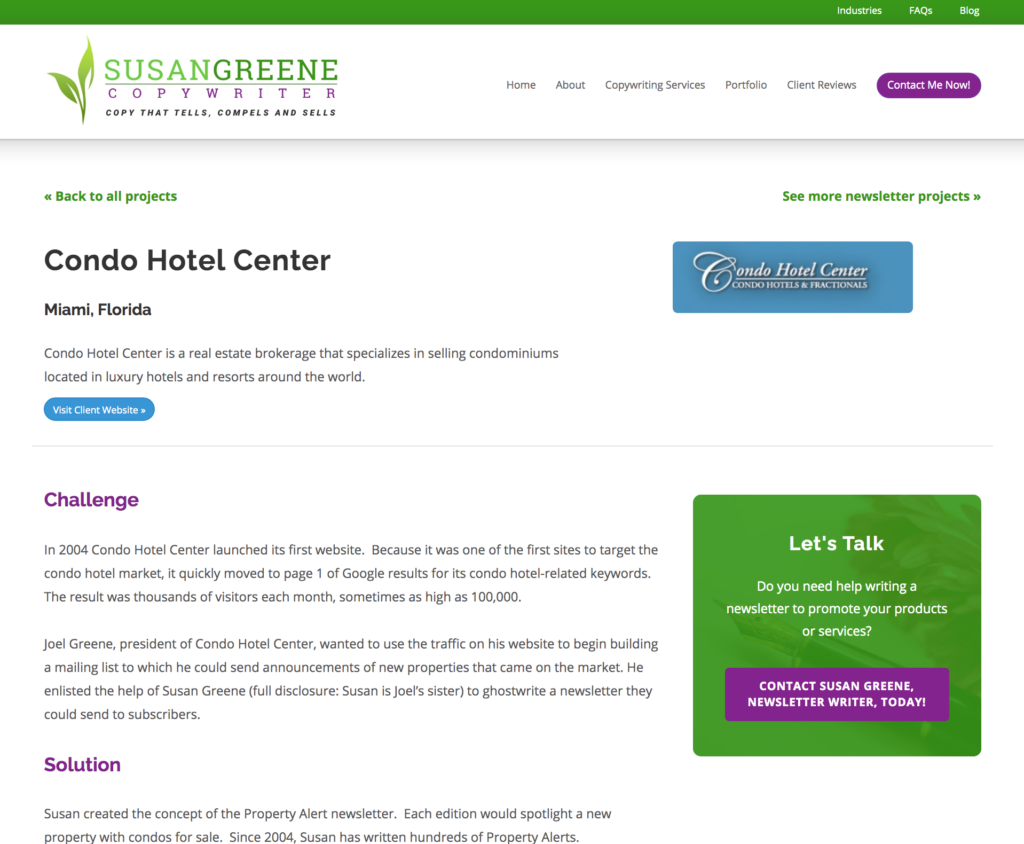 …A page like this is basically a mini case study of your own that sells your writing…
Without you having to post an actual sample on your website!
Writing Sample Example 3: Case Study Writing
Want to become a case study writer?
Then you'll need a couple case studies in your writing portfolio
When I think of the most talented case study writers out there, I immediately think of Joel Klettke and his writing business, Case Study Buddy.
You can see how he presents his case study writing samples here: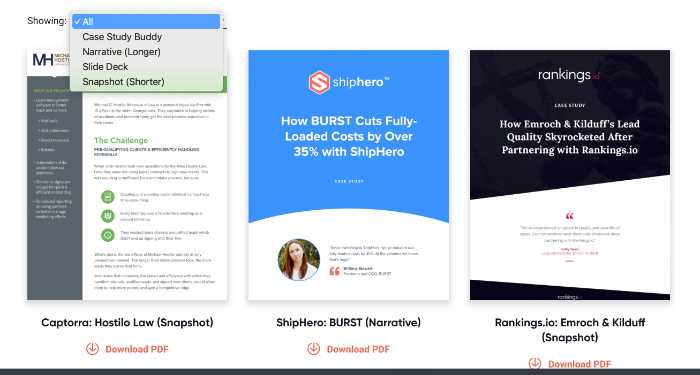 In this case, PDFs work great because case studies are visual, and clients may want to see what the case study actually looks like – not just how it's written.
Now that you've seen examples of how to present your writing samples…
Let's cover your top questions about creating an online portfolio.
Freelance Writing Portfolio Q&A
As you read through this section, ask yourself what other questions you have.
If you come up with any, I'd love to hear from you in the blog comments below! I do my best to read and respond to every comment. 🙂
What if I want to work in multiple writing niches? Do I need multiple online portfolio websites?
Don't try to work in multiple niches at first.
"If you chase two rabbits at once, you won't catch either of them."
The exception here is is you choose two closely related niche topics, like:
IT and technology

Health and Wellness

Fashion and Lifestyle
Even so, you just want to have one dedicated portfolio website.
And keep in mind that, the narrower you go within a profitable freelance writing niche, the more likely you are to get high-paying clients as a beginner.
Click here to get my popular free guide with 101 niches that you can make $5,000/mo writing about.
What if I can't get a custom domain for my writer website right now? Is a "free site" enough to start?
Well, let me put it like this:
"If you aren't willing to invest a little bit in yourself, you can't expect clients to invest in you."
Sounds harsh, but I really want you to understand what it takes to be successful.
As a beginner, you can't compete unless you have a pro writer website with a custom domain.
Your pro website says, "I'm a real business owner who deserves to be treated well and paid well, not someone scrounging for $10 jobs on Fiverr."
Remember, you can get a free domain and an exclusive, negotiated discount on hosting here via my Bluehost link, so no excuses and no putting it off. 😉
Do you have any writing portfolio templates that show exactly how to approach every section of every page?
Yes, I do!
You get my Freelance Writer Website Mock-ups included as a bonus when you enroll in my best-selling Killer Cold Emailing program now.
In this bonus, you see exactly how to design each page. Plus, you get my detailed notes on exactly what to say on your site!
Killer Cold Emailing is my best-selling course and your step-by-step guide to starting a full-time freelance writing business from home, even with no experience.
Click here to learn more and sign up now so you can get the writing portfolio templates for free!
Get Out There, and Start Building a Writing Portfolio Today!
Now that you know everything there is to know about what a writer's portfolio should include…
The worst possible thing you can do is:
Keep reading more blog posts.

Keep trying to decide on the "perfect" approach before starting writing.

Keep wasting months doing something you don't enjoy for a living and putting off building your writing portfolio.
If you keep procrastinating, you'll never start at all.
You're not going to let fear and perfectionism hold you back, are you?
I want to challenge you…
Take the first step now.
Get your domain and hosting right now (remember, you get a discount and free domain when you use my link!), and start mapping out the pages of your writer website based on what you've learned today.
Because action creates momentum.
And the truth is:
You don't need more research or more experience.
You just need the GUTS to start building a writing portfolio in spite of your fears.
Jorden Roper is the CEO/Owner of Writing Revolt, where she teaches freelance writers how to make a living online and improve their copywriting skills. Her best-selling Killer Cold Emailing program helps beginner writers start getting clients. Take her free class on How to Make Your First $1,000 Freelance Writing in 45 Days now!