Hi friends! Today, we've got an AMAZING guest post from Bridget Langer – all about how to land high-paying freelance writing jobs using Facebook groups. 🙂 She is a Killer Cold Emailing student who used what she learned inside the course to land $2,000 in writing clients inside these groups – a great testament to how pitching and cold emailing skills can translate to landing clients in tons of ways besides cold emailing! Read on to learn how she did it, and make sure you join our free (and super supportive/friendly) Writing Revolters Facebook Group with over 13,000 writers. 🙂 
Throughout my 3 year copywriting adventure, I've joined many copywriting/creative/remote jobs Facebook groups.
Like….a lot of them.
Scrolling through the frequent postings quickly became a daily ritual.
Eagerly looking for anyone wanting to hire a copywriter and then immediately applying when I found one relevant.
While I did make a few good contacts and landed a couple of jobs – I wasn't seeing the success that I wanted.
…Until I started implementing the cold emailing pitch techniques that I learned inside Jorden's Killer Cold Emailing course.
Thanks to the sales techniques I learned inside Killer Cold Emailing, in the past three months, I have landed 4 well-paying clients from Facebook groups, adding up to over $2,000.
Some are also retainer clients – which we're all aiming to get, right?
Which is why, today, I'm going to talk about the changes I made to my pitching style which landed me these great, high-paying clients from Facebook groups. Keep reading because, even if you have no experience – these tips work! 
But first…
Why use Facebook groups for finding freelance writing jobs?
Facebook groups are packed with your potential freelance writing clients.  People who are using Facebook as it should be used – a networking tool.
I've found a few great copywriting Facebook groups as well as other creative, remote working job boards and female entrepreneur groups that have members from around the world.
In these groups, people often post about looking for freelance copywriters.
…Which is where I jump in and pitch away!
I've found this to be a super easy way to pitch, mostly because you are pitching to someone who is already looking for a copywriter.
They already have a need for you….
All you need to do is convince them that you're the best writer for the job.
So…you have to first convince them that they need you. And then convince them that you're the best writer for the job.
Copywriting and freelance writing Facebook groups give you access to what I like to call 'active potential clients':
Potential clients who are engaged online, know what they are looking for, and are (usually) willing to pay well for it.
Basically… the dream clients that we all want, right?
But, before you can market and pitch yourself, you need to actually get inside the BEST groups for landing high-paying copywriting jobs.
So…
Which are the best copywriting / freelance writing Facebook groups to join?
There are loads of Facebook groups that you can join – ranging in size, location, and focus.
I've found that the bigger the group, obviously, the more competition.
So, where some groups were once great, slowly stopped being as useful as more copywriters join and flood inboxes.
Being one of 10 applications offers better odds than being 1 of 50 applications.
As a female copywriter, I've also found great success in women-only groups.
Particularly ones that feature other women entrepreneurs that aren't copywriters – as many will need a copywriter at some point in their business.
Great women-focused Facebook groups are: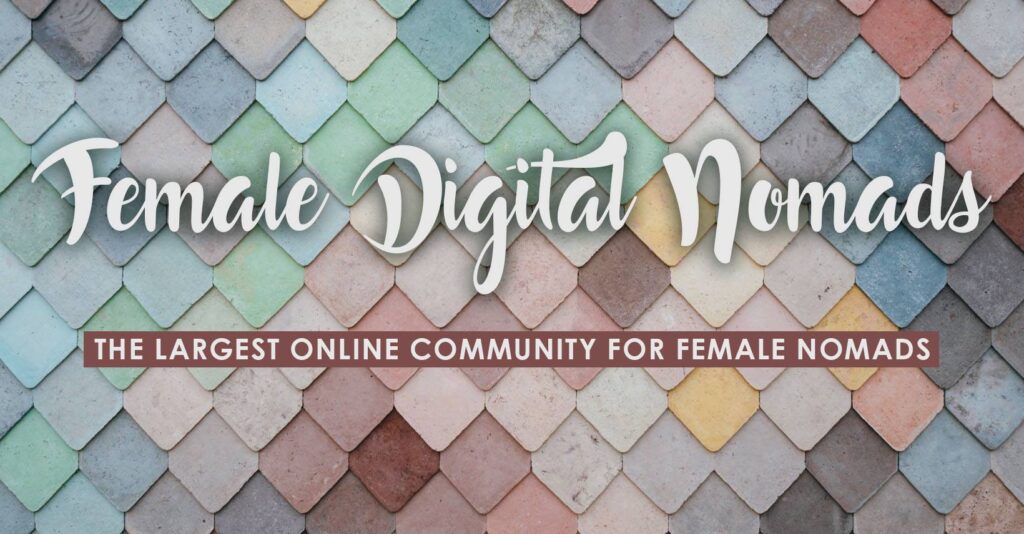 Then, there's the remote working Facebook groups. 
These have been great for highlighting remote writing jobs that have already been posted on job boards.
Cold pitching to a job posted on a job board is a bit more formal… but applying the same techniques that I'll get into below is just as helpful!
A few cool remote work Facebook groups:
Don't forget about your local Facebook groups and groups focused on creative/writing jobs in your country.
While some local Facebook groups can have a lot of competition, I've found that the quality of competition isn't as high as in the more international groups.
That means that, If you've got a killer pitch, you're highly likely to get some form of response.
Related: Want to learn how to make your first $1,000 freelance writing online? Click here to join over 12,000 writers in the free training now!

Before you pitch, you need to make sure you're only spending time pitching the BEST writing opportunities. 
So, let's talk about…
How to spot red flags vs. legit freelance writing jobs in Facebook groups
Unfortunately, there are some dodgy freelance writing job postings on Facebook groups.
To avoid wasting your time, look out for the following red flags:
Posts that don't include much information about what they are looking for.

Jobs that don't include an email address. Many posters ask you to slide into their DM's, but then never actually look at their DM requests. If you do message someone privately, always comment on their post saying so and also asking for their email address.

Posts that include a lot of emoji's and bolded text. I don't know why, but I just don't trust them. Maybe because it seems like they're trying too hard?

Jobs that seem way too good to be true, are very often not true.

Follow your gut, if you feel like it's a waste of time then rather don't waste your time.
Below is an example of a dodgy Facebook post.

You can tell because, for one thing, it's the member's first post.
Secondly, it's a commission-based job.
And lastly, it's very vague in what the job entails as well as no mention on how to apply for the job.
Now that we've covered all the prep work, you're ready to learn how to pitch!
How I pitched my way to $2,000 in freelance writing clients from Facebook groups
I managed to land $2,000 worth of writing clients from Facebook groups!
And you can too, from following the steps outlined below.
(By the way, I learned each of these steps from Jorden's Killer Cold Emailing course.)
Step One: Firstly, make sure you look legit online
You need to have a great freelance copywriter website, a niche-optimized LinkedIn profile (see below, and click here to learn how to set yours up quickly!) and a decent-looking Facebook profile.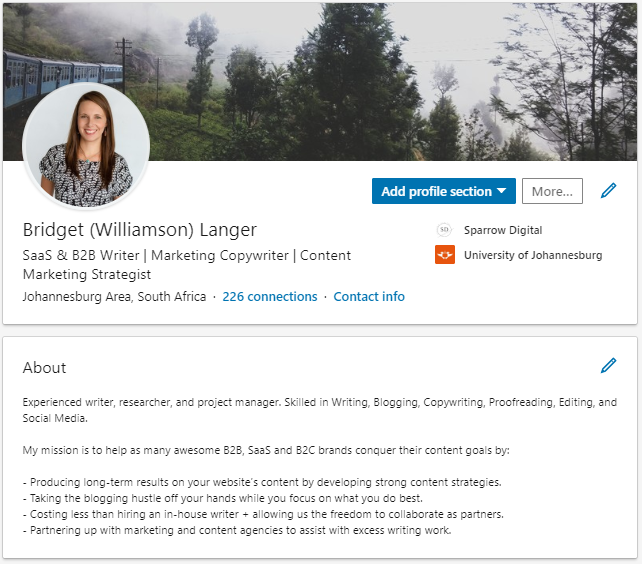 I'm mentioning your Facebook profile here because you are first connecting with your potential clients via Facebook. There's a good chance they'll click onto your profile to get a quick first impression.
I also recommend keeping your Facebook profile restricted – keep personal things, personal.
But make sure to include a link to your copywriting website/Facebook page as well as any other relevant professional information on your profile.
Also, have a decent Facebook profile picture.
Step Two: Prepare to craft the perfect email pitch
First, try and get an email address to pitch to directly!
Some will prefer to stick to the DM's in the beginning, which can work at times (if they can figure out how to access their 'message requests' folder in Facebook).
But pitching via email is always the first choice!
Also make sure to stick to your niche when pitching.
Only apply for jobs that you know you are qualified for and that fall into your specific writing niche.
This will make your pitching way easier, as you will already have examples of similar works and your website will speak directly to them.
There's nothing more awkward than pitching to someone who is completely out of your niche, and your entire online profile basically states how you are focused elsewhere.

Step Three: Do some more research
Before starting to craft the perfect pitch, you need to do some research.
Find out the company that they are looking for a writer for.
They'll either state this in their post, or you can get it from their email address or click onto their profile and see if their company is mentioned.
Once you've got the company name – go full-on stalker mode and find out as much as you can about the company and start figuring out how you could use your copywriting skills to help them.
Step four: Personalize the pitch (or forget about getting considered)
This secret to success in pitching to Facebook group jobs is to personalize every single pitch!
If you're using generic emails….it shows. And it gets ignored.
Use your gathered findings to personalize the pitch. 
Mention something about their business or perhaps even include any tips that you picked up while going through their website.
If you already know that they are looking for blog posts, give them a list of a few blog post topics.
This has been the number one reason that I landed two of my high-paying clients from Facebook groups.
I've been told that I was the only one offering topic suggestions amongst a bunch of applications. See below.

Make sure to also cover any points that they mentioned in their initial Facebook post.
If they're looking for someone within a specific niche – tell them that you are specialized in that niche.
Always share links to your niche-optimized freelance writer website/portfolio.
And if they asked for rates in their initial post, then make sure to include your rates.
This is why pitching to Facebook group contacts is so great. You can get so many clues about what they are looking for, that you can craft a pitch that speaks directly to their needs.
Make sure to also mention the Facebook group that you got their details from in the email.
Step Five: Connect on LinkedIn
Once you've sent them a pitch, also send them a connection request on LinkedIn.
Seeing your name popping up in both their inbox and LinkedIn notifications may spark something that makes them open up your email.
Don't send a Facebook friend request.
I prefer keeping networking within the groups on Facebook.
Also, imagine getting a bunch of Facebook friend requests after posting on a Facebook group…
Not a good time!
Step Six: Keep track of your pitches and follow up
Keep a list of all email pitches that you send out and where you got their contact details from.
You'll slowly start to build up a database of people who have a need for copywriters.
You may not always get the writing job initially. But that shouldn't stop you from pitching to them again in a few months.
Follow up on your pitches.
Always.
Make Facebook groups work for you.
There is so much more potential when apply a few basic steps to making sure that you stand out from the rest.
BONUS Tip For Landing Clients in Freelance Writing / Copywriting Facebook Groups
Follow each Facebook group's set of rules.
See an example of types of rules to expect below: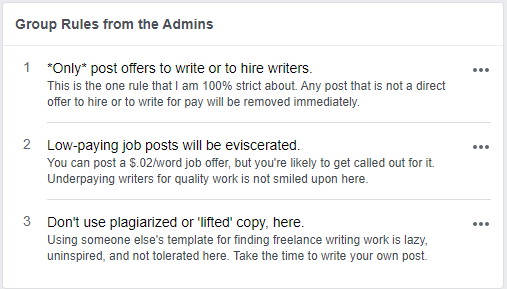 Don't be spammy and don't jump onto absolutely every opportunity to self-promote.
Nobody likes that person.
Give a little bit of love back to the group – share advice and recommend other fellow freelancers where necessary.
We're all in the same community, after all.
And if you break the rules, you're likely going to get kicked out the group. Facebook admins don't mess around, yo.
Author Bio: Bridget Langer is a freelance copywriter based in South Africa. When she's not typing away on her laptop, she's probably dreaming about her next trip, drinking wine with friends or heading to a yoga class. Follow her on Instagram @bridgeew and check out her website Sparrow Digital for more content.