The following is a guest contribution from Laura Wheatman Hill.
Coronavirus has changed the workplace for all of us. Essential workers risk their lives to earn a living, and the rest of us work from home or join the many, many unemployed. 
In May of 2020, I joined the unemployed. 
My husband went back to work full-time, and I stayed home with our two young children. 
Like many, I was feeling an uptick in anxiety and depression.
I had written a play and its workshop was postponed.
My creative outlet, theatre, was no longer available. 
To deal with my feelings, I went back to my childhood roots as an avid journaler and started writing blog posts about being home with two wild kids. 
Right before the end of the world, I'd gotten my first paying writing gig: a humorous article about my daughter's imaginary friend which paid $50. 
The same publication ran my first of many "quarantine rants" in mid-March, right as we were all hunkering down at home.
From these humble beginnings, I was able to expand my writing career.
And, as of writing this post, I have made my first $1,500 freelance writing during a pandemic.
While this amount of money doesn't pay ALL the bills, I am able to contribute to my family while working only a few hours a week doing something I love. 
Here's exactly how I did it:
How I Made My First $1,500 Freelance Writing During a Pandemic
Step 1: I Went From Cliche to Niche (Because Yes, You Need a Profitable Freelance Writing Niche!)
The cliche, "write what you know," is what freelancers call their "niche."
Your niche can be a combination of two sections of your life: 
Who you are and what you read.
So, I asked myself a few questions to determine the best niche for me…
Question 1: Who am I? 
I have a teaching degree and two little kids.
So, my niche is education and parenting.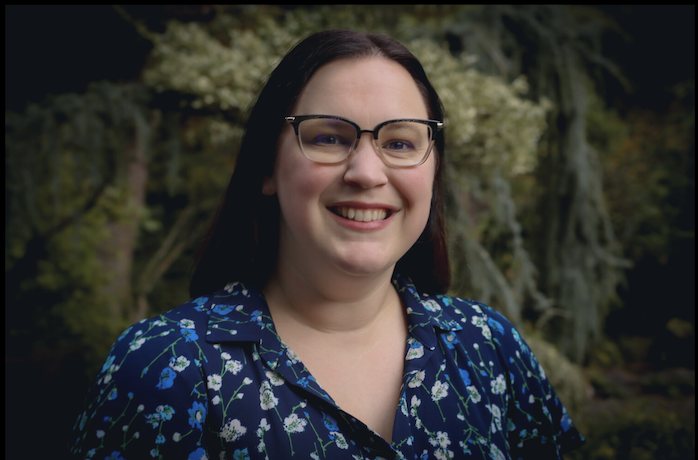 There are one million "Mommy Blogs" out in the world, so it took a bit of work to figure out which ones paid for freelance writers. 
My research mostly came in the form of googling "(Publication Name) Submissions" and then sussing out from there if they pay for articles.
This is how I have made about $500 of my $1,500.
For education, I found that sticking with the "parent and teacher" persona helped me land a few gigs about distance learning in the time of COVID. 
I am writing what I know, what I have life experience in, and what I am trained to discuss. 
So I want you to ask yourself:
Do you have a graduate degree? Any training in anything? Any experience in a specific industry?
…Then you're an expert.
Or at least more knowledgable than the average person, which means you can write about your topic.
Do you spend a bunch of time doing something, even if it's wiping butts?
Then you're an expert. Write about it.
Question 2: What do I read? 
Besides parenting, I read fiction and comedy.
There are plenty of opportunities for comedy on the internet, but they are often low or unpaid and/or very selective.
 It's tricky to find money here, but it's fun to try.
Again, using what I know, I was able to get paid to write several humor/parenting pieces. 
Question 2: Who am I NOT? 
I have political opinions, but I'm not a news junkie. 
I read and write fiction, but not short stories. 
I can rhyme, but I'm not a poet. 
Once I stopped chasing opportunities that weren't in my wheelhouse, I had more time to focus on writing to make money. 
So make sure you're focusing on your strengths when you choose your niche.
Related: 101 Super Profitable Freelance Writing Niches for Making $5,000/mo
Step 2: I Got My Freelance Writing Business in Order and Organized My Pitches
More specifically, I made a Google spreadsheet of:
All the places I had sent writing

The places I wanted to send writing

Sites where I'd had writing accepted and rejected,

Who I contacted at each publication. 
The reason this process is so important?
It's easy, especially when you do this part time and in your free time, to forget what you pitched or where you left off with someone.
Being mega-organized helps me keep track of what I'm doing.
There are websites and apps for this kind of thing, but I do my own at this point. 
It's also where I keep track of payment to make sure I get paid the right amount on time.
Related: How to Make Your First $1,000 Freelance Writing (With NO Experience!)
Step 3: I Prepared to Promote Myself
First things first: 
I made that freelance writer website I'd always wanted for myself. 
I had only a couple writing credits to my name, most of which were unpaid, and a barebones blog when I decided to get a pro writer website.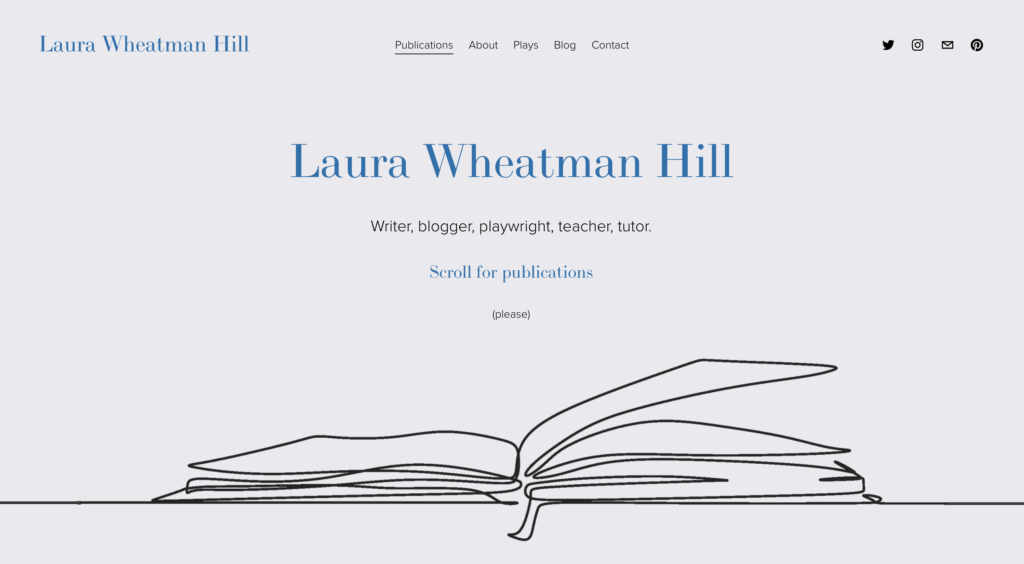 I chose Squarespace because I was familiar with it and I thought their sites were pretty.
Owning your own .com makes clients take you seriously, so it's a step you'll need to take to become a well-paid writer.
I also redid my resume, but, honestly, almost no one who ever paid me to write has asked to see it.
Having a niche-optimized freelance writer website is much more beneficial for your career!
Related: How to Set Up Your First Ever Freelance Writer Website as a Beginner!
Step 4: I Found the Right Clients to Freelance Write For During the Pandemic
Once you figure out your freelance writing niche, it's time to do some research. 
Start by Googling your niche along with the phrase, "pay writers." 
For example:
"Parenting websites that pay writers"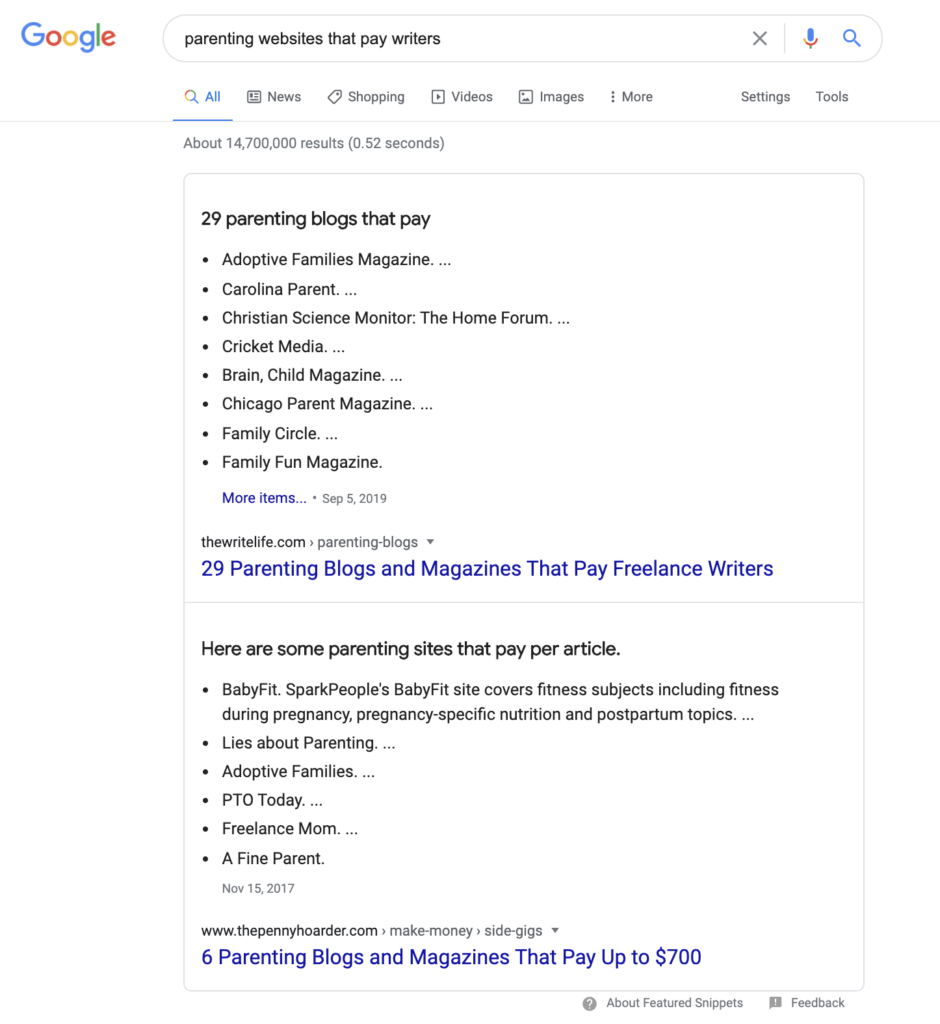 Keep in mind that there will be places listed in articles like this that are not currently taking freelance writers, but many take pitches on a rolling basis.
I've made $500 freelance writing researching sites in my niche and then pitching them!
Step 5: I Explored More Websites for Writing Jobs
The internet is vast and full of traps. I had some successes but also many, many dead ends in my early searches. 
Here are 3 examples of sites I tried:
1. Fail: Upwork and similar
I found these websites overwhelming, low paying, and rarely offering lucrative gigs in my niche.
Plus, many of these websites have a lengthy, aka tedious, on-boarding process and some want YOU to pay to get opportunities, which, as an unemployed person, didn't feel smart to me. 
I have made $0 from these sites. 
2. Success: Remote.co 
I found a gig on Remote.co in my niche, which pays $150 per article, and they wanted multiple pieces. Remote.co has a wide range of jobs and sends me an email every day. It's easy enough and does not cost me anything. 
From Remote.co jobs, I have made $900 this month. 
3. Hit and Miss: Submittable Discover 
If you're unfamiliar: publications, lit mags, and other such places use this platform as a way to organize submissions. 
They have a "discover" tab where you can search for opportunities. Many very reputable organizations use Submittable, but so do many places that don't pay. 
I will say that if you write fiction, creative nonfiction, or poetry, there are many opportunities on Submittable.
But I will also warn you that many will be unpaid OR be contests where you have to pay to submit. 
All in all, I've only made about $100 off of Submittable gigs. 
Definitely not as much as other avenues. 

Step 7: I Focused on Adapting my Freelance Writing Business to The Pandemic
There are some industries that are booming during the pandemic when it comes to freelance writing.
You can capitalize on them, especially if you've chosen one of these industries as your freelance writing niche.
Some places want "evergreen" pieces, not coronavirus or topical stuff, and you must respect that if you want them to hire you. 
The joy of the spreadsheet is it helps me keep track of who is or is not taking pitches right now and who is and is not wanting topical vs. evergreen content. 
To sum up, the $1,500 I made freelance writing during the pandemic was from:
– A $900 client I found on Remote.co who wanted multiple articles
– A $500 client I found researching and pitching to places in my niche
– $100 from Submittable acceptances
A Final Word of Advice on Freelance Writing During a Pandemic 
A few important takeaways from my experience:
I succeeded because I believed I could and I worked really hard.
I did a significant amount of research to find the places that would pay ME to write based on my specific niche and skill set.
I focused on places that wanted to hear from someone like ME, not content mills or low-paying copywriter gigs.
My goal for myself is to break through to higher-paying and higher-profile clients, so I continue to pitch these places and work on my portfolio. 
My advice for a beginner?
Start pitching as if you are a professional.
My highest-profile article thus far is about The Hunger Games. 
I am not a book critic. But as a teacher, I've spent a significant amount of time with Katniss and can speak with some authority about her. 
So, if you want to write about something, do it. 
May the odds be ever in your favor. 
Author Bio: Laura Wheatman Hill lives in Portland, Oregon with her dentist and two children. She blogs about parenting, writes about everything, and teaches English and drama when not living in an apocalyptic dystopia. Her work has appeared in Observer, the Submittable Blog, She Knows, Sammiches and Psych Meds, and more.You can find her at https://www.laurawheatmanhill.com/ and on Twitter and Instagram @lwheatma