The following is a guest contribution from Ken Melendez.
It was a quiet afternoon in Northeast Ohio. 
There I was, sitting in an office chair in front of my 15" laptop, looking for a smart path to get started on my freelance writing journey. 
I was scouring the web, searching for a way I could get freelance editing jobs and writing clients that just made sense. 
…It was at that fortunate moment when I stumbled upon the Killer Cold Emailing course. 
Diving head first into the course was like a breath of fresh air that ignited a spark in my mind and soul, filling me with excitement and causing me to take immediate action on building my future. 
What does this have to do with LinkedIn? 
The answer is… Everything.
You see, before Killer Cold Emailing, my LinkedIn page was mediocre at best. 
In fact, I didn't place much emphasis on the site and instead spent time on less professional platforms such as Facebook and Instagram. 
It wasn't until I found Killer Cold Emailing that I directed more focus on LinkedIn – and landed a $400 freelance editing job as a result of the process I learned in the course!
Here's how I did it:
How I Used LinkedIn to Land a $400 Freelance Editing Job in 5 days
Step One: Niche + Freelance Editing Website
Before diving in and tweaking my LinkedIn page, I knew, based on the course, that I had to create an attractive website that would showcase:
Who I am

The services I provide

Examples of my best work in my niche
The first step in starting your freelance writing/editing business is to create a website that showcases your niche and the services you are offering to potential clients. 
This may seem daunting at first, but it's actually quite simple to sign up for hosting, a WordPress theme, and then customize a handful of pages.
If you want to learn the exact process for setting up a client-winning writer website, read this tutorial.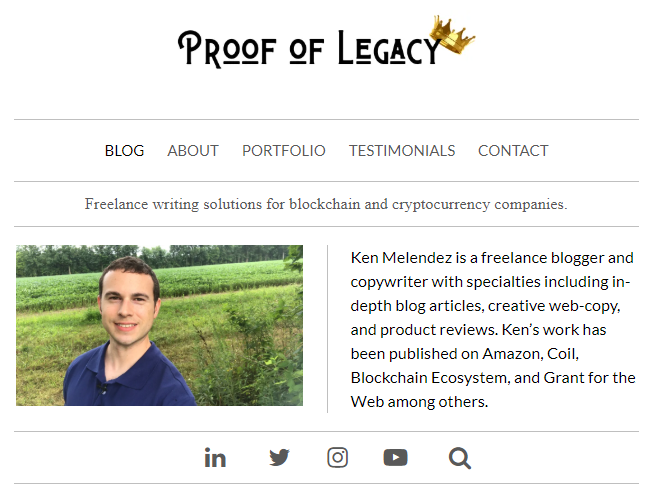 Once you have your niche and writer website, it's time to change your LinkedIn profile so that it attracts clients.
Once I realized that LinkedIn is a search engine where profiles serve as a sales page to display who you are and the services you provide, I decided to put real effort into optimizing each part of it according to the Killer Cold Emailing course techniques. 
The headline and the about me section are two places I feel are extremely important to pay attention to.
Let's talk about why that is, starting with your headline. 
Step Two: Changing Your LinkedIn Headline to Fit

Your Niche
Choosing an attractive headline is extremely important because it serves as the first impression to prospective clients. 
Since many clients looking for writing services don't get to meet you in person, your headline gives them a glance at who you are and how you can help them.
For instance, my LinkedIn headline is as follows…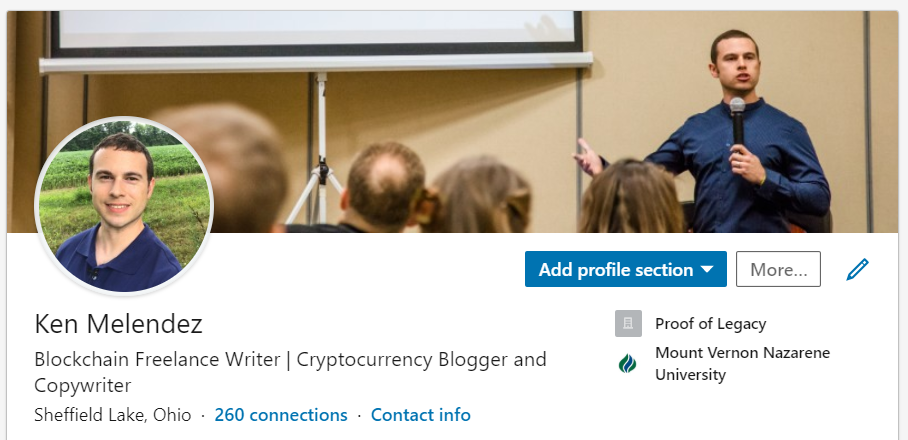 It is concise yet compelling, which is exactly what your LinkedIn headline should be too!
That means:
Don't sit down and write an entire paragraph for your headline as that will turn people off and cause them to click away from your profile. 
The first few words should give prospective clients instant insight into who you are and what niche writing services you can provide for them.
Step Three: Your LinkedIn About Section 
The about me section of your LinkedIn profile is where you can really shine, setting yourself apart from the rest of the freelance writers in your niche. 
LinkedIn allows you to fill this section in with a lot of text. 
So be sure to take advantage of this, putting only the most niche-relevant and sales-focused information there for your potential clients.
For my summary, I used a combination of bullet points and testimonials to showcase the type of work I do.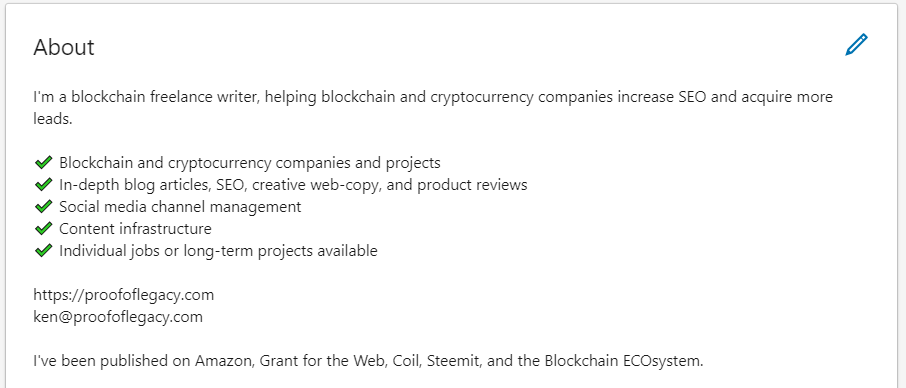 Since everyone's summary section is about them, it is important to tailor your LinkedIn profile to your own specific personality and strengths. 
Remember, these prospective clients are coming in cold having never met you before. 
Tell them how you can address their specific needs in your summary section.
Step Four: Watch The Freelance Editing Jobs (And Freelance Writing Clients) Roll In! 
After I made the tweaks above to my LinkedIn profile, plus a few more that you learn in the Killer Cold Emailing course, I had a freelance writing client reach out to me just a couple days later! 
Keep in mind, this happened with absolutely zero advertising whatsoever. 
I was going about my usual business one morning, when all of a sudden I got a notification on my phone prompted by a direct message on LinkedIn. 
Upon opening the message, I realized that it was someone inquiring about one of my freelance services, specifically blockchain book editing. 
I remember being quite shocked since it had only been a matter of hours since I updated my LinkedIn profile according to the Killer Cold Emailing course methods.
Did I land the client right away?
Close. 
We engaged in a series of messages after the initial contact. 
They asked for examples of my work which I ended up sending them a link to my website, encouraging them to take a look at the portfolio page. 
(This is why it's critical to have a niche-optimized writer website! Your website will sell for you if it's optimized correctly.)
I sent them a quote for the project, and then, they took a couple days to discuss it and come to a decision. 
Once the client made their decision to hire me for the freelance editing project, we communicated via email instead of LinkedIn messenger. 
I was dedicated to making sure I did a good job and that the client was satisfied with my work. 
Throughout the project, I provided updates via email letting them know how the job was going and how much I had gotten done up to that point. 
I was paid half of the total amount once half of the book editing was completed, and the other half was paid once the project was completely finished.

A Final Tip on Getting Freelance Editing Jobs
If I had to start this entire journey over from scratch, I would go back and purchase Jorden's course, Killer Cold Emailing, then follow the action steps the exact same way.
If I didn't follow the training inside Killer Cold Emailing, I would never have landed the $400 freelance editing job without spending a single penny on advertising.
With the money I earned from this job, I was able to make back my investment in the Killer Cold Emailing course quickly and put some additional cash in my pocket. 
It is amazing what can happen when you step out in faith, live with integrity, and take bold action to achieve a goal.
Now, it is your turn to step out and be the freelance writer you've always wanted to be. 
Remember, everyone starts somewhere, why not start now?
Author Bio: Ken Melendez is a freelance blockchain writer providing blogging and copywriting solutions to blockchain and cryptocurrency companies. https://proofoflegacy.com