There I was, sitting in the movie theater, watching Iron Man 3.
…And suddenly, I felt my jaw drop as I watched Tony Stark, a superhero and business-running badass, brought to his knees by anxiety.
At first, he thinks something else is wrong.
With his heart. Or maybe with his brain.
When he's told his diagnosis – a severe anxiety attack – he replies:
"…ME??"
This is how I feel every time I have an anxiety attack:
"Seriously, ME? How could this happen to ME?"
And yet, every time I watch Tony deal with his anxiety on the big screen, I'm reminded…
Anxiety doesn't discriminate. It can happen to anyone.
Even if you have a no-fucks-given attitude most of the time.
Even if you're a generally well-off and happy person.
Even if you're a successful business owner.
I mean, this is Tony motherfucking Stark we're talking about.
He has it all. And yet…
Anxiety.
I've had anxiety for as long as I can remember, and it peaked in 2018 after multiple stressful situations arose in my life.
At one point, I was having anxiety attacks every day.
Sometimes multiple times in the same day.
But I'm happy to report that today, anxiety attacks are extremely rare.
Anxiety is something I'll always have to deal with – I've come to terms with that.
But I've gotten it to the point where it's completely manageable and doesn't usually interfere with my daily life anymore… which is great!
So in this blog post, I'm going to explain exactly what I have done to reduce my anxiety as a business owner / creative entrepreneur.
Let's get into it.
(NOTE: My content, including this blog post, is not a substitute for professional advice, diagnosis, or treatment, nor is it intended to be. This is just my personal experience and may not work or be the best course of action for everyone! Seek the advice of your mental health professional or other qualified health provider with any questions you may have regarding your condition. Never disregard professional advice or delay in seeking it because of something you have read here. Reliance on any information provided by me / my website is at your own risk!)
How to Make Entrepreneur Anxiety Your Bitch as a Freelance Writer
Set strong boundaries.
Not too long ago, I noticed I was getting stressed out every time I logged into Instagram.
So I sat down and really thought about it for a bit.
Why was Instagram making me feel so stressed out all of the time?
Why couldn't I really enjoy it any longer?
I realized:
Every time I get a DM on Instagram, I feel pressure to reply.
Right away.
And If I don't reply right away, I feel guilty.
And I have the little notification thingy at the top of the app that seems to say:
"Click here, and hurry! Someone needs you for something!"
And then the notifications start piling up and…
AHHHH.
All the sudden, my Instagram looks like my email inbox.
(A hot fucking mess.)
So, I had to set a boundary to reduce my stress.
Even though I genuinely love Instagram and hanging out in my DMs, I made myself stop replying to all of my Instagram DMs for a while.
And I gave myself permission to STOP feeling guilty about not being able to reply to every single person all of the time.
After all, I'm just ONE person.
I have a limited amount of time and energy.
I can't possibly reply to every email and DM I receive, as much as I'd genuinely like to.
With emails, Facebook, Twitter, LinkedIn, and all kind  of other things (like, you know, actual WORK!) vying for my time, it's not realistic for me to answer all my DMs on every social site every single day.
I'd never get any work done.
…Boundaries.
It can be hard to set boundaries as a business owner.
We're incredibly driven.
We like to achieve and get shit done.
We care about our customers/clients/followers a TON.
…But it's STUPID IMPORTANT for us to slow down and be intentional too.
Not sure where to set boundaries?
First, figure out what's stressing you out the most in your business.
Then, find a boundary you can set to relieve stress around that one specific thing.
For example, if that's your email inbox, maybe you can limit yourself to checking it once per day.
Or maybe you can hire someone to manage your inbox for you (I do this and it is WORTH EVERY DAMN PENNY).
Whatever works.
Also, it's important to be honest with yourself here.
Are you working 90 jillion hours per week?
Well then no shit, you're probably going to be stressed out.
I'm a big advocate of hustling – it's a necessary phase of building a business.
But it should be a phase with an expiration date, not something you do forever and ever.
And not something that you jeopardize your health and relationships for.
Which brings us to our next point:
Reevaluate your goals and schedule.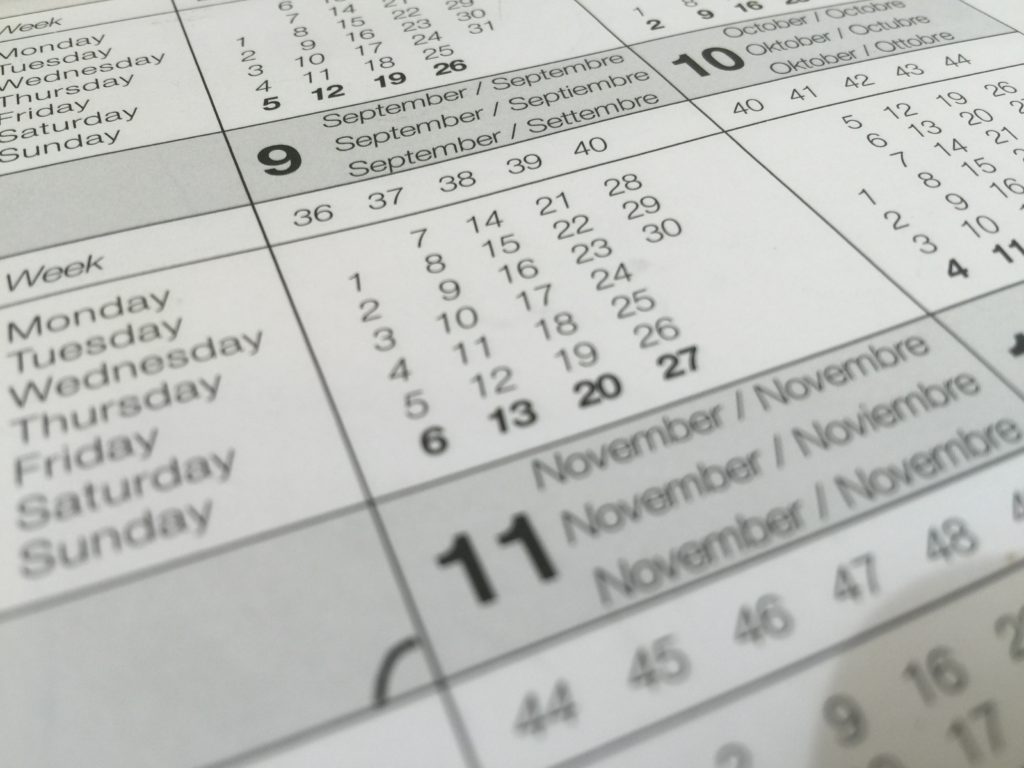 First, do you HAVE a goal?
I hope so – without one, you're kinda working just to work.
And that's not good, because it'll leave you feeling like your work is meaningless.
Which tends to cause anxiety.
Make sure you have a clear, quantifiable goal for your business, and give it a deadline so you can hold yourself accountable.
(I have a YouTube video about how to set SMART goals right here – watch it if you don't have a clear, quantifiable goal with a timeline for your business yet.)
From there, you can set smaller goals, like baby steps, you can take to reach your big goal.
Break it down, and it'll feel much easier and more achievable.
For example, say your goal is:
"I want to make $5,000 freelance writing by month 6."
Okay, cool.
Knowing that, you'd "work backwards" and ask yourself:
"What do I need to do during month one to have a $5,000 month six? How much do I need to charge to hit that amount, and how many clients do I need?"
From there, you can come up with the smaller goals to help you reach your big goal, like:
This process, for me, has HUGELY reduced my anxiety about my business.
With a bit of planning, I know exactly what I need to do and when I need to do it.
I know WHY I'm doing what I'm doing, and everything I'm doing is to help me reach a specific goal.
And I get that little mental boost of ticking small tasks off my "to-do" list, which helps with motivation a ton.
A word of warning:
MAKE SURE YOUR GOAL WILL ACTUALLY GROW YOUR BUSINESS.
Way too many newbie business owners set goals like:
"I want to get 100 more Twitter followers this month!"
…But like, are those Twitter followers going to result in business revenue?
I highly doubt it.
To work less and keep stress to a minimum, figure out the highest-ROI tasks you can focus on to make money in your business.
Consider talking to your doctor about getting on medication.
In early 2018, when my anxiety peaked, my therapist recommended that I get on a low dose of anti-anxiety meds.
And… I resisted.
The thought of relying on medication felt bad.
"Why can't I just feel better? Surely I can will myself into feeling mentally well."
Yeah, no.
Months went by.
I tried LITERALLY EVERYTHING.
Yoga. Meditation. More sleep. Getting my blood checked (everything was normal).
And that stuff helped… but it was so exhausting just to feel DECENT. 
I couldn't afford to slip up with any of my self-care because I'd be right back at square one.
One night without sleep, and there I was, panicking all fucking day.
It took months of constant anxiety attacks. but eventually I caved.
And let me tell you…
I'm SO GLAD I did.
I definitely felt weird the first couple days on my medication, but after that, I started feeling better and better every week.
Now, I feel DRASTICALLY better and I know that taking a low dosage of anxiety medication has played a huge role in that.
I don't plan to be on it forever, but at the same time, I'm not planning to get off of it in the near future either.
Of course, you'll have to talk to a medical professional to determine if medication is right for you.
But I know for me, my meds have worked wonders and I'm incredibly grateful that I got on them when I did.
Find a good therapist.
I'm pretty sure everyone in the world can benefit from therapy.
Especially if you're struggling mentally and/or going through a difficult time – having someone to talk about everything with, no judgment, can be powerful in the healing process.
Now, I've been to some shitty therapists before, but thankfully, I ended up finding a really good one when I had my lil' mental breakdown in 2018.
I know there's still a lot of stigma surrounding stuff like therapy (medication too!), but I want to encourage you to be open-minded and just FORCE yourself to find a therapist and at least give it a try.
There is absolutely no shame in therapy, and it may just be one of the best things you do to improve your mental health!
If you can't afford therapy, know that some counselors take on a limited number of clients where they offer low-cost or even free counseling based on financial situation.
Ask around, and do what you can to take care of yourself.
Figure out why you're anxious, and work from there.
The point of this, of course, is to come up with a solution based on whatever the problem is.
Now, sometimes, this isn't straightforward or even doable. You might be rolling your eyes at me even suggesting this because, let's face it – anxiety isn't that simple.
But sometimes for me, I've found this approach can be really helpful, so it's worth mentioning.
For example:
If I'm feeling extra anxious and I realize it's because I have a doctor's appointment that week, I remind myself of all the positive things surrounding that situation.
Since I've had skin cancer twice (caught early both times – thank GOD), this actually happens a TON.
At the time of writing this, I have a dermatology check-up in a few days.
And let me tell you…
I have been ON EDGE ever since I set the appointment up.
But knowing that this is what's making me anxious, I can tell myself:
—> I have great doctors who have caught my skin cancer early, and that's likely what would happen again if I had another one.
—> I have zero control over the situation, but I'm doing the best I can to take care of myself – sleeping, eating healthy, exercising, frequent doctor visits, etc.
—> Worrying isn't going to fix or help anything – it's just going to take any joy out of the current day, which is so not worth it.
I do still feel a bit anxious after doing these things, but it's definitely not as bad.
So if you can pinpoint why you're anxious and active and intentionally work to combat that thing, try it.
Sometimes, this doesn't work, but sometimes it does – so as simple as it sounds, it's worth a try.
Audit your diet + exercise habits.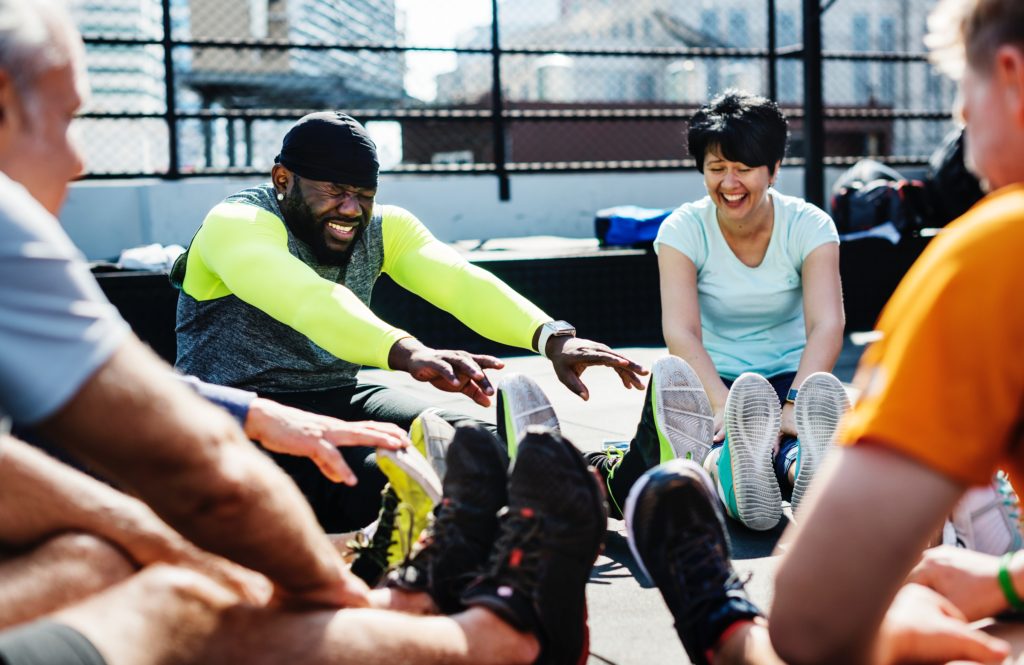 First things first:
Give up caffeine.
I know… this is a tough one.
I've never really been a coffee addict, but I used to chug "natural" energy drinks like crazy.
I fucking loved them, and they were part of my breakfast every morning.
But when my anxiety was at its worst, quitting caffeine was one of the first big changes I made.
I also improved my diet.
Since I'm already vegan and healthy according the the doctor and blood tests, this mostly meant less sugar and processed crap.
And probably the biggest thing I did to improve my mental health:
Exercise.
I used to HATE exercise.
Like, I would literally get pissed off running on the treadmill because I hated it that damn much.
Yeah. It was bad.
If you can relate, try these 3 tips for starting an exercise routine that improves your mental health:
Pick a form of exercise you actually enjoy.
If you fucking hate the treadmill, then stay off the treadmill.
There are SO MANY different ways to exercise out there.
Yoga, lifting weights, kickboxing, running, pilates.
Try a few and figure out what works best for you.
And by the way, I'm not saying you have to dish out a shit-ton of money for pricey classes.
You can find free classes all over YouTube. I really enjoy the PopSugar workout channel – especially the boxing workouts!
Come up with a schedule and time frame that works for you.
I REALLY want to encourage you to exercise at least 5 times per week, especially if you struggle with anxiety.
I know that sounds like a lot, but it's not bad if you're just getting a quick workout in and doing something you enjoy!
Lately, I'm really enjoying lifting weights followed by a 15-minute cardio workout.
Some days, I'll go for an hour and a half.
Other days, I'm lucky to get 30 minutes in.
But, I GO.
Just going to the gym for a quick, 30-minute workout or even going for a 30-minute walk is beyond worth it.
Try it for a couple weeks, and journal how you're feeling. I bet you'll notice a difference.
Remember that exercise is about how you feel, not how you look.
… Well, okay, let's get real: for most of us (myself included), it IS a little about how you look too.
But if you're exercising for your mental health, please don't put tons of pressure on yourself to do exercises you hate just so you can lose weight faster or look a certain way.
At least, don't do it if that's going to put you in a negative mindset about yourself and/or your body.
There's nothing wrong with wanting to get into better shape, but if you're anything like me and tend to beat yourself up and that applies to exercise too, exercise isn't going to do much to help your mental health.
Make it about FEELING better, and you'll be much more likely to actually feel better.
Now, go kick entrepreneur anxiety's ugly ass so you can keep on keepin' on growing your business!
Want to learn the more practical side of how to start freelance writing and get high-paying clients (even if you have no experience)?
Check out these (awesome) resources:
I also share more about entrepreneur anxiety and mental health in general on Instagram if that's more what you're looking for. Follow here!
And lastly…
A HUGE virtual hug to you if you're struggling with entrepreneur anxiety.
I know it sucks, but you're not alone. <3