I don't even know what to say right now…
Really, I don't.
But I wanted to show up today anyway, imperfectly and without all the right answers, to let you know that I'm still here and I'm right there with you if you're feeling anxious or worried or uneasy about the Coronavirus pandemic and how it might impact your freelance writing business.
It's scary. 
People are being impacted in big ways. 
And it's hard to know what to do next.
Honestly, I had second thoughts about even publishing a blog post about this topic, but after getting so many questions and concerns in the Writing Revolters FB group and on Instagram, I decided to go ahead with the hope that the information helps someone!
Obvs, I'm not a medical authority in any way, so I can't give you any advice there, but I can offer some advice on what you can do now for your freelance writing business AND how to prepare for uncertain times in the future.
BUT FIRST…
Take a deep breath and remember:
This is temporary and will pass. And if you've gotten even one client before, that shows that you are capable of getting more in the future.
And if you have never gotten a freelance writing client? 
That's okay too. Now is the time to learn how, especially if you've found yourself with more free time than usual!
I've packed this blog post full of FREE resources for you to get more clients and get paid more, so keep reading and commit to taking action however you can.
Freelance Writing During Coronavirus? Here's How to Keep Your Business Going / Get More Clients and Writing Jobs.
1. Audit your existing marketing.
If you're able to work on your business right now, this is a good time to beef up your marketing strategy.
Ask yourself questions like:
REALLY take the time to ask yourself what's working and what's not. 
And most of all:
DO NOT waste time on low-ROI activities (like creating  "hire me" posts to your Facebook page that has an audience of your mom and grandma) if you're looking to get clients fast.
Focus on the most fast and straightforward ways to get clients, like pitching and LinkedIn.
You can find tons of free resources on my blog or binge-watch videos on my YouTube channel here: https://www.youtube.com/channel/UCULdra8cYGBxFNazgt-b84A
2. Get paid upfront and check your freelance writing contracts.
Look: you do not want to get caught in a situation where you aren't getting paid for work you've already done.
That's why you should be charging clients upfront.
At the very least, get 50% upfront and have a SOLID due date for the remaining 50%.
This is something that frankly, you should already be doing anyway. 
But if you aren't, now is the time to start. 
Also, make sure you check your contracts. 
Are you clearly defining your payment terms? Is the scope of each project clear so that you can avoid scope creep? 
These are more things you should already be doing, so if you aren't… get to it!
3. Ask yourself how you can pivot in a way that helps you and your clients.
For example, if you're writing about travel right now, you may not be able to keep writing the same types of articles with general travel tips.
…But you can still serve your clients and their audience right now!
Ask yourself how you can do this effectively – it's going to vary based on your industry.
Seriously: 
Now is the time to reassess who you're marketing to, what you're writing about, and how you can pivot in a way that serves both you and your clients.
If you're struggling with this and have niche-specific questions, please drop them in the free Writing Revolters FB group! 
There are over 11,000 writers in there across loads of niches, many of which can help and give great advice.
4. Keep pitching. Or at the very least, prepare lists of leads to pitch.
Yes, some businesses are scaling back their content right now.
But others? 
They'll be ramping up their content marketing in the coming days!
If you're going to pitch, you want to look for clients who are doubling down on their content, or at the very least, continuing to publish content because their business is benefitting from it.
And if you're feeling any resistance to this or pitching in general, remember:
CLIENTS BENEFIT FROM YOUR WRITING SERVICES.
YOUR WRITING SERVICES LITERALLY HELP THEIR BUSINESS GROW.
(Yes, I'm yelling at you. Lovingly yelling.)
…Hell, you can even pitch me a guest post right now if you want! I'm still looking for guest post writers here. But make sure you follow all the directions and make your pitch GOOD. 🙂
I'm in a unique situation having been both on the "writer" side and the "client" side of the business relationship. 
And I'm telling you:
It's okay to keep pitching.
Just make sure you're pitching clients who are still prioritizing content marketing, and make SURE your pitches are good.
This means:
You should have a clear niche in your pitches and on your writing portfolio website.

You should be using social proof to position your niche expertise.

Your pitches should be focused on specifically how you can help the client, not about how you need a "job."
I have a free pitching guide right here that tells you the 10 worst mistakes to avoid. Read it!
5. Focus on landing high-paying retainer clients.
One of my favorite clients I've ever had was a software company who paid me $1,500/mo to write a few blog posts for them.
These clients are still out there! 
And now more than ever, you need to be setting yourself up for long-term business relationships – not just one-off projects.
This is why I'm such a big advocate for blog post writing (in a specific industry) as a niche. 
Marketing-savvy clients will want multiple blog posts per month for many months since that's the only way they're going to see long-term business benefits from blogging.
SO:
If you write blog posts for clients, stop pitching one-off posts and start pitching packages.
Get your clients on retainer contracts so YOU can have financial security and THEY can get the business benefits of your awesome blog posts.
6. Do the math to see how much you
REALLY
should be charging to hit your financial goals. And raise your rates if needed!
When I sent out an email about raising rates / getting more clients last week, I got an angry reply along the lines of:
"HOW DARE YOU tell people to charge more and grow their business! The economy is going under right now. You have no humanity!! UNSUBBED. #&$!&(@$&"
LOL. Maybe I should've added more context?
Look:
I'm **absolutely not** saying to be a dick and start charging $3,000 per blog post in an opportunistic way when you were only charging $30 before.
What I AM saying is to CHECK YOURSELF.
Because the truth is, a LOT of freelance writers are waaaayyy undercharging.
…And you need to take a long, hard look at your finances as well as the value you provide to clients RIGHT NOW to decide if you're one of those writers.
I know for me, I used to undercharge by a loooooot, even when I was charging $200+ per blog post.
You HAVE to remember that you are providing value to the businesses you serve, and charge accordingly!
I've said it once and I'll say it again: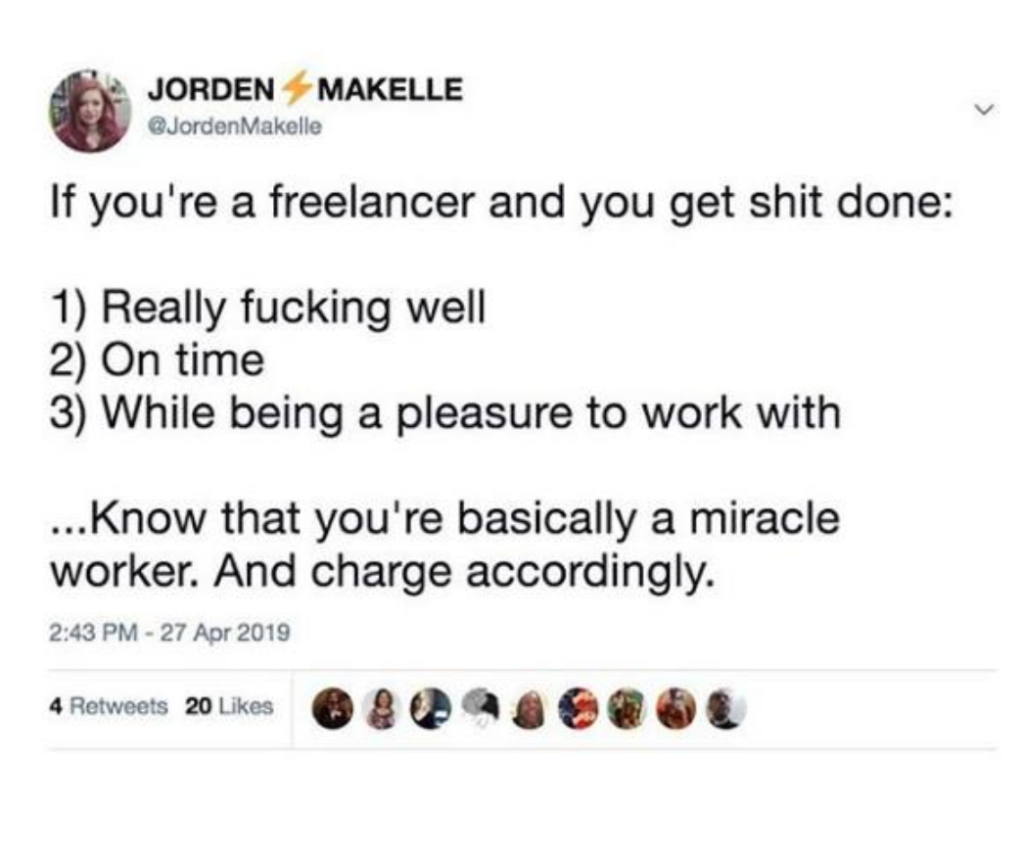 Read that a few times. Let it sink in.
And raise your damn rates if it's time to do so.
As far as doing the math to calculate your ideal writing rates?
This free YouTube video will help you calculate your rates based on your financial goals, and it explains why $50-$100 per project isn't enough: https://www.youtube.com/watch?v=NH0s8KfgnGs
(The math breakdown starts at 4:20…. And no, I didn't plan that haha.)
List of Free Resources for Freelance Writers
There's also:
ConvertKit's Creator Fund: 
The email marketing system I use, ConvertKit, is offering financial assistance to creators who need it. Learn more here: https://creatorfund.ck.page/
…
On a more personal level, here are some things I'll be doing during this time:
   1) Social distancing.
And hand-washing. And sanitizing. And completely self-quarantining.
(As someone with family members who are older, loved ones who have weak immune systems, and one family member who has had serious lung issues, it is incredibly important to me not only to protect myself but others around me who aren't as fortunate.)
   2) Preparing, but not panicking.
Pretty self-explanatory.
Stocking up on necessities, but not, you know… buying 832,342 rolls of toilet paper.
   3) Self-care, including binge-watching the shit out of my favorite delightfully trashy TV shows, going for walks, and hanging out with my dogs.
We watched Hook on Netflix yesterday! Ahhh the nostalgia. Highly recommend.
But If you're looking for something just blatantly distracting, try The Circle on Netflix or Love Is Blind on Netflix.
Orrrrr just buy old seasons of The Bachelor on Vudu… the epitome of delightfully trashy!
(And by the way, yes, I'm also staying informed. But what I'm *not* gonna do is refresh the news every five minutes, because the only thing that's going to do is cause further anxiety!)
….
I feel incredibly lucky to be young and healthy and able to work from home with my husband, but I realize that not everyone is so lucky.
My heart is absolutely breaking for those who are running brick and mortar businesses right now like small, family-owned restaurants, people getting laid off left and right, single parents, the elderly and those who have pre-existing health conditions… the list could go on. 
There are so many people facing major financial struggles and health struggles right now, and it's devastating.
Again, I don't have the answers or know all the right things to say… all I can really say right now is please do the best you can to take care of yourself and others around you. <3
Will be back in your inbox this week with regular emails.
In your corner always,
– Jorden