You know what? Before I even START talking about freelance writing in 2021 and sharing statistics, lemme just congratulate you for making it through the absolute shitshow otherwise known as 2020.
*round of applause*
You're kiiiiinda a badass. Seriously. <3
…I mean, otherwise, you wouldn't be here on this awesome blog. 😉
ANYWAY:
Let's get into the good shit and what you're really here for today:
The State of Freelance Writing in 2021 [New Statistics/Infographic!]
Okay so, we all know that 2020 was a hell of a year, but the crazy thing is:
It was actually a pretty good year career-wise for freelance writers! 
With more companies (even the stick-up-their-ass, corporate-y kind!) becoming open to remote workers, freelance writers have had tons of opportunities to land paid writing jobs.
Let's break down how freelance writing was impacted by the pandemic/2020, and we'll talk about the outlook for 2021, including:
The

top 3 freelance writing niches right now among writers making over $3,000/mo
Key statistics about remote work

from Forbes and CNBC

The

top 2 marketing methods successful freelance writers are using

to get new clients right now
I'm super excited to share this because a lot of this data came from your responses to a survey I sent out in late 2020. 🙂
You're getting the good shit – straight from freelance writers like you!
Below, you'll see the infographic (download your copy here!).
Read on after it for a more detailed breakdown of the data.
Also! If you could share this post and/or the infographic (with attribution, of course), that would mean the WORLD to me.
…And it'd make the ~5 hours I spent creating it feel suuuuper worth it haha.
Share on Twitter | Share on Facebook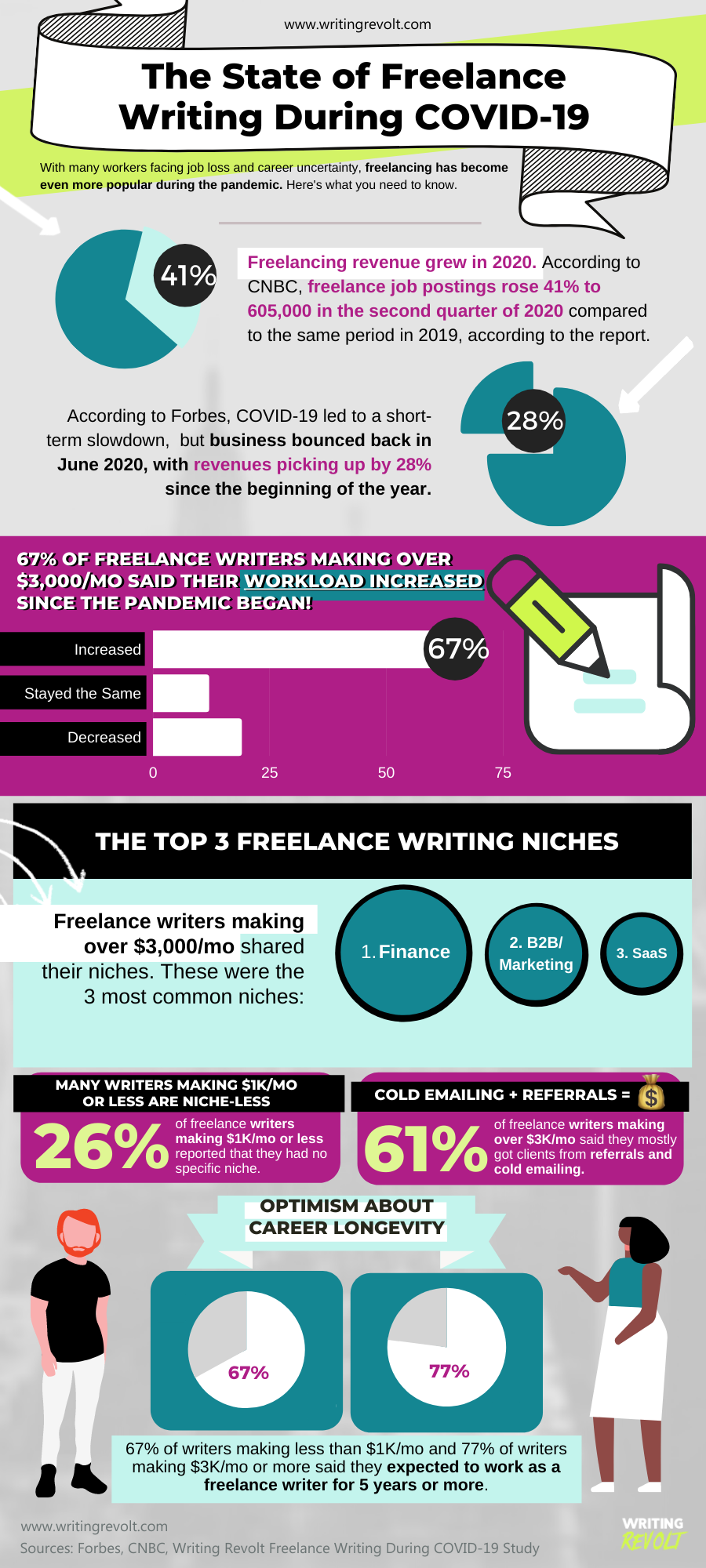 👇 Share this Image On Your Site! 👇
Let's break it down, and I'll tell you my thoughts about how to start freelance writing in 2021 along the way!
How was freelance writing impacted by the pandemic, and what does that mean for freelance writing in 2021?
Freelancing revenue grew in 2020, which is great news for freelance writers looking to get started or grow in 2021!
According to CNBC, freelance job postings rose 41% to 605,000 in the second quarter of 2020 compared to the same period in 2019.
According to Forbes, COVID-19 led to a short-term slowdown, but business bounced back in June 2020, with revenues picking up by 28% since the beginning of the year.
Personally, I feel like now is an incredible time to start freelance writing if you haven't yet.
Now, that being said, keep in mind that you have to start the RIGHT way. 
No settling for that penny-per-word crap on Fiverr and Upwork, k?
If you aren't already swamped with high-paying freelance writing jobs right now and want to learn how to get started as a beginner, take my free masterclass (new & updated for 2021):
Seriously, don't leave this blog post without signing up!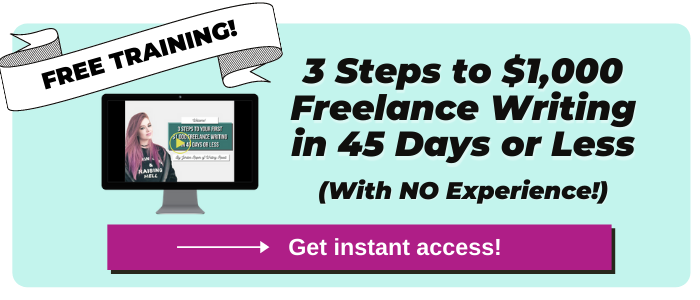 How has the average freelance writer's workload been impacted by 2020, and what does that mean for freelance writing in 2021?
Look, I don't know about you, but I think 2020 was a scary-ass year to be traditionally employed. 
So many people lost their jobs. 
And that's why I truly believe that right now, it's more important than ever to NOT rely solely on any one employer for your livelihood.
As you miiiiight now, I got fired from my shitty full-time job in 2015 – the same day my husband's work contract ended there!
For me, this ended up being a blessing in disguise because it finally gave me the kick in the ass I needed to start freelance writing. Just 4 months after getting fired, I had my first $5,000 month as a freelance writer – even though I was an inexperienced college dropout!
…But I would suggest NOT to wait until you get fired to start freelance writing. 😉
You can just start freelance writing as your 2021 side hustle if you want! 
And the good news is:
According to my Writing Revolt survey on the state of freelance writing during the pandemic, 67% of writers making over $3,000/mo said their workload increased after the pandemic began!
I'm tellin' ya – it's all those crotchety corporate managers/CEOs finally realizing the power of remote work and understanding how helpful (and profitable) it can be to work with freelancers. 
Ohhhh man. This freelance writing niche stuff is juicier than an overpriced Whole Foods clementine!
For real. Everyone is always asking me about the best niches.
So, for this part of my survey, I specifically asked freelance writers making over $3,000/mo: What is your freelance writing niche?
Here are the top 3 freelance writing niches, in order:
Finance

B2B/Marketing

Software as a Service (SaaS)
No surprise there, right?
But don't get it twisted: This doesn't mean you have to specialize in one of these freelance writing niches to succeed in 2021!
I have students who succeed at freelance writing in all kinds of niches – mental health, home decorating, and more.
Now, there is one thing I can tell you for certain:
Now more than ever, it's critical to pick a profitable freelance writing niche and make it your bitch.
(Meaning, become knowledgeable in it and market yourself accordingly!)
I share exactly how this applies in 2021 in this step-by-step video tutorial:
But if you're over there like:
"Help! I still can't decide on a niche!"
I totally understand and I've got your back. Get my free niche guide right here:
Just remember: 
You have to market your niche too!
How are successful freelance writers making over $3,000/mo getting clients right now?
First, I'll tell you how they're NOT doing it:
Wasting hours bidding for insultingly low-paying gigs on Upwork. 😉
So, what are they doing to find new clients?
According to my Writing Revolt survey, 61% of freelance writers making over $3,000/mo mostly get clients from a combination of referrals and cold emailing.
In other words:
Referrals

– Their already-happy clients are recommending them to new clients. Makes sense! This is a natural thing that just happens once you get your foot in the door.

Cold Emailing

– Ohhhh snap! This is my favorite marketing method for beginner freelance writers. Cold emailing just means sending very personalized/strategic emails to clients in your specific writing niche (only *after* you have a niche and niche-optimized freelance writer website – otherwise, you're wasting time!). More on that in my best-selling course, Killer Cold Emailing!
Now, what does this mean for you in 2021?
If you're already working as a freelance writer, you need to start asking for referrals!
Also, try upselling your existing clients. In other words, if they ask you for a press release, maybe they need monthly blog posts too? 
(Blog posts are a great service to offer because they can translate to a great consistent monthly revenue!)
And if you're a total beginner freelance writer?
You need to start cold emailing the right way.
Like… yesterday. 🙂
What is the outlook for the state of freelance writing in 2021?
According to my Writing Revolt survey, 67% of writers making less than $1K/mo and 77% of writers making $3K/mo or more said they expected to work as a freelance writer for 5 years or more.
…Pretty damn good! 
We're feelin' the optimism here at Writing Revolt too.
Look, the truth is, the things you THINK are holding you back aren't actually holding you back.
I'm talking stuff like:
A lack of experience 

A lack of a college degree

Not having any family support/a business network.
You know what's actually gonna hold you back in 2021 if you let it?
FEAR.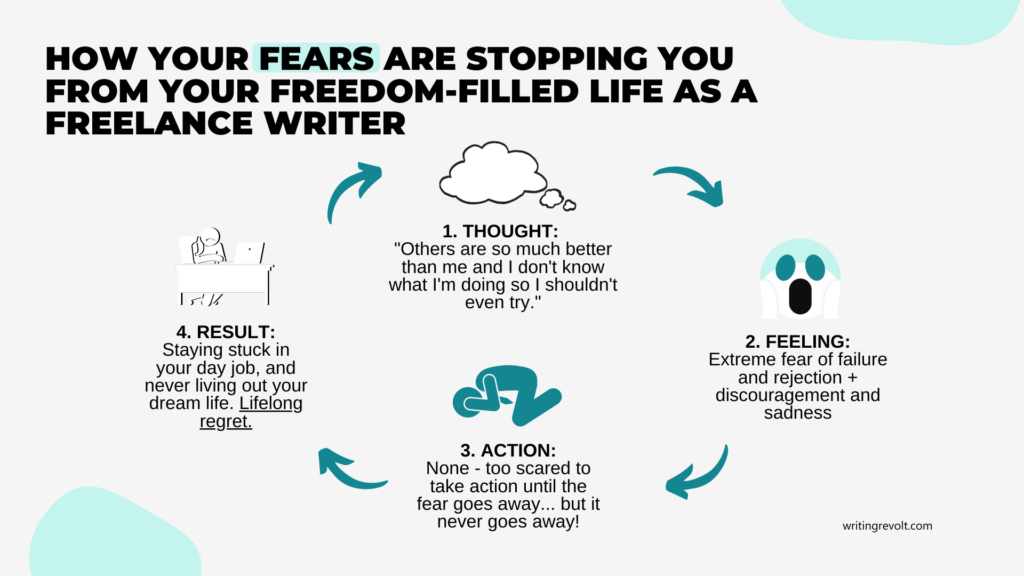 So many beginner writers experience this exact process.
And they never take any action as a result.
Please, let's make 2021 about letting that shit go!
To be clear:
This isn't about getting rid of all of your fears.
It's about feeling the fear and taking action anyway.
If you're ready to stop settling for less than you deserve and START working toward your goal of livin' the freedom-filled life of working from home as a writer…
You can learn EXACTLY how to get started freelance writing – step-by-step – in my BRAND NEW masterclass (totally updated for 2021):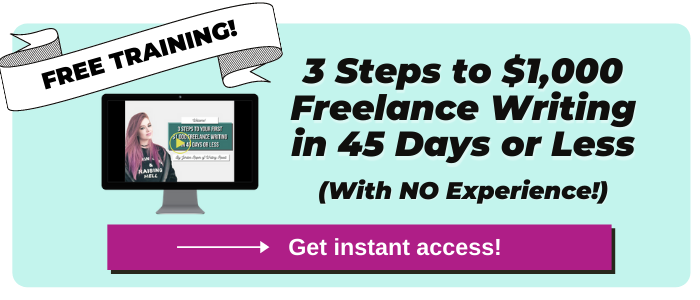 Please don't put this off and don't waste time settling for less than exactly what you want!
Right now is an amazing opportunity for you to start freelance writing, but you have to be willing to take that first scary step. <3
See you in the masterclass!
In your corner always,
– Jorden
Share on Twitter | Share on Facebook | Join the Writing Revolt Newsletter