A few months ago, I stayed at an AirBNB in downtown Dallas with some close friends.
One of my friends sent me a picture of the place beforehand.
And to say it was a "nice place" would be an understatement.
This AirBNB was fucking gorgeous.
So gorgeous that the thought of me staying there felt weird.
Now, to be clear, after YEARS of growing an online business, I do make a really good living.
But I'm not fancy.
Let me give you some background on me:
I live in the same one-bedroom apartment I did when my business was making about 1/3rd of what it generates revenue-wise now.

I drive a 12-year-old Mitsubishi that is

literally

totalled

(fuckin' Texas hailstorms!).

I buy most of my clothes secondhand and don't own any designer purses/shoes.
With all this in mind, you can imagine why I felt weird when I pulled up to the AirBNB.
Seeing this place in person was CRAZY.
I pulled up closer, and couldn't believe what I saw next…
An Audi.
A BMW.
A Mercedes.
…Every single one of my friends' cars were equally as fancy as the house we were staying in.
I found a place to park, and pulled my luggage out of the trunk.
As I pulled up the handle on my suitcase, one of my friends greeted me.
You know, the typical, "Hey! How Have you been?" sort of thing.
And then…
He looked at my car, noticing the 20-something dents all over the hood.
"DAMN! What happened?"
I explained the hailstorm.
"You know, you could probably just get all those dents knocked out! Or maybe get a new vehicle – seems like a good time to do that."
At this point, my other friends had walked outside to greet me.
They looked at my car and suggested how I could fix it too.
"…And it probably wouldn't even cost THAT much!"
To which I replied:
"Nah. I like my car. Still drives. Pretty nice on the inside. And it's paid off!"
Everyone seemed shocked – not in a judgy way, just confused as to why I wouldn't want to fix my car or get a new one.
To this day, even as a six-figure business owner, I still drive my 12-year-old, totalled Mitsubishi, and I wouldn't have it any other way.
…
Because here's the thing about spending money on my vehicle right now:
That shit is NOT going to bring me any joy OR get me any closer to any of my goals.
If I were to fix my car or get a new one, it would ONLY be to gain the approval of others.
And frankly, I don't give a fuck about what people think about my car.
The THOUSANDS of dollars I could spend to fix my car?
I could spend that on something that really brings me joy or helps me reach a goal instead, like:
Traveling

Online courses

Fancy vegan dinners
Let's talk about that last point a little bit…
Fancy vegan dinners.
Tonight, I spent about $43 to get a salad and some kale guacamole delivered to my apartment.
That's right.
A 40- DOLLAR SALAD. 
…GO AHEAD. JUDGE ME.
And I've spent probably $300 over the past few weeks on food delivery.
(BTW, Jorden from 5 years ago would be losing her fucking mind, because all she could afford was ramen and the McDonald's Dollar Menu. #ClassyTimes)
Doesn't make sense, right?
I mean, why would someone NOT fix their car (or get a new one – probably for the same price, around $300/mo) and yet spend so freely on something like fancy meal delivery?
It actually does make sense, when you think about it…
I make my financial decisions based on these two questions:
Will buying this bring me joy?

Will buying this get me closer to one of my goals?
By investing in food delivery, I've been able to save a TON of time.
Time I would have otherwise spent deciding what to eat, driving to get food, or cooking.
And since I've been preparing for a big product launch over the past few weeks, food delivery is an investment that has allowed me to get closer to my goal:
A successful product launch.
Being where I'm at as a business owner, I know that how I spend my time is incredibly important.
Food delivery helps with that by eliminating one time-sucking thing from my day.
It also helps me with another goal:
Staying healthy.
So if it's something I'm able to do financially, you bet your ass I'm gonna do it.
Buying a new car, on the other hand, wouldn't bring me any joy or help me reach a goal.
Like a said, I don't give a shit about what I drive or about what others think of my vehicle.
It's simply a vessel that gets me from one point to another.
And buy a new one or spending THOUSANDS fixing cosmetic damage certainly won't get me closer to any of my goals.
I'd much rather spend that money on coaching, courses, ads, or something else that will help my reach my business goals.
(And that's exactly what I did! I spent about $2,000 in 2018 on courses/coaching and over $10,000 total on general business expenses, like software and gear.)
….
Now, before you roll your eyes, please know that I realize I'm privileged to be able to make financial decisions this way.
Trust me, I know what it's like to be up shit creek financially.
My family was on food stamps for a while when I was a kid. I've been at the point where my car almost got repossessed. I've been so broke I bought Pringles for dinner and had to make it last three meals.
And I'm VERY grateful to NOT be in that place anymore.
But even if you're not running a six-figure business yet, many of you reading this can still use this financial decision-making process to grow your business.
We've already established that I base financial decisions on what will A) bring me joy and B) help me reach a goal.
So, how does that apply to you?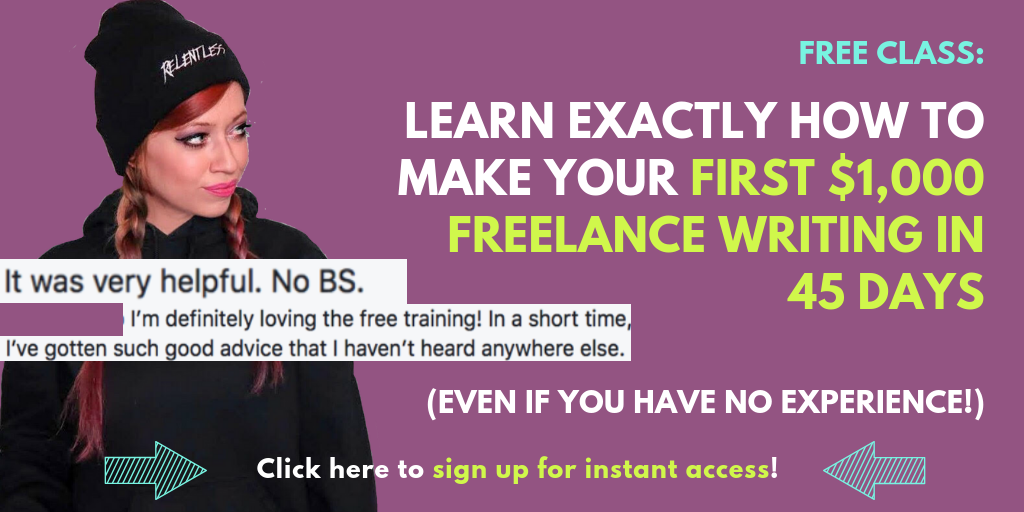 PSST! Quick question before me move on. Do you want to learn how to make $1,000 freelance writing in the next 45 days or less, even if you're a broke and clueless newbie? Click here to sign up for INSTANT ACCESS to my free class on how to get clients (enjoyed by over 5,000 freelance writers!).
How to Make Wise Investments As a Freelance Writing Business Owner
First, you need to have a business goal.
Because when you know your goal, you can work backwards from there and figure out the business investments that will help you reach your goal.
Let's use one of the goals I set for my business back in 2015:
"I want to make $5,000/mo as a freelance writer within 4 months."
With this goal in mind, I could start researching to see what others who have reached that goal have invested in.
Stuff like:
A professional freelance writer website

(

which, by the way,

you 100% need this

 to be taken seriously by potential clients and land high-paying gigs)
An online course

(I've taken loads and loads of courses myself and would not be anywhere NEAR where I am now had I not taken them)

A reliable laptop and internet service

(no explanation needed)
All of these things, done correctly, would help you achieve your freelance writing goal.
The problem is that many who CAN invest decide not to because:
"I don't want to spend money before I make money."
And UGH, this is SUCH a fucked up mindset.
For example…
…Ummm. Well then how in the HELL can you expect clients to invest in YOU?
You can't.
Keep that in mind. And also keep in mind that investments have to do with TIME just as much as they have to do with MONEY.
Maybe you don't want to invest in an online course because you'll just "use Google and try to figure it out yourself.
But using your time wisely is CRITICAL as a business owner.
Especially when you're just trying to get your business off the ground.
What if the course you bought paid for itself quickly because you worked your ass off to land a client using what you learned?
Totally possible.
(Has happened to several of my Killer Cold Emailing Students.)
Meaning the course was essentially a fast-track to reaching your goal.
And that you're MUCH further along than Joe Schmo over there who is still fucking around sending potential clients his tumblr blog and making one penny per word.
That's a good return on your investment – you spent money, but you made it back AND you saved a ton of time you might otherwise have spent without a clue how to market yourself and lack clients.
In general, you want to think about time investments the same way as money investments:
Is this time invested going to get me closer to my goal?
This is why setting business goals is so important.
You base everything you do off of those goals.
For example…
If you're a new online business owner and your goal is to write an eBook + sell 100 copies during the eBook launch, you'd have to think about the best way to maximize your time to hit that goal.
This is tough for a lot of business owners, because often, the shit we NEED to do isn't the shit we want to do.
…Meaning that the high-ROI activities aren't always the most fun ways to spend your time.
Trust me, spending two hours per day writing hilarious Tweets and creating artsy Instagram stories is a lot more fun than setting up complex software automations to run your launch, writing email launch sequences, etc.
But guess what?
Those hilarious Tweets and artsy Instagram stories proooobably wouldn't get you any closer to your goal of selling eBooks.
It'd be a much better use of your time to work on the effective-but-not-so-fun stuff.
Am I saying to NEVER have fun as a business owner?
No way. I spend a significant amount of time on social media because I enjoy it and like interacting with my community.
But at the same time…
I spent hardly ANY time on Twitter/Instagram when I was first growing my freelance writing business OR when I first started getting serious about my blog.
Just like getting the cosmetic damage on my car fixed…
The ROI just wasn't there.
It was MUCH more effective for me to pick a freelance writing niche, set up a portfolio website, and just start pitching and cold emailing.
Now, an action item for you to make better business investments:
Right now, set a SMART goal for your business.
Write that shit down in your Notes app on your phone.
Read it daily.
And then, think about EXACTLY how you can invest your time and/or money to hit that goal.
Don't get caught up in silly, unnecessary shit.
You know what I'm talking about… those tasks that make you feel like you're progressing but actually have NO ROI.
Stuff like creating a Facebook Page for your freelance writing business and spending time on it daily even though you only have 2 followers – your parents – and you have never gotten a client from Facebook.
Be ruthless, and REALLY ask yourself how you can get the most bang for your buck (or your hours!).
Remember…
If you want something different for your life this year, you're going to have to invest your time and money in ways you've probably never done before.
I had to do this when I started out too, and as someone who did NOT grow up with a lot of money, it was uncomfortable as hell.
But it got me to where I am today…
Running a successful, six-figure business.
Being able to travel full-time.
Having the freedom to take mental health days – no asshole boss to tell me I can't.
If you want the same freedoms…
Set your business goal now.
Ask yourself:
What would my BEST future version of myself do right now to progress and grow?
And make wise business investments this year.
Want to learn how to make $1,000 freelance writing in the next 45 days or less, even if you have ZERO experience? Click here to sign up for INSTANT ACCESS to my free class on how to get clients (enjoyed by over 5,000 writers!).