Hey y'all!
Jorden here, and today I'm back with another Killer Cold Emailing course review!
We're gonna talk to my awesome student Meaghan who, in her own words, went from having "no idea how to get started" to making $4,000 freelance writing in just two months!
Enjoy Meaghan's story, and click here to learn more about Killer Cold Emailing and enroll!
1. Tell us a little about yourself and your business! 
I've been a writer all my life in one form or another. When I was in graduate school, I discovered that copywriting as a career was an actual thing. Now, I use my background in business and marketing to write content marketing copy for B2B and SaaS companies.
I also just started a business consulting business and am starting a blog all about entrepreneurship and lifestyle.
2. What is your niche / what kinds of clients do you work with?
I market myself as a B2B/SaaS content marketing writer, but I have experience writing in a lot of industries, and I get clients outside of my niche as well.
3. What problems were you facing in your business that prompted you to

join the Killer Cold Emailing course

? Why did you decide to join?
I was new to the concept of being a freelance writer and had no idea how to get started – much less be successful at it.
I somehow found Jorden and Killer Cold Emailing while researching how to become a freelance writer, and I decided that it was the jumpstart I needed to be successful.
I also really resonated with Jorden and her story! If she could do it, so could I.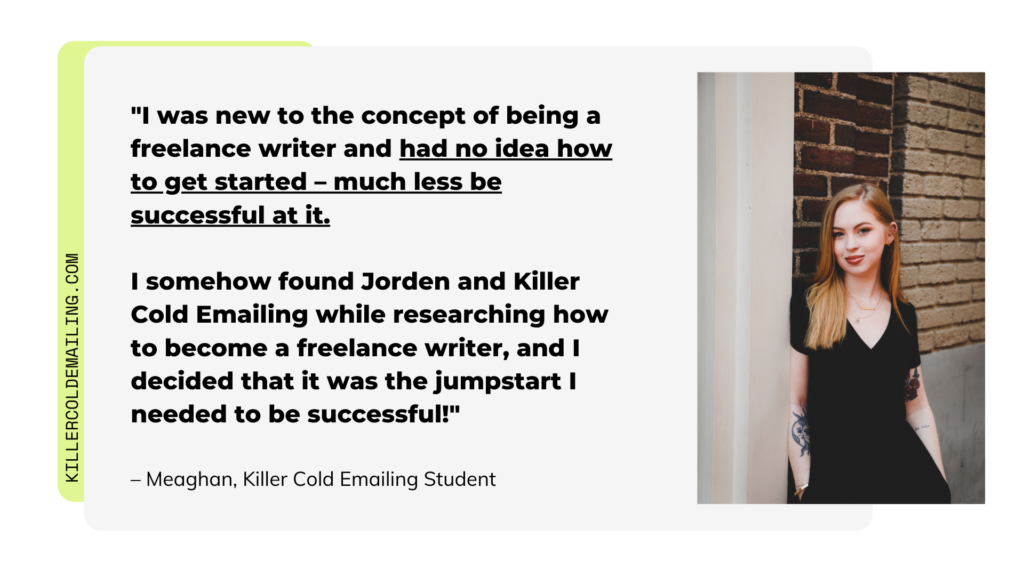 My only hesitation was the money.
I had never invested in myself like that before so it was a big step for me.
But compared to the return you get when you go through the course and put in the work, that investment is just a drop in the ocean!
5. What results have you seen since implementing what you learned in

Killer Cold Emailing

?
So, after I took Killer Cold Emailing, I actually sat around for a year being scared of sending an email and every day!
I'd say, "I'll get started tomorrow!"
…And it just went on and on like that, and I never got any clients.
(I used finishing my masters degree as an excuse for not starting.)
Once I finished graduate school, I got a job at a digital marketing agency as a content writer. I still had dreams of starting my freelance writing biz though, because I wasn't making the money I wanted to at my job.
So, I retook the Killer Cold Emailing course and also implemented all of Jorden's tips about LinkedIn.
Finding clients to cold email and then organizing the list and sending the cold emails seemed like a really big task to me, so I decided that, while I worked on that, I would at least optimize my LinkedIn profile to get started because it seemed less daunting.
I followed all of Jorden's tips to optimize my LinkedIn profile and spent 10 minutes a day engaging with people and making connections.
After about 3 weeks, people started reaching out to me!
…Within a month of implementing Killer Cold Emailing, I booked 3 new freelance writing clients.
By the end of the first two months, I made $4,000 freelance writing just from the clients I got from LinkedIn!
I still haven't even sent any cold emails (it's on my to-do list but my clients from LinkedIn have been keeping me pretty busy!).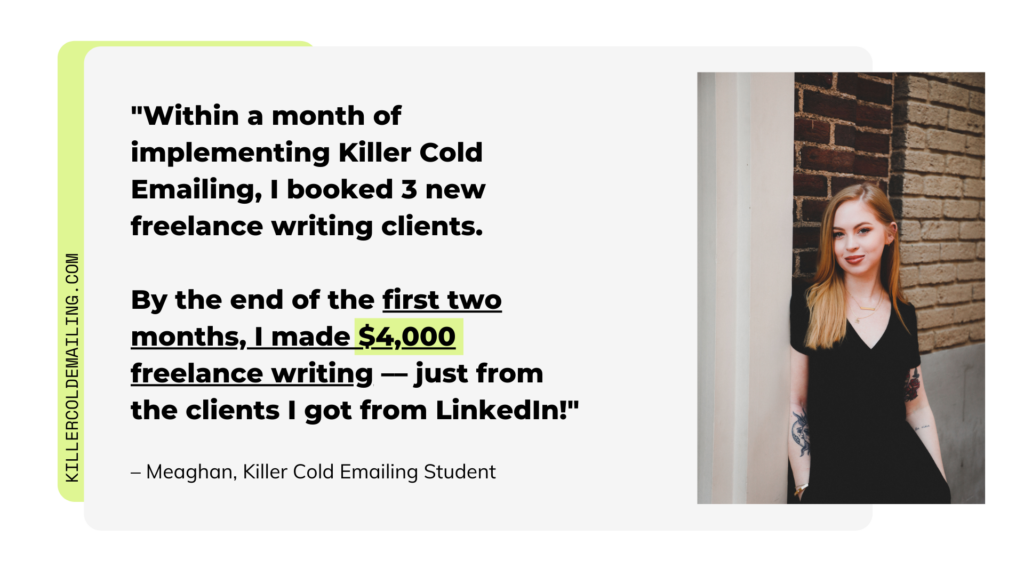 6. How long did it take you to see those results?
It took about 3 weeks to get people reaching out to me and 2 months to land 3 clients that amounted to $4,000 from LinkedIn.
7. What would be the main reason(s) you'd recommend this course to other freelance writers?
The course gives straightforward methods to use that work quickly. It's easy to get through and you can get started quickly and start making money.
It's up to you though to do the work. I sat on my ass for a year being too chicken to do anything after finishing the course the first time.
If I had taken action a year ago, imagine where I could've been now!
8. Is there anything else you'd like to add to your

Killer Cold Emailing

review?
When you're making connections on LinkedIn, make sure to follow Jorden's advice on connecting with people like content marketing managers in your niche. But also, don't shy away from connecting with other people outside your niche or other freelance writers.
One of my clients I got because I connected with another freelance writer who (without me knowing!) was looking for another freelance writer to replace her for one of her clients. She reached out to me and had me meet with her client, and I got hired.
I also suggest prioritizing finding clients who need ongoing work. It provides a little more security and you don't have to worry about trying to find a handful of different clients fast to hit your income goals.
Also, do not start work without a signed contract and a deposit.
I made that mistake with my first client because I was so eager to just have one. They ended up being extremely difficult, didn't know what they wanted, had me doing a ridiculous amount of revisions, AND I never got paid.
After that, I had to change my mindset from employee to business owner real quick.
Thanks, Meaghan, for sharing your incredible freelance writing success story, and a HUGE congrats on all your progress with Killer Cold Emailing!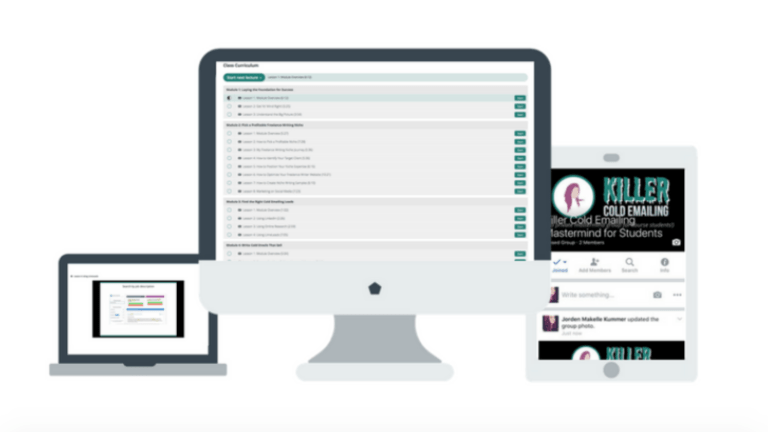 …Now, my friend, if you're reading this and YOU want to grow your freelance writing business too, click here to check out Killer Cold Emailing now!
This course is your step-by-step process for creating a full-time freelance writing business – even as a total beginner with zero experience.
Enroll, and you'll discover the EXACT marketing methods I used to make my first $1,000 (and beyond!) as a freelance writer!
Click here to learn more about Killer Cold Emailing, and enroll so you can learn how to pitch your way to your first $1,000 and become a full-time freelance writer.
See you inside Killer Cold Emailing. 🙂