Hi there, folks!
Jorden here, and I'm back with another awesome student review of the Killer Cold Emailing course.
In this blog post, you'll learn how Caitlin, one of my students who works in the real estate niche, overcame her self-doubt and started a freelance writing business.
Spoiler alert: she landed clients BEFORE ever cold emailing using a method you'll learn about in the Killer Cold Emailing course.
Keep reading to find out what that method is. 🙂
(And click here if you're ready to learn more about Killer Cold Emailing and enroll so you can make your first $1000 freelance writing as a BEGINNER!)
Over to you, Caitlin!
1. Tell us a little about yourself and your freelance writing business!
Hi! I'm Caitlin! I also go by Kat.
I just moved to Northern Nevada with my fiancee and our two puppies (a Doberman and a Corgi. They're best frenemies).
I went to school for photography, dropped out, and have just left a job closing mortgages.
From about the time I was 15, I knew I wanted to be a writer, but never really felt like it was within my reach.
I wanted to travel the world and be a journalist. I still want to travel the world, but now I'd rather work for myself than some news outlet.
I've always been creative. I paint, draw, sew, can take a mean photograph (paid enough for it), I sing and play the guitar (when I was 16, I was going to be a rock star), and, obviously, I write.
The best part about moving across the country is the clean slate. Anything is possible!
Plus, going from the humid South East to the desert has been a nice change. (My hair + humidity = a bad time.)
My business is just getting started, but I feel like I'm off to a great start and am so excited to see what the future brings!
Instagram: @kat.gifford.88 (check out my pups and their antics)
2. What is your niche / what kinds of clients do you work with?
My niche is real estate.
Specifically, blog posts, newsletters, and web copy for luxury real estate.
The clients I'm getting run the gamut, though.
From residential real estate where value for dollars matters to the luxury market where no one cares about price so long as they have access to everything.
Nevada is an interesting market.
Both residential and luxury are so intertwined, a specific niche hasn't been an issue for clients. So far!
3. What problems were you facing in your business that prompted you to join the

Killer Cold Emailing course

? Why did you decide to join?
Before the KCE course, I didn't have a business.
I tried my hand at monetizing a blog but never kept up with it.
I get bored easily and want to do everything, so nothing ever gets finished.
I decided to join, primarily, because I'd been following Jorden on YouTube and Instagram for about a year and her down-to-earth, straightforward style really resonated with me.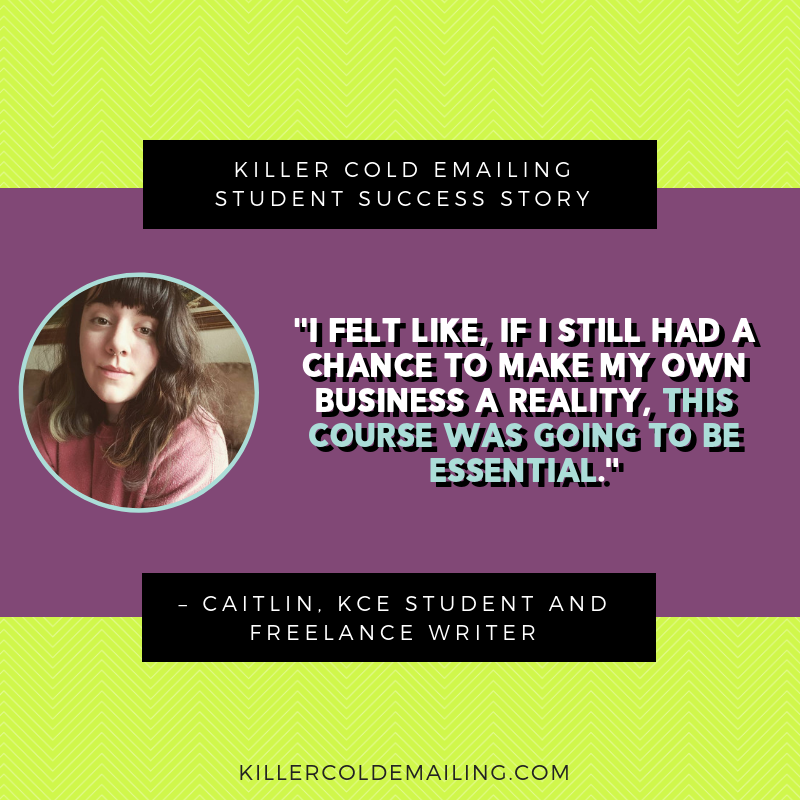 I really liked the job I had in lending, but it wasn't my end-goal.
I felt like, if I still had a chance to make my own business a reality, this course was going to be essential.
4. Did you have any hesitations about joining the

Killer Cold Emailing course

? If so, what were they?
The only hesitation I had was because of myself.
I'd never really stuck with anything like this before, either because I got bored or just didn't even know where to start.
I honestly doubted that I'd see it through.
5. What results have you seen since implementing what you learned in

Killer Cold Emailing

?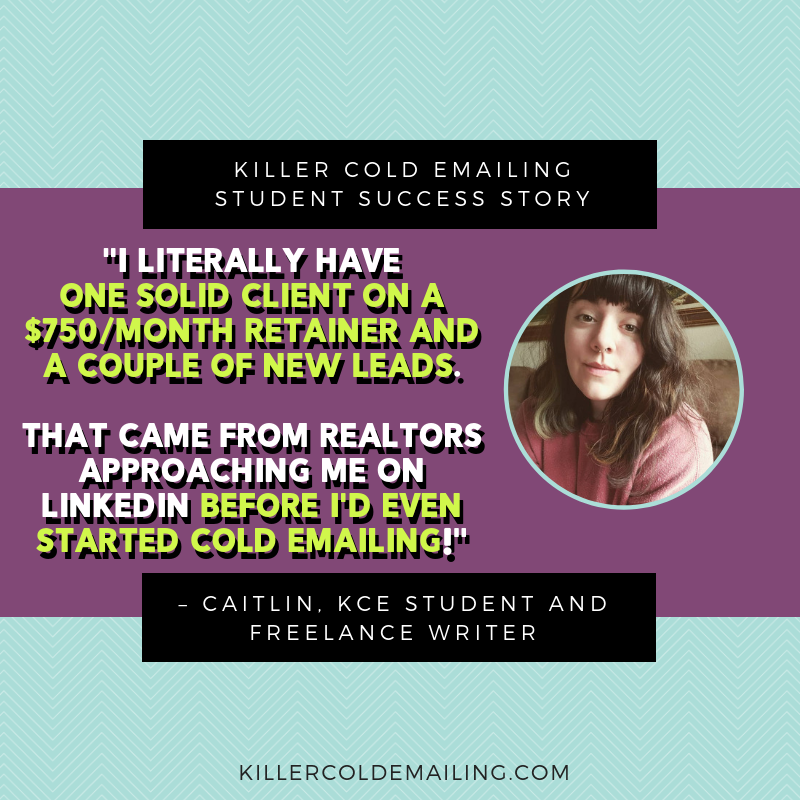 I literally have one solid client on a $750/month retainer and a couple of new leads.
That came from realtors approaching me on LinkedIn before I'd even started cold emailing!
I had to put the course, and my business, on hold almost as soon as I got it because life got real — like it always does — and I had to organize a cross-country move with super short notice.
But, once I got to a place where I could dedicate all my time to it, I landed my first client very quickly!
Being unemployed, in the traditional sense, that's pretty big, since the income from this one client covers a lot of my bills.
I think the biggest result for me is that I feel legit.
My self-confidence has gone through the roof!
I feel empowered to continue making connections and to go after clients that I'd have been too nervous to even approach when I first started the course.
6. How long did it take you to see those results?
I originally purchased the course in November of 2018.
But, I truly began work on it in March of 2019, and it took me about two and a half weeks to land that first client!
7. What would be the main reason(s) you'd recommend this course to other freelance writers?
There's no BS here.
No "do this and you'll get paid tomorrow" nonsense.
All of the information is real, actionable, and can work if you let it.
8. Is there anything else you'd like to add?
The only thing holding you back from your own success is yourself.
This isn't a get rich quick scheme.
If you don't do the work, you won't see the results. Plain and simple.
It's easy to create an opportunity for yourself. Recognizing it and taking it is the hard part.
Ready to join

Killer Cold Emailing

, my best-selling freelance writing course, and become the next student success story? 
Don't let another year go by at the same job.
If you want a change, you have to MAKE A CHANGE.
Learn how to start a REAL writing business and get clients – even if you have ZERO experience – by enrolling in Killer Cold Emailing right here.
See you in the course!!