Hi friends! And welcome back for another Killer Cold Emailing course review from one of my amazing students. 🙂
Today, we're talking to Alyssa as she shares her experience taking the course.
I LOVE sharing these reviews because, well…
My students are fucking KILLING IT.
And I know for me when I started out, reading success stories really helped motivate me to succeed too!
Keep reading to learn about Alyssa's experience growing her freelance writing business with the Killer Cold Emailing course.
PSST! Killer Cold Emailing is open now! Don't miss out – click here to learn more, read loads of student success stories, and enroll!
Killer Cold Emailing Review: How Alyssa Grew Her Business by 30% Using Cold Emailing
Hey Alyssa! Tell us a bit about yourself and your business.
My name is Alyssa Goulet, and I've been a freelance writer for about four years.I went full time at the beginning of 2018.
My website is http://copyoncue.com/ or you can find me on Twitter at https://twitter.com/alyssagwrites
What is your niche, and what kinds of clients do you work with?
Primarily, I do copywriting work for B2B technology and marketing companies.
What problems were you facing in your business that made you decide to join the Killer Cold Emailing course? Why did you ultimately decide to invest?
Before joining Killer Cold Emailing, I was doing some pitching, but I
wasn't really seeing the results that I wanted.  
I decided to join
Killer Cold Emailing
because I knew I needed to step up my marketing game.
What, if any, hesitations did you have about investing in Killer Cold Emailing?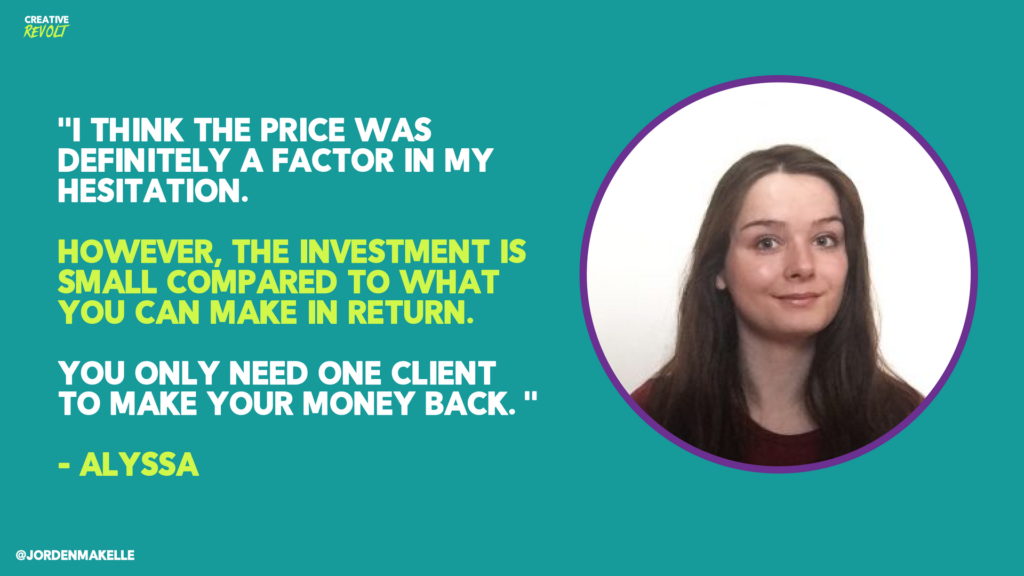 I think the price was definitely a factor in my hesitation.
However, the investment is small compared to what you can make in return.
You only need one client to make your money back. 
What results have you seen since implementing what you learned in Killer Cold Emailing?
Using cold emails, I've grown my business by 30%.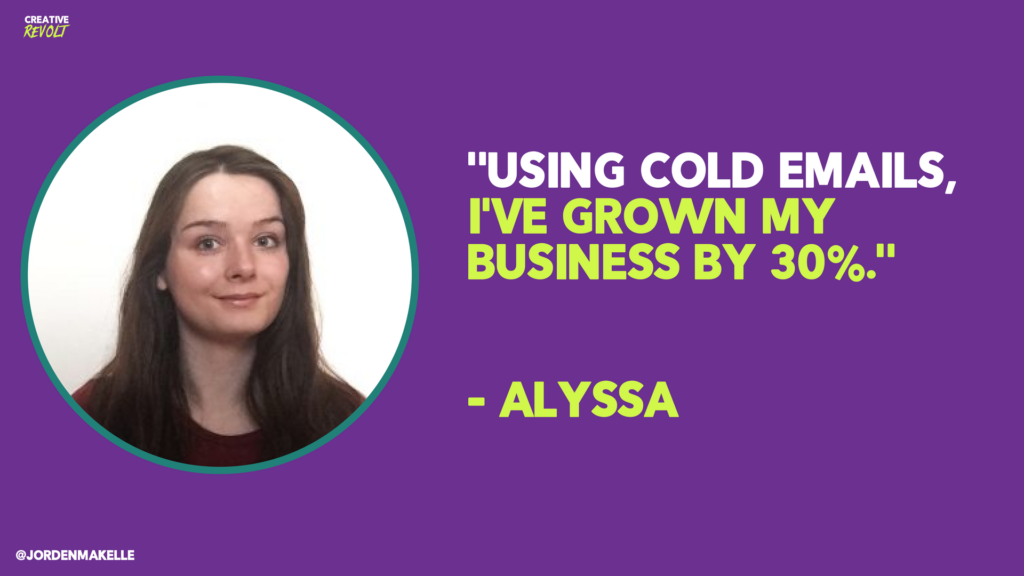 That's AMAZING! How long would you say it took you to grow your business by 30%?
About three months, but I was only sending out 5 emails a day. If I did the 15-20 that was recommended, my business would have grown even more quickly.
What would be the main reason you'd recommend this course to other writers?
I'd recommend
this course
to
freelance writers who are starting out and want to grow their business quickly.
This course has everything you need and more to accomplish that.