Hey y'all! Today, I'm back with another amazing Killer Cold Emailing course review. 🙂
We're chatting with KCE student Leslie, who writes in the health and wellness niche, about her experience getting freelance writing gigs after enrolling and implementing what she learned.
Over to you, Leslie!
Killer Cold Emailing Course

Review: How Leslie Got 3 Freelance Writing Gigs in Just One Week!
1. Tell us a little bit about yourself and your business! 
I'm Leslie, from Raleigh, NC. I love writing and I always have!
I was always picked on for liking writing and reading, but I usually turned to my middle finger as a response.
I was a blog post writer a few years ago but took a break to join the workforce. I absolutely hated it! I got tired of being around people with fake smiles, attitudes, among other things.
So I created The Serendipitous Content Creator in 2020 and haven't looked back! You can check out more about me on my website: https://theserendipitouscontentcreator.com.
2. What is your niche / what kinds of clients do you work with?
Health/wellness is my niche, It took me a few months to land on the perfect niche but I think is was the best fit.
3. What problems were you facing in your business that prompted you to join the

Killer Cold Emailing course

? Why did you decide to join?
I knew I wanted to cold email, but I was treading water and had no idea where to start.
I had no hesitation; I read the landing page and nodded my head the entire time. I don't click I could click the buy button fast enough!
5. What results have you seen since implementing what you learned in Killer Cold Emailing?
In the first week of completing the Killer Cold Emailing class, I landed three new clients!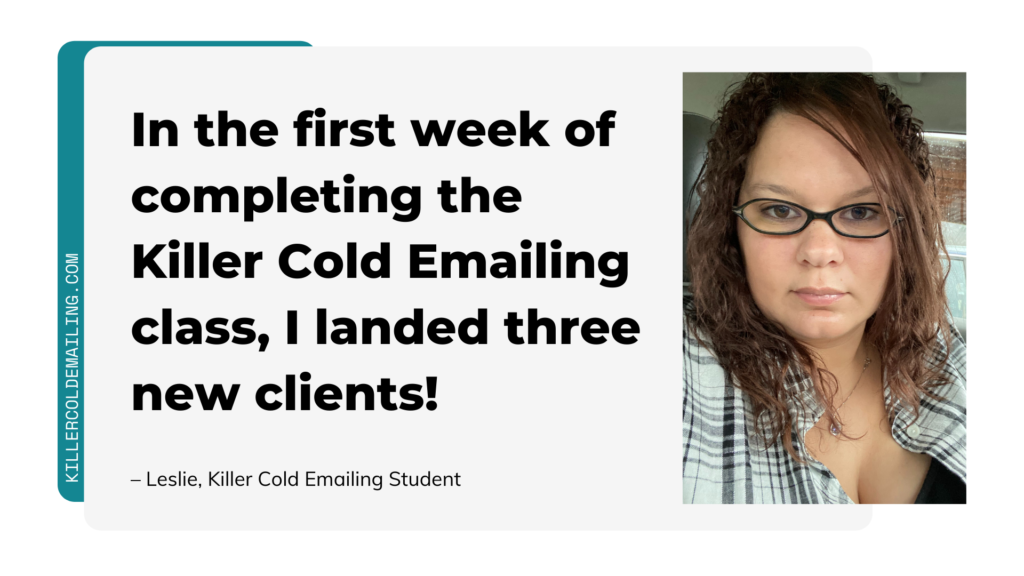 All three complimented me on the way the emails were written and the knowledge I put into them.
6. How long did it take you to see those results?
It took about a week. Very quickly.
7. What would be the main reason(s) you'd recommend

Killer Cold Emailing

to other freelance writers?
This course gets results! If you implement what Jorden teaches, there is virtually no way you can fail.
8. Is there anything else you'd like to add?
I've been following Jorden since the beginning of my writing journey, and I've watched a lot of YouTube videos / read many blog posts and emails. I've never had any of her advice fail me!
Are you ready to get a step-by-step plan for landing freelance writing gigs, even as a total beginner? My bestselling course, Killer Cold Emailing, is now available!
This course is your step-by-step process for creating a full-time freelance writing business.
…Even with ZERO experience!
Click here to learn more about Killer Cold Emailing, and enroll so you can learn how to pitch your way to your first $1,000 and become a full-time freelance writer!
See you inside the course. 
– Jorden