My husband and I started the REAL work on our RV this weekend.
(For those of you who don't already know: I recently bought an RV, and we're prepping for full-time travel right now!)
This mostly involved removing stuff from the walls and then priming them to prepare for painting.
And, ummmm…
We have NO DIY/renovation experience.
At all.
Pretty much the ENTIRE priming process we did yesterday came from some blog post I found on Pinterest.
Here are a few words that were exchanged between us during the priming process:
"Should we, like, tape around the windows and floors? Or maybe we can just try to paint precisely so we don't have to?"
"Should we remove _____ from the wall? Or maybe we can just paint over it?"
"I don't really know if I'm doing this right… what do you think?" …..*other person looks over and shrugs*
And, best of all:
"UM SHIT. I just got primer in my hair. SHIT. …Do you think it's going to come out?!" 

​?​
Not kidding.
Here's a picture of us from yesterday, right after my husband basically had to dump a water jug over my head outside our RV (we don't have running water to it right now) and then scrape the primer out of my hair with his fingernails: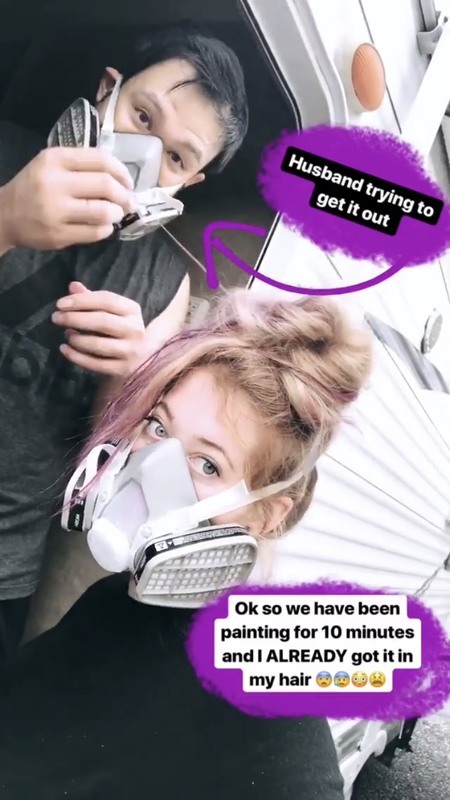 (I know. The zombie apocalypse respirator masks make for an EXTRA classy look. Some dude drove by right as my husband dumped the water on my hair and looked at us like WTF are these crazy assholes doing!?​ …You can catch more behind-the-scenes stuff like this in my Instagram Stories, btw!)
Bottom line:
We made a LOT of mistakes yesterday.
The ENTIRE time, we felt like we had NO freaking clue what we were doing.
And we certainly didn't feel "ready" to start this process.
…But we did it anyway.
We went out and bought the supplies we needed, and went to work with the mindset that we were going to do the best we could.
And you know what?
None of the mistakes we made yesterday are going to ruin our lives.
The primer came out of my hair.
Any painting mistakes we made can be fixed later.
We're giving ourselves permission to screw up, learn as we go, and just have fun with the process.
….I bet that that THING you've been wanting to do (but are too afraid to try) is the same way.​
You might make mistakes, sure.
And you might feel like you have NO IDEA what you're doing.
What if, instead of letting fear hold you back, you asked yourself:
"What's the worst thing that could happen if I make a mistake?"
Probably nothing particularly life-altering.
Probably just an uncomfortable moment or extra time spent having to fix the mistake.
…But isn't that a risk you're willing to take to make your dream a reality?
A consequence you're willing to deal with in the short-term to reach a long-term goal?
Let me tell you:
The possibility of making mistakes does NOT make it acceptable for you to avoid trying.

​Would you rather deal with a short-term mistake/uncomfortable moment or lifelong regret?
—
It's funny how this whole "RVing" thing reminds me of when I first started my business.
I pretty much just went into every day with the attitude of:
"Fuck it, let's do this."
And that mindset (letting go of the need to be perfect and working through impostor syndrome) has been SO KEY to me getting to where I am today.
So, that THING you've been wanting to do?
That business you've been wanting to start…
That once-in-a-lifetime trip you've been wanting to book…
That big, scary, exciting goal you've been wanting to pursue…
Just fucking do it already.