Before I dropped out of college (and before I knew anything about REAL freelance writing), I took a job as a "freelance writer" for a company that paid one penny per word.
That's right.
One. Penny. Per. Word.
And the topics I had to write about weren't easy.
One time, I wrote 2000 words about C programming. It probably took me 6 hours.
…And I got paid $20.
At the time, I was excited.
I mean, I was getting paid to write.
But really, how fucked up is that?
I was so excited to write for a living that I was willing to make less than minimum wage to make it happen.
…Don't be like I was, my friend.
Just because writing is your passion doesn't mean you shouldn't be paid fairly for it.
And if you're dealing with shitty pay right now, this post is for you.
[bctt tweet="Just because writing is your passion doesn't mean you shouldn't be paid fairly for it." username="jordenroper"]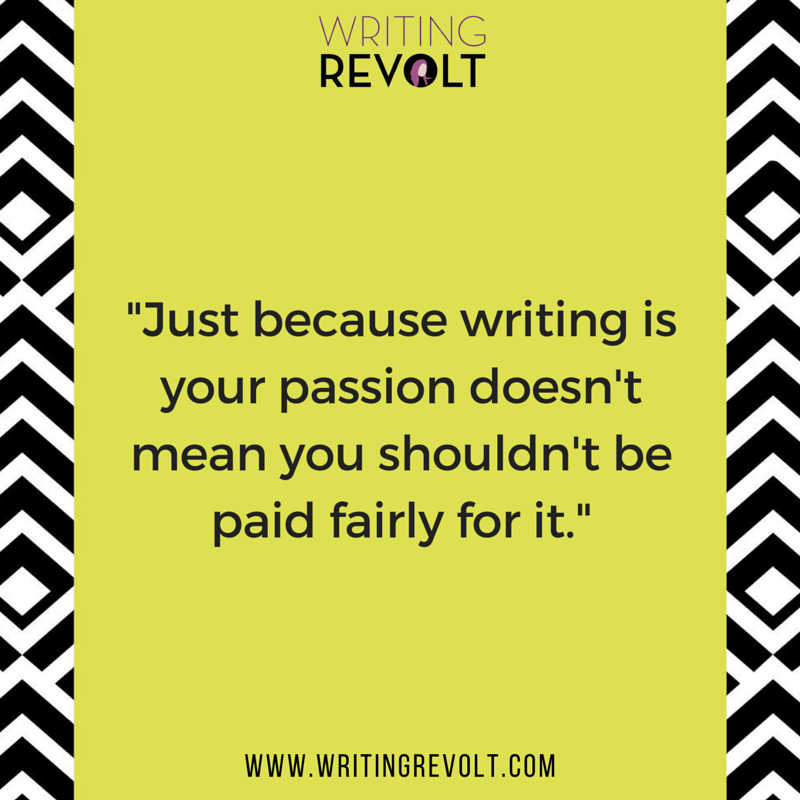 Today, I'm going to walk you through 6 things I did to double my freelance writing rates (and majorly increase my income) in less than a year. All of them are things that you can do too.
Let's start with the most obvious one.
1. Raise your rates.
I've been stalking forums full of other freelance writers for a while. And one troubling comment I see a lot is this:
"I'm not making the money I want to make right now, but I'm planning on raising my rates after one year of freelance writing."
If that sounds like you, I have a question for you:
Why are you waiting one year?
I mean, is that some kind of magical unicorn date where you'll suddenly feel like you're worth more than what you're charging right now?
Let me go ahead and answer that for you:
No. It's not.
There is no "right time" to raise your rates.
And there is no evil demon who is going to tear your face off because you raised your rates early in your career.
[bctt tweet="There is no "right time" to raise your freelance writing rates." username="jordenroper"]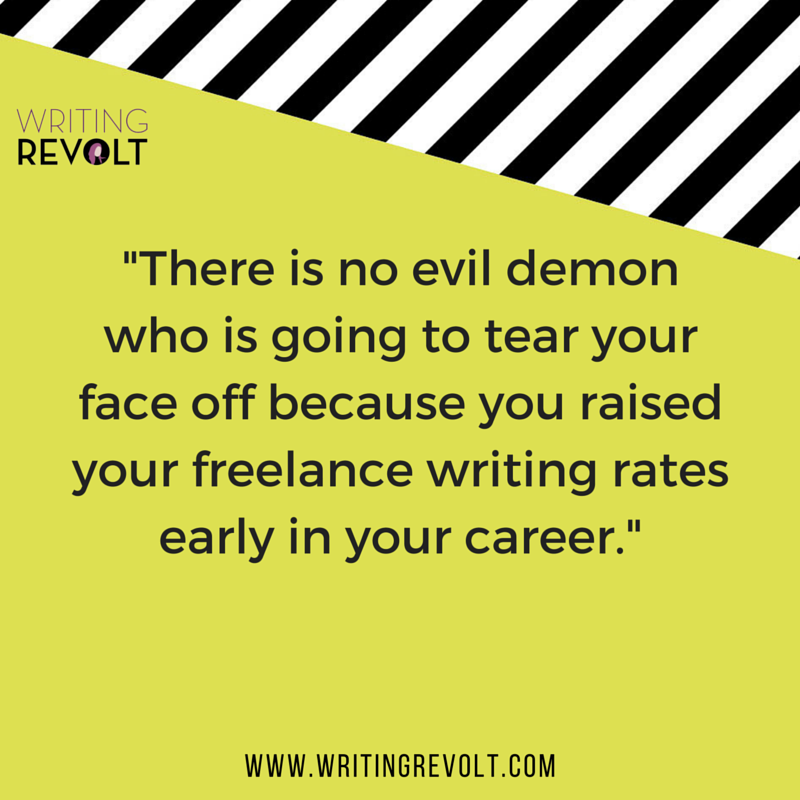 If you're a good writer and can deliver what your clients want, that's all that matters. Give them a good return on their investment, and they'll keep investing in your content.
I've been a full-time freelance writer for less than a year, and I have doubled my rates since I started. But I didn't just do it randomly – I raised my rates gradually over time.
Why?
Because I realized I was WAY undercharging, and I wanted to work less for more money. Plus, I quickly improved my writing/expertise in specific topics and added some additional skills that raised the perceived value of my services (we'll talk more about that in the next point).
Here's what the process of raising your rates might look like:
1. Get some freelance writing clients.
2. Realize that you're not charging what you're worth.
3. Decide on a higher rate, post it on your freelance writer website, and include the new rate in all of your pitches/quotes.
4. Phase out lower-paying clients and/or inform them of your higher rate.
5. Repeat steps 2-4 as needed.
That's what I did. And you can bet your ass that I'll continue to do it as I improve my writing skills and become more of an expert in my niche.

2. Learn a new skill / include add-ons.
The point of doing this is that it raises the perceived value of your freelance writing services without significantly increasing your workload.
Here are some things you could add on to your freelance writing service offering:
– SEO (especially the Yoast SEO WordPress plugin!)
– Social media marketing
– Blog post topic pitching
– Uploading a blog post to WordPress
– Outsourced editing
When you add on extra services and mention those in your pitches/quotes, you make the potential client think:
"Wow, I'm getting a LOT for the price! And this writer really knows her shit!"
(Clients LOVE working with writers who know their shit.)
And you don't even need to work crazy hard to complete those extra tasks. It's an easy way to justify charging more without significantly upping your workload.
Here's an example of how you could present your add-on services to clients in a pitch when they ask for your rate:
"My blog posts include SEO, WordPress uploading, and topic pitching. I also have a professional editor who looks over all my blog posts to make sure they're error-free and eliminate your need to proofread my work. I charge $XXX.XX per post."
I've used that pretty much word-for-word before. And I can tell you that it works.
Just make sure you present your add-ons BEFORE you give your rate so the value is already building in the client's mind before they see a number.
And then…
CHA-CHING.
3. Throw your middle finger up at content mills.
Sites like Fiverr and Upwork are about as good for your freelance writing career as sawing your hands off with a rusty steak knife.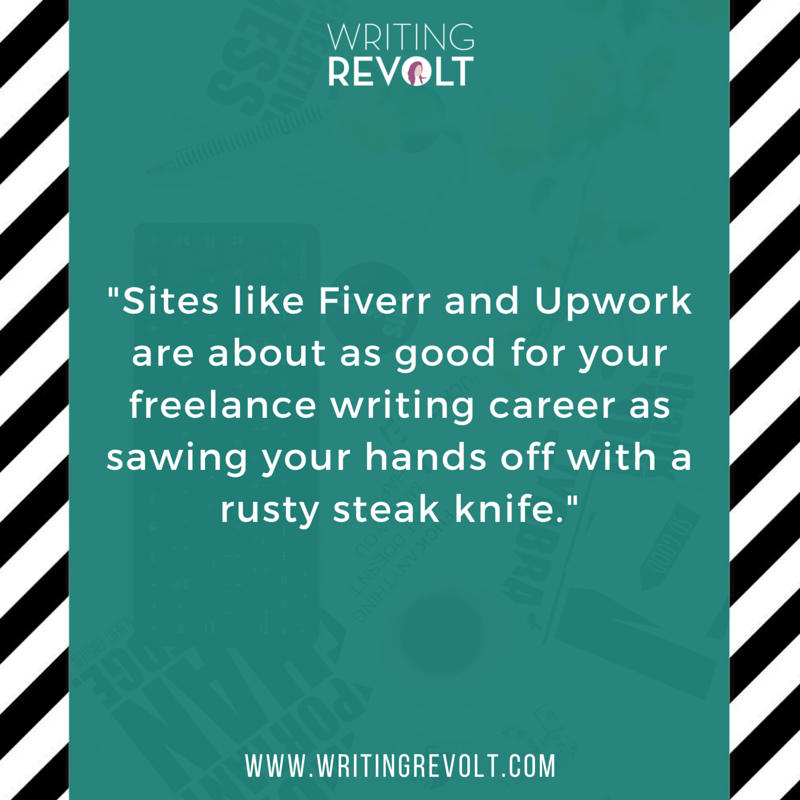 So, why are you wasting your time there?
Probably one of these reasons:
Lack of confidence – You don't think you're good enough to get real clients.
Lack of knowledge – You don't know how to get your own clients.
Instant gratification – You need a quick chunk of change, and marketing your freelance writing business isn't working fast enough for you.
I HATE content mills. I mean, if you 100% need the money to pay rent tomorrow, I completely understand why you'd consider one.
But if you don't desperately need the money, it's time for you to get the fuck off those sites, my friend.
I know the instant moo-lah makes it tempting, but it's much better to play the long game and market yourself as a professional freelance writer.
How, you ask?
Pick a profitable niche, build a freelance writer website that attracts your ideal clients, market yourself on social media, learn how to write a badass pitch, and send cold emails.
It's not a "get rich quick" type of thing, but if you do it right, it'll pay off.
It did for me, at least. I made $5,000 in my 4th month as a full-time freelance writer.
(Not saying that to brag, by the way! I just want you to know that it is possible.)
4. Be productive as fuck.
The more productively you work, the more time you have. And you can use that time to market your business or work on more writing projects.
So, you can see how being productive can help you make more money.
I know this firsthand.
I work with a freelance editor to cut down on the time I spend obsessing over whether or not my writing is perfect (because it has been a huge time suck for me in the past).
Hiring him has allowed me to spend less time editing (a task that doesn't make me any money) and more time writing (a profitable task).
But you don't have to hire an editor. Figure out what's stopping you from being productive, and eliminate it.
For example:
If social media sucks you in more than you'd like to admit, you could download a distraction-free writing environment like OmmWriter.
If you're obsessed with perfect first drafts, use an app like WriteorDie that forces you to keep writing until you reach a specific number of words.
And if you're just too tired to write, go the fuck to sleep and try again when you wake up.
5. Market your services. Every damn day.
I know, I know.
This one seems obvious. Like, "the sky is blue" obvious.
But really stop and ask yourself if you're busting your ass to market yourself every day.
If you're not, it's time to start. And there are tons of ways to market yourself as a freelance writer – you just have to figure out what's best based on your preferences and your target audience.
Here are several ways you can amp up your marketing efforts:
Start cold emailing clients – I did this when I started out and made $800 in my first month as a result. (You can read the full story in this "how-to" post.)
Write and share blog posts that specifically target your audience – For example, if you write product descriptions for eCommerce businesses, you might write "10 Essential Elements of eCommerce Product Descriptions that Entice Shoppers to Buy" Then, you'd want to use social media to get that post in front of your target audience (eCommerce business owners/content marketing managers). This allows you to position yourself as a subject matter expert — someone clients can't wait to hire.
Optimize your social media profiles and use your online presence to attract clients – Social media efforts take a while to pay off, but they do pay off. I especially recommend LinkedIn. If I hadn't been active there, I would have missed out on several high-paying clients.
If you want to read my in-depth guide to landing high-paying freelance writing clients, click here.
6. Find regular blogging gigs.
I used to do lots of copywriting, but now, about 95% of my work is blogging.
Why?
Because it's consistent work. That means I don't have to hustle all the time – I have regular clients who want weekly/monthly blog posts.
If you want to find blogging gigs, try the ProBlogger Job Board or one of these other methods of finding freelance work.
Now, ask yourself: Do I have the right mindset to command high freelance writing rates?
Many freelance writers hesitate to command a fair rate because they lack confidence in their abilities.
But if you can deliver what the client wants, you should be confident!
You don't need years of experience or a fancy degree.
I mean, I'm a three-time college dropout who has only been a full-time freelancer for about a year.
So if I can command high rates, you can too.
What's stopping you from increasing your freelance writing income? Let me know in the comments below!
And if you're interested in learning how to optimize your freelance writer website to get more clients, click the banner below for a free guide. 🙂