I've been where you are right now.
I know what it's like to be broke and frustrated because you have no clue how to start freelance writing.
You probably think that turning your passion into a career seems impossible, and maybe you're almost to the point of settling for a shitty 9-to-5 job that you hate.
But today, my friend, is not the day you settle.
Today is the day you start learning what it takes to make it as a freelance writer.
Even if you have no money.
Even if you have no college degree.
Even if you have no big, fancy portfolio.
I didn't have any of that stuff when I started out, and you don't have to either.
Let's start with one of the most important steps:
Niche selection.
Quick side note: If you want to learn the exact marketing strategy I used to build a $5,000/mo freelance writing business in 4 months after getting fired, click here and join over 7,000 writers in my free course, Make Money Freelance Writing!
Pick a niche and figure out EXACTLY who your target audience is
Your niche is the area you specialize in as a writer.
When I first started freelance writing, I decided I wanted to write website content and marketing collateral for B2B/tech companies.
Why?
Because that was an area I had some expertise in.
But you don't have to have a ton of expertise to get started. Just think about what you know and how you can turn that knowledge into a freelance writing career.
For example, if you've worked as a teacher before, consider writing about EdTech for businesses that sell tech stuff to schools. Or if you used to work at a bank, write about finance. These are 2 awesome niches that tend to pay writers well because clients in those industries can often afford it.
And if you really can't think of an area of expertise, just try to think of a few topics you'd enjoy writing about and pick the ones that are most likely to help you bring in the big bucks.
Now, I know what you're thinking:
What the fuck, Jorden? How am I supposed to know whether or not a niche is profitable??
Simple. You figure out who your client would be in that niche and research to make sure lots of those clients have a budget that will allow them to pay well for writing. Sometimes, you don't have to research — just use common sense.
When I started out writing B2B content, I did it partially because I knew that lots of big B2B/tech companies could afford my rates.
So, make sure there are high-paying clients within your niche.
And when you're picking a niche, keep in mind that you usually can't write about what you love all of the time and get paid well for it. Otherwise, I'd probably spend most of my time writing $1,000 blog posts about beer and The Walking Dead.
Create a simple freelance writer website that SELLS
If you're not a tech-savvy person, the thought of creating a website on your own probably makes you want to do this: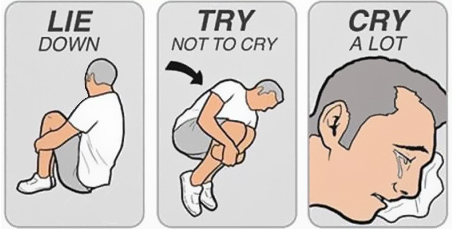 But don't worry – creating a website is so easy these days that even your 110-year-old great grandmother could do it.
For creating your site, I suggest using Bluehost + WordPress.

(Click here for a step-by-step freelance writer website tech tutorial that comes with a hosting discount and a FREE domain #SCORE!)
That's what I use for both of my websites, and I love it because it has tons of plugins and customization options.
But don't stress too much over building the perfect site, or you'll end up never getting started.
Just put something decent out there, and you can work on improving it later.
Now, I realize this section isn't super in-depth, but that's only because I have a complete tech tutorial guide to setting up your site right here.
Check it out, and get your site up and running ASAP!
Start marketing
I know, I know. As a writer, the thought of marketing yourself might be terrifying.
If that's the case, get ready to face your fears. Because you won't win high-paying clients if you don't market your freelance writing business.
Instead, you'll be stuck digging for gigs on shitty sites like Upwork and your motivation to keep freelancing will plummet faster than a drunk girl in 8-inch stilettos (AKA me at age 21).
And that's how you end up back at your lame-ass 9-to-5.
So, prioritize marketing, okay? Here are some ideas to help you get started:
Fill out your social media bios and start interacting with your target audience – LinkedIn and Twitter can be powerful client-snagging tools if you know how to use them right. First of all, make sure you include the "freelance writer" in your Twitter Bio and LinkedIn headline. You'll also want to include your niche (like "B2B") and a link to your freelance writer website. Then, start connecting and interacting with members of your target audience so you can get on their radar as a writer who specializes in their niche.
Write guest posts – Guest posts are especially awesome for newbie writers because they serve as a portfolio piece, help you build an online presence, and give you a link back to your freelance writer website (which helps with SEO). So, start pitching guest post ideas to blogs that your target audience is likely to read ASAP.
Write blog posts for your site – If you're starting out, including a blog on your freelance writer website is helpful because it gives you some solid writing samples. Just make sure your blog posts target the companies you're trying to write for and share the SHIT out of those posts on LinkedIn (obviously, this works best if you connect with your ideal clients on LinkedIn first).
And whatever you do, don't hold yourself back just because you're afraid of making mistakes.
I made a fuckload of mistakes when I started out. So did all of the other freelance writers who are successful today.
And you will too.
The important thing is that you take action NOW. You can always change your niche, build a better website, and start using better marketing tactics later.
So don't wait. Start now.
You can DO THIS SHIT!
If you want to learn the exact marketing strategy I used to build a $5K/mo freelance writing business in 4 months after getting fired from my shitty job, you can click here and join over 7,000 writers in my FREE course, Make Money Freelance Writing.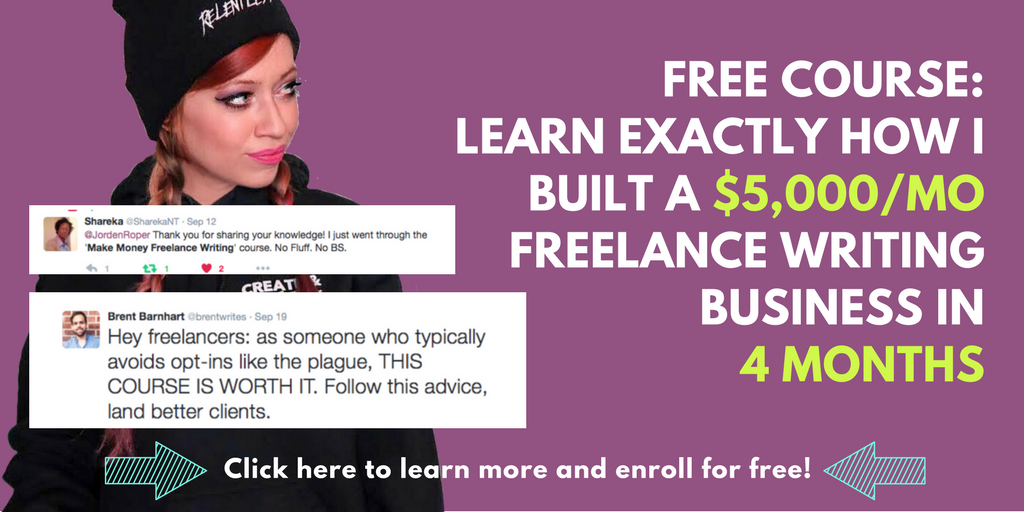 This isn't one of those piece-of-shit downloads that'll make you regret ever asking for it.
(LOL because isn't that just the worst!?)
It's FULL of actionable, step-by-step advice, and many writers who have implemented what I teach have landed clients from it!
So, click here to enroll for free, and get to work building your business.
You got this! 🙂