Hi folks! Jorden here, and I'm back with another freelance writing student success story.
Today, we're talking to Marley as she shares her experience getting over $2,500 in client work!
She's also going to be sharing a Fuck Yeah Freelance Blogging review so you can decide if the course is right for you.
(Spoiler alert: If you are looking to land high-paying clients and want to CONFIDENTLY charge $200-$400+ per blog post as a freelance writer… you NEED to be in Fuck Yeah Freelance Blogging!)
…Over to you, Marley!
How Marley Landed $2,500+ in Freelance Writing Client Work (+ Fuck Yeah Freelance Blogging Course Review!)
1. Tell us a little about yourself and your freelance writing business!
My name's Marley and I love reading, writing, and running!
I'm the owner of Campfire Copywriting, a content marketing firm for active brands.
I was always good at writing, but didn't consider it as a career path (I wanted to build roller coasters) until around 2017.
Since then, I've thrown myself into freelancing, and am excited to say I've finally built something sustainable, profitable, and most importantly, fun!
2. What is your niche / what kinds of clients do you work with?
I create adventurous copy for active brands!
This can include anything from lifestyle blogs and clothing brands to companies looking for a more out-of-the-box approach to their content.
Currently, I have one fitness client and one in the non-profit sector, and I'm pitching a bunch of activewear brands that I like and use.
3. What problems were you facing in your business that prompted you to join the

Fuck Yeah Freelance Blogging course

? Why did you decide to join?
Before Fuck Yeah Freelance Blogging, I alternated between working myself to death on UpWork and suffering through soul-sucking office jobs.
My spouse and I move every few years for his job, so I started freelance writing as a way to have a more portable career.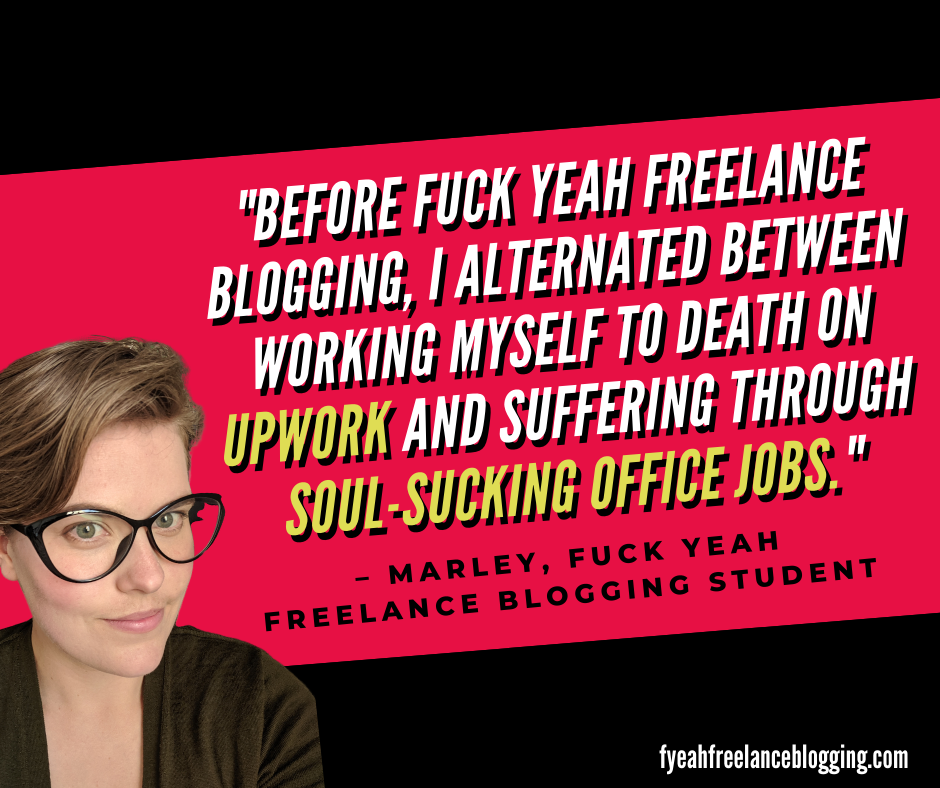 Of course, starting on UpWork meant I definitely took the long road to freelancing success.
We've moved twice since we got married in 2015, and in both locations I either worked as a temp or took on "permanent" roles that ended up being toxic nightmares.
But I was scared to go all-in with freelancing until I'd "figured it all out".
As a result, my business was more of an incredibly stressful hobby.
I was worried I would flake — again.
I'd joined Killer Cold Emailing , Jorden's beginner-level marketing course for writers, in April of 2018, and basically REFUSED to follow directions:
I didn't make a writing website (just used my general "portfolio site")

It was not at all clear what I could offer businesses

I sent out *maybe* 5 pitches/day
Despite doing everything wrong, I still got a few responses! 
But no "big wins" to keep me motivated.
When this new course, F Yeah Freelance Blogging, was released, I was definitely concerned I would do the same thing, but I had the cash and just decided to take a chance.
I was working a library job at the time, and the chill environment meant I could watch the lesson videos during lunch and breaks.
Being able to work through the course without the pressure of having to figure it out immediately made it way easier to do things right this time around.
5. What results have you seen since implementing what you learned in

Fuck Yeah Freelance Blogging

?
I've landed three amazing clients, and got a byline on an ideal portfolio piece!
The first client was a university in Texas that needed some web writing taken care of over the summer for a cool $1200/month.
I was able to take care of the work quickly, and they loved it! The combination of positive feedback (and weekly paychecks, just sayin') helped me build up my confidence and savings for a fall full of adventure.
In September, I moved to Kansas City and swore in as an AmeriCorps VISTA.
AmeriCorps is an incredible year-long opportunity to work with my dream library and get a significant chunk of my student loans paid off.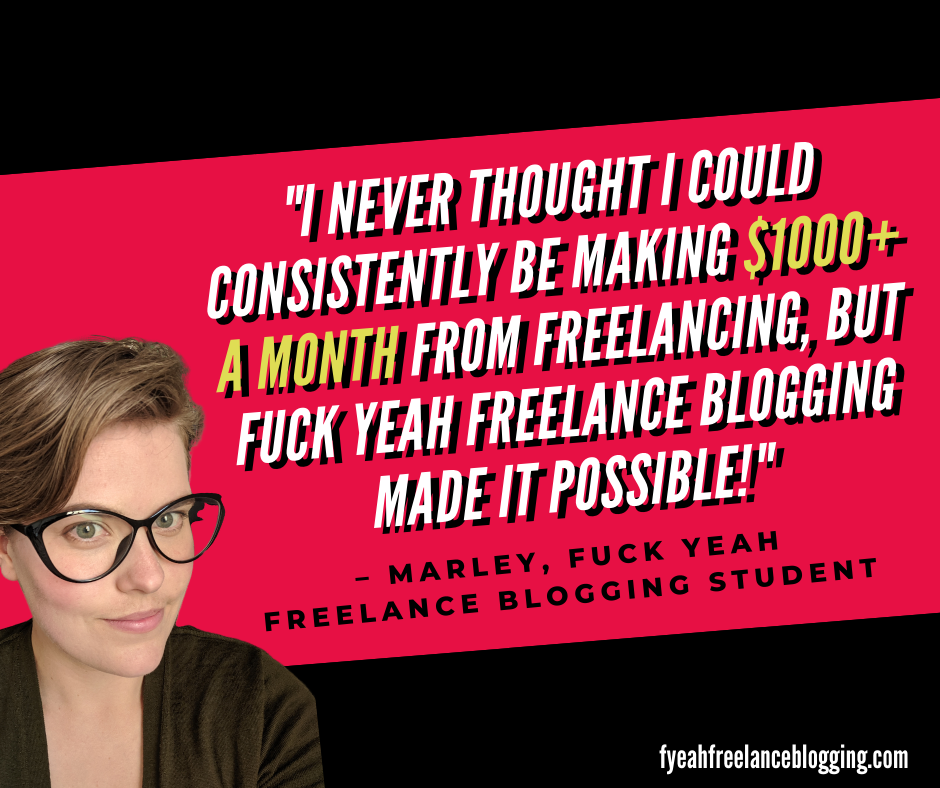 Unfortunately, the program's "living stipend" is NOT enough to actually live on.
While I had some savings from the summer, I knew I needed to get new blogging clients ASAP.
Luckily, having finally gotten serious about creating a writer website, developing a system for pitching, and actually having a LEGIT writing business has made getting new clients a breeze!
I've landed two clients since my move: a marketing agency that works with nonprofits, and a local boutique fitness studio.
The marketing agency client ends up being just over $1500/month, which easily covers my bills and is letting me build up my savings as well.
I'm actually trading the fitness studio services, so I can prioritize my health while working with a client that's a perfect fit for my niche.
I never thought I could consistently be making $1000+ a month from freelancing, but Fuck Yeah Freelance Blogging made it possible.
6. How long did it take you to see those results?
I got my first client about a month after starting the course, and got my other two clients about two weeks after moving to Kansas City.
I'm starting to reach out to some bigger name brands, and I'm excited to scale my business from here!
Building something that I can take with me is a huge investment in my future, and I'm glad to have made it.
7. What would be the main reason(s) you'd recommend this course to other freelance writers?
The system, for sure.
I'm the type to use "figuring it out" as an excuse to procrastinate, but having a tried-and-true system allowed me to finally take action.
There's no reason to keep struggling when Fuck Yeah Freelance Blogging lays out EXACTLY what you need to do to succeed.
8. Is there anything else you'd like to add?
Don't be a stubborn rebel like me, just do the course work and you'll see results!
Also:
HAVE FUN! 
I love my clients and the writing I do now, and you can too <3
Thanks Marley! We're so excited to see your business growth and glad we got to share your Fuck Yeah Freelance Blogging Review. 🙂