I don't care how much you love what you do.
Or how long you've been doing it.
Or how energetic you are.
…If you're running a freelance writing business, you're going to become unmotivated at some point.
And when that happens?
You won't work the way you need to.
And you'll lose money as a result.
You might even lose your writing business if you stay unmotivated for too long.
Everything you've worked for.
Gone, because you were unmotivated and didn't know how to fix it.
Now, here's the truth about motivation:
Motivation as a freelance writer has NOTHING to do with a ~* super neat-o morning routine starting at 5AM*~, a list of "hacks" you find online, or attending some seminar where the "motivation" costs you $10,000.
This might seem like common sense…
But it's a BIG. FUCKING. DEAL.
Because it's SO easy to fall into the trap of trying tons of tricks and routines to motivate yourself.
(None of which actually work in a sustainable way.)
And when you fall into that trap?
You're still stuck.
Unmotivated.
And now, you've got LESS TIME to work during the day because you had to spend 1.5 hours on your MoTiVaTiOnAL MoRning RoUtiNe!!
(Side note: not knocking morning routines or routines as a whole. I have a routine. But its purpose isn't motivation – that wouldn't work.)
So, what can you ACTUALLY do to motivate yourself?
And how can you stay motivated as a freelance writer, even when you're tired as shit, grumpy, and questioning your will to continue running your business?
The TRUTH About How to Stay Motivated as a Freelance Writer… No Matter What
About three years ago, I weighed 20 pounds more than I do now. (#thicc)
And I had a big problem with how I felt as a result.
How I was eating unhealthy foods all the damn time. How I felt sluggish. How I couldn't run a mile in 8 minutes anymore, when I'd spent YEARS running track and cross country.
I was an athlete in high school, and I missed feeling strong and healthy.
So, I decided:
"I want to get in AMAZING shape."
And let me tell you:
—> Working out when it's the last fucking thing in the world you want to do is tough.

—> Eating a healthy veggie bowl instead of vegan ice cream when you have Satan-sent sugar cravings is tough.
What got me through that?
What made me choose self-discipline instead of giving in to instant gratification?
My "WHY."
Every time I didn't want to work out and eat healthy, I thought about WHY I wanted to get in shape.
To fit into my old clothes and feel healthier.
To be able to run a mile in less than 8 minutes again.
To compete in a 5K (which I did, and I even placed!).
Every time I had to make a decision about working out and eating right…
I thought about my "why" – AKA my long-term goals – (REALLY thought about them, like played them out like movies in my head and imagined myself reaching my goals and how that would feel/look) instead of what I was actually doing in the moment.
The same motivation principle applies to running a business.

The #1 way to stay motivated, no matter what, is this:
Get clear on exactly WHY you're doing what you're doing, and think about THAT rather than the actual task.
…But it's not enough to say "my 'WHY' is because I want to make money."
(Just like, in the example above, it wasn't enough for me to say "because I want to lose 20 pounds.")
You HAVE TO go deeper than that.
For example…
Say you want to start a freelance writing business.
Your goal is to make $4,000/mo writing by the end of month 6.
Okay. Ask yourself:
WHY do I want this REALLY?
Again:
Don't just say "to make money."
Go deeper.
How is running a full-time freelance writing business going to make you a happier, more fulfilled person?
THAT is your "why."
For most writers I talk to, their "why" is one of these reasons (or something similar):
"So I can stay home with my pets/kids/spouse/evil Chihuahuas (just me?) all day and avoid working a 9-to-5 ever again."
"So I can stop being financially limited by a set salary – because I want to save more, retire early, travel more, etc."
"So I can travel the world full-time and have more freedom since I'll be able to work from anywhere."
And let me tell ya…
When 50 of your cold emails get rejected in a row…
When you write a blog post that totally bombs…
When you get a shit-ton of nasty emails telling you that you're a bad writer…
You'll want to throw in the towel.
…UNLESS you stay motivated by staying connected to your "why."
Think about this:
When you're thinking about how awesome it's going to be when you're traveling the world full-time as a freelance writer…
Do you think you're going to give two shits about some d-bag who sent you a rude email? Or some nasty editor who sent you passive-aggressive revisions in all caps?
No. You won't.
…I mean, it still might sting a bit, but it won't slow you down.
Because instead of thinking about how much the current situation bothers you?
You'll close your eyes and start thinking about your "WHY."
If it's traveling, for example, you'll start to think about what it's going to be like to:
—> Walking around Paris and sightsee.
—> Kick back on the beach in Bali.
—> Run a business full-time from your laptop in your pajamas.
And suddenly…
You've got rock-solid armor that'll block you from being affected by the bullshit that would de-motivate the average business owner.
(PSST! Quick side note: If you want to learn how to make your first $1,000 freelance writing, even with ZERO experience, click here to join over 7,000 freelance writers and get instant access to my FREE CLASS!)
So now…
Let's address this:
What is a PRACTICAL step you can take to stay motivated?
A 2-minute exercise you can do RIGHT NOW to get crazy motivated to grow your freelance writing business
Right now…
Open up your Notes app on your phone.
Create a new note.
Title it:
"WHY I'M __________"
(Fill in the blank with whatever you're doing: starting a freelance writing business, starting a blog, etc.)
Then, list your WHY.
Get DETAILED.
What is your life going to look like when you achieve your "why?"
Journal a bit.

(Maybe that sounds cheesy. I get it – I used to think journaling was dumb / a waste of time until I tried it consistently and realized how practical it actually is.)
For example, if your goal is to travel full time…
List out where you want to go.
Who you're going to go with.
The experiences you're most looking forward to.
How finally traveling will make you feel.
Again, it's REALLY important to get detailed and descriptive here – so much so that you feel excited and can even feel a bit of how you'll actually feel when you achieve your "why."

And every Monday morning…
Pull up this note on your phone.
(Set an alarm now if you're forgetful like me!)
Read it, and reflect on it.
Close your eyes, and imagine the feeling of achieving your goal.
Maybe this sounds cheesy…
But let me tell ya:
It. Freaking. Works.
If you care about growing your business, set aside a minute or two NOW (seriously, don't procrastinate!) to do this.
…Here's to being more motivated and productive than ever!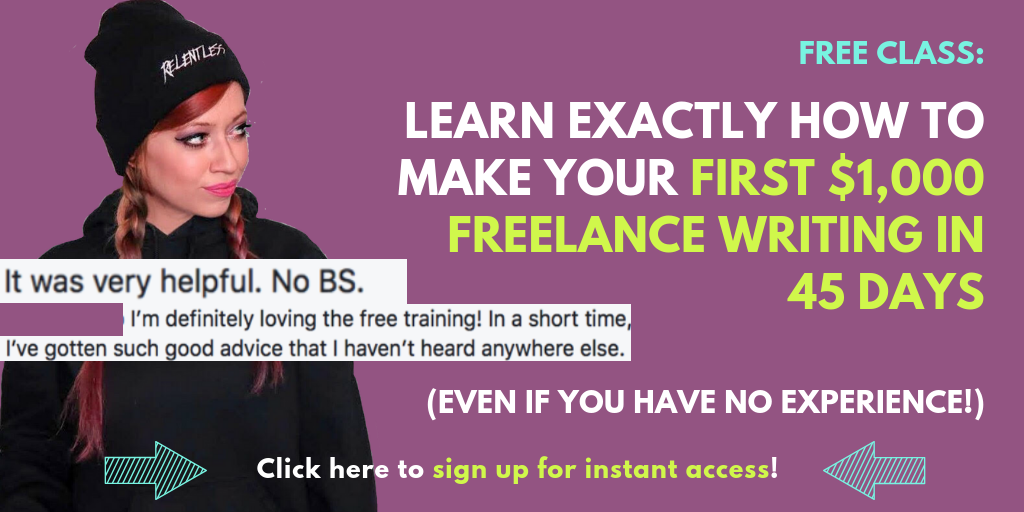 (Remember to sign up for my free class on how to make your first $1,000 writing online before you leave this blog post!)
Did you find this blog post about freelance writing motivation helpful? Click here to share it on Twitter – I've got a pre-written Tweet, so it'll only take a couple seconds to share, and I'd appreciate it SO much. 🙂