✨ I partner with companies I have personally had positive experiences with via affiliate links! If you click one of these links and make a purchase, I receive a commission at no additional cost to you. I appreciate your support as it helps me keep creating free content! You can read my affiliate disclosure for more information. ✨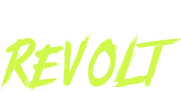 If you want to be taken seriously as a freelance writer, you need a professional freelance writer website.
BUT…
Your site needs to be set up the right way.
It should position you as the expert writer that your target clients need and make them want to work with you.
But what if you're not sure about the effectiveness of your writer website?
What if you're scaring clients off before they ever even talk to you – and you don't even know it?
Well, you're in luck, my friend.
I'm going to help you out by going over some of the most common freelance writer website mistakes I see online.
Along the way, I'll give you some tips to fix those mistakes so you can start winning more clients.
Oh, and if you'd rather watch than read, here's a video version of this post:
Let's get started.
Mistake #1: You're too vague about what you do.
If your website just says something like "I'm a freelance writer who can create the content you need," well….
You're doin' it wrong.
Because first of all, who is "YOU" in that statement?
The target client, right?
But wait a second.
If you're just a general freelance writer, your target client is… all businesses and organizations, I guess?
So, are you REALLY the best fit to create the content that ALL businesses and organizations need?
Probably not.
And even if you think you are, it's kinda hard to believe.
What you want to do instead of marketing yourself as a generalist is pick a freelance writing niche. Then, market yourself as the best fit for a specific kind of client based on your niche.
And don't be shy about your niche.
You shouldn't just stick it in the middle of a paragraph on one of your internal pages.
If you specialize in writing B2B/tech whitepapers, put a huge ass headline on your site that says you specialize in writing B2B whitepapers for technology companies.
Be specific. Your target client should know you're a good fit for them the second they land on your site.
Seriously – this small step is KEY to creating a freelance writer website that wins high-paying clients.
Mistake #2: You talk about your love for writing and a bunch of other shit that clients don't care about.
I know – you love writing.
(I mean, duh. You write for a living.)
And you probably love reading and think of yourself as a grammar fanatic.
Me too.
You and I care about those things, but our potential clients?
They don't really give a shit.
Don't get me wrong here – it's great to show some personality by putting a few things about you on your site.
On my freelance writer website, I have some personal stuff about me.
Take a look:

…But this isn't on my home page.
It's at the bottom of my "About" page.
That way, the most prominent content on my site is focused on SELLING my services rather than TELLING potential clients stuff that probably won't affect their buying decision.
Remember, your main focus needs to be showing off your expertise and proving that you are the best writer to help your target clients.
So, make sure you're not wasting valuable real estate on your site talking about things that won't help you sell your freelance writing services.
Oh, and one more thing…
Things like "I turn in error-free work" aren't exactly a selling point.
You're a writer. It's expected.
You have to do better than that if you really want to stand out to clients.
I'll say it again:
To sell your services effectively, focus on your positioning your niche expertise on your writer website.
That's what'll set you apart from other writers in a client's eyes.
Mistake #3: You have gigantic walls of text everywhere.
Can I be real with you for a second?
(Hopefully you said "yes," because I'm going to do it anyway.)
If your freelance writer website content is basically written like a novel with HUUUUGE walls of text, you're going to put potential clients to sleep.
People who read online don't actually READ most of the time – they SCAN a page for the most important points.
So that giant paragraph on your home page that contains 7+ sentences?
It might as well not even be there.
Instead of writing in big chunks, use varying text sizes, white space, and bulleted lists to draw the reader's eye to key points – like your niche, for example.
Here's how I do this on my services/rates page: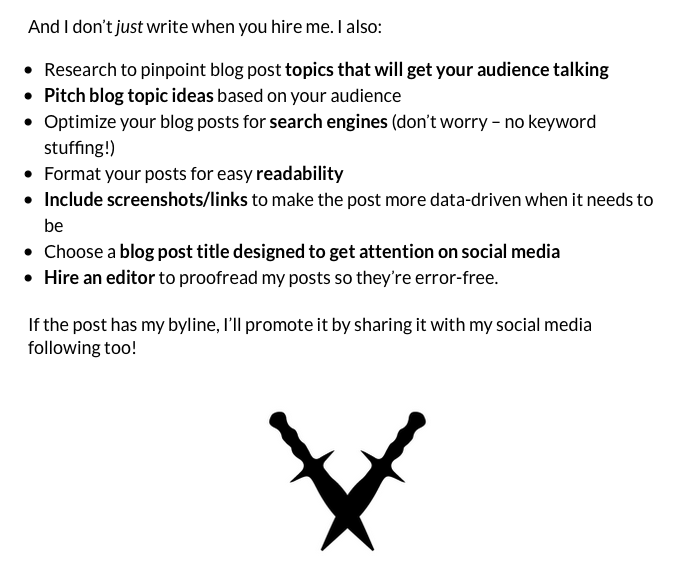 See how it works?
I've bolded the key points and presented everything in a bulleted list – not a paragraph.
And I've used an image below the list to create even more white space.
In other words, I've taken multiple steps to make sure my potential clients see exactly what I want them to see.
Mistake #4: You make it too hard for potential clients to contact you.
I once went to a writer's site and literally could not figure out how to contact her.
There was no contact page, no email address, no button.
Nothing. At. All.
Not good, right?
Nope – especially considering how busy your potential clients are.
If they can't figure out how to contact you FAST – they're going to get frustrated, give up, and look for another writer.
And BOOM – just like that, you've lost your chance at a new client. All because of something as silly as a contact form.
So, make sure it's STUPID EASY to get in touch with you, no matter what page of your website your client is looking at.
Related reading: How to Set Your Freelance Writer Website Up As A Clueless Beginner
Mistake #5: Your freelance writer website looks like it's straight out of 1995.
I get it.
You're a writer, not a web developer.
But honestly?
That's no excuse for having a site that looks like it was made during the age of Beanie Babies.
Today, it's pretty easy for anyone to set up a site.
There are drag and drop builders out there that you can use to set up a professional freelance writer website in ONE day or less – even if you aren't tech savvy at all!
Bottom line:
If your site doesn't look professional or it looks like it was built 20 years ago, re-design it.
Because look – you're not going to land a $1,500/mo client if you have a web presence that make clients feel like you're only worth 20 bucks. 
Investing time and money into your business shows clients that you are a real business owner who is worth paying well.
I personally use WordPress and a paid theme called Divi (all Divi links are my affiliate links – because I LOVE Divi!) because it has a drag-and-drop builder that's super easy to use.
Check out how I built my portfolio page with the Divi theme:
But you could also use Squarespace, Wix, Weebly – all of those are website builders.
You don't have to spend a ton of time and money to get your site up and running. But you SHOULD be prepared to spend a little on hosting, a domain, etc.
And that brings me to my next point.
Mistake #6: You don't have a custom domain.
You do NOT want your website domain to be something like "mywebsite.weebly.com."
No – you want a custom URL for your website so it's just www.mywebsite.com.
Click here now to get a free domain from Bluehost, the company I personally use and enjoy (this is my affiliate link where you get a special discount for being a Writing Revolt reader – I appreciate the support!).
Why?
Because your website needs to position you as a business owner – not a desperate freelancer who is just trying to make a quick buck.
And a custom domain will help with that – a lot.
So name your business, and use your business name as the URL for your website.
Or just use your name – whatever works best for your brand.
Mistake #7: Your website is actually just a portfolio page.
Your freelance writer website is NOT a portfolio.
You've gotta stop calling it that, okay?
Your portfolio is JUST ONE PAGE on your freelance writer webstie, and it's not the home page.
Your home page should be dedicated to showing off your niche expertise and positioning yourself as the writer your target clients need. 
It's all about selling your services – not just slapping up some samples on a one-page site, crossing your fingers, and hoping a high-paying client will magically find you.
(Because that ain't gonna happen.)
So, if you just have a portfolio right now, take the time to set up a full freelance writing business website for yourself.
Now, you may be thinking:
A website costs too much. I'm not going to spend any money until I'm already making a lot of money freelance writing.
Well, it really doesn't get any more backwards that that.
I'm not just saying shit either – when I started freelance writing, I had just been fired, and my husband's work contract had just ended.
Yeah… we weren't exactly rollin' in the cash.
But I invested a little in myself and got what I needed to get my site set up.
I know I would be able to make the money back fast, so it'd be worth it.
And THAT was a big part of the reason I was able to land high-paying clients – even though I was jus starting out as a freelance writer.
Now, I'm not saying to rush out and spend thousands on a website. You definitely don't need to do anything crazy like that.
But I encourage you to at least get a custom domain and a theme that looks professional (even if it's a free theme).
As a business owner, you can't just look at price tag – you have to think about the return you're going to get on every investment you make.
There's a much better chance you'll be able to land high-paying clients quickly if you have a pro website, and that means you can make the money you spent on your site back FAST if you REALLY go after clients.
If you want help setting up your site, check this out:
The Complete Guide to Setting Up a Pro Freelance Writer Website in 1 Day or Less
It's a blog post that will walk you through EXACTLY how to set up a pro website in ONE day – even if doing technical stuff makes you want to gauge your eyes out.
I also have a case study right here that will show you how I optimized my freelance writer website to convert more visitors to clients:
Case Study: How I Turned My Freelance Writer Website Into a Client-generating Machine
One more thing:
Don't obsess over making your website perfect.
Sure, you'll want to follow some basic best practices.
But give yourself permission to make mistakes and change your site over time too.
We all start somewhere.
And it's better to get started freelance writing right now, fuck up, and learn from your mistakes than it is to keep delaying due to perfectionism.
What's holding you back from setting up and/or re-designing your freelance writer website? Got any questions? Share in the comments section!