When you really think about it…
New Year's resolutions are weird.
Lol, like, we spend all of December looking forward to January 1st, expecting that some ~* magical date on the calendar *~ is going to totally change our lives for the better.
"I'm really going to do it this year!"
…And then we wake up one day, realizing it's January 16th, and we've already totally said "screw it" to the resolutions we were SO passionate about just two weeks ago.
(That's right. I'm calling you out.)
This happens for a simple reason…
Shit doesn't change unless YOU change it.
Maybe you had big plans for your freelance writing business in 2020, but you haven't gotten started yet.
….Orrrrr maybe you just feel a bit aimless and frustrated because you "still can't get any freelance writing jobs, damn it!"
If that's you, keep reading because this email is going to cover the reasons you haven't been able to get freelance writing clients.
Let's start at the beginning:
Why You Still Can't Find Any Freelance Writing Jobs
1. You don't have a SMART goal.
If you have no goals, then you have nothing to work toward.
…And this leaves you sitting around, aimlessly posting on Twitter/IG, but never doing any work that actually lands you clients or gets you closer to your income goals.
I mean, you can't reach a goal that you don't have. Not only should you have a goal, you need to also write that shit down.
And make sure you're got the right kind of goal. A SMART goal:
Specific – "$1,000/mo" instead of "making money writing"
Measurable – "$5K/mo by July 2020" instead of just "$5K/mo"
Achievable – …AKA *not* "$1,000,000 freelance writing by next month. It can be challenging but needs to be realistic too.
Relevant – This is something that will help you reach a bigger life goal, your "why," like traveling full-time or staying home with your kids.
Time-sensitive – You MUST have a deadline for your goal. Again… this is a MUST.
Example SMART goal:
"I want to make $5,000/mo freelance writing by July 2020 so I can travel full-time."
2. You aren't "working backwards" from your SMART goal to create smaller milestones.
Alright, now you've got your "big picture" SMART goal and your reason for wanting to do it.
Now, it's time to create smaller SMART goals that will lead you to your bigger goal.
I like to call this "working backwards" and it's a process I teach in my Killer Cold Emailing course.
An example of a smaller milestone SMART goal could be:
"I will send 15 cold emails to potential freelance writing clients every weekday until I land X clients or make $X. This way, I can hit my goal of making $5K/mo by July 2020."
BUT:
Here's where many writers go wrong:
…They don't actually *know* what their smaller goals should be.
So they're all like, "HELL YEAH, I'm ready to make $5K/mo!"
But they don't know what to do next.
…So they end up just searching endless free blog posts and YouTube videos, trying to piece together some random marketing tactics INSTEAD of using a proven, step-by-step marketing strategy.
And failing because of it.
Which leads me to the next point:
3. You didn't create a real plan of action to find freelance writing jobs based on proven strategies.
Look, you can post cute pictures on Instagram and funny quips on Twitter all day long…
But you're not going to get a steady, predictable stream of clients from it.
And clients are what you want right? Not likes and follows?
(YES. YOU WANT CLIENTS.)
If you want to make a living freelance writing, you have to stop just doing a bunch of random shit, and instead use one proven, cohesive marketing strategy.
FOCUS, friend.
Here's an outline of the strategy I teach that has allowed so many of my students to land amazing, high-paying writing clients and grow full-time writing businesses:
Pick a niche.
Market the ever-living shit out of your niche.
Create a writer website and samples.
Start pitching.
You can learn about this entire process in-depth by taking my free class right here.
Over 7K writers have taken it, and I've been emailed again and again by writers letting me know that this free class helped them land paid work!
So if you really want this and want to stop struggling…
Click here and sign up for instant access to my free class on how to make your first $1,000 freelance writing, even if you're a total beginner with no experience.
4. You didn't schedule your plan into a calendar and commit to it.
Cool, you've taken my class and now you have a marketing plan in place.
You know exactly what you need to do to get clients.
…Now, it's time to plug that proven marketing plan into your calendar.
Here's a screenshot from my best-selling Killer Cold Emailing course showing an example schedule for a freelance writer starting their business: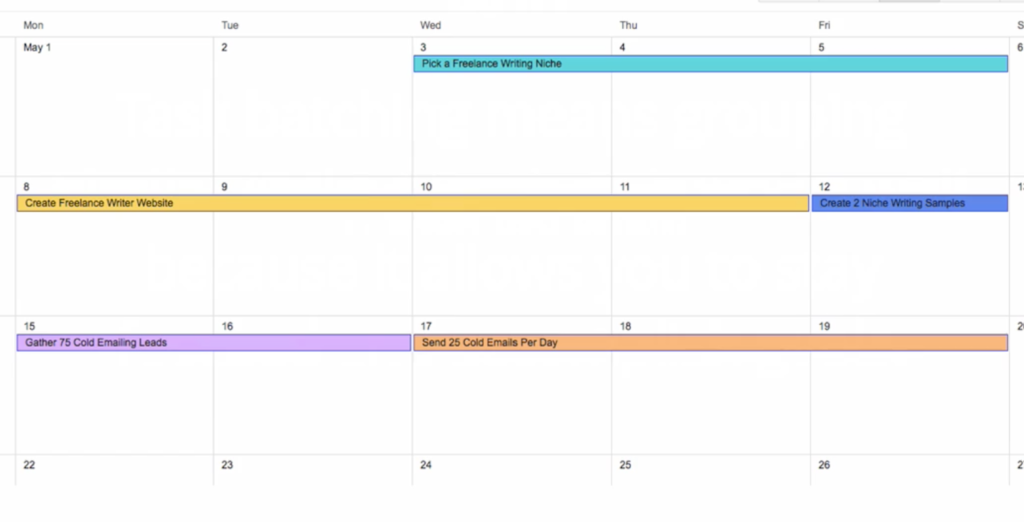 See how this works?
Once you know EXACTLY WHAT THE F you need to do, you can put those tasks in a calendar.
Your schedule may look different than the one above depending on your life and the time you're willing to put in.
But the tasks are roughly the same, and if they're in a calendar, you can move them around as needed.
No bullshitting around on Twitter and hoping for the best. No more posting on Facebook to an audience of your mom and grandma.
You can focus on EXACTLY what needs to be done – the tasks that you know are going to land you paid writing client work when done correctly.
And this means, you can actually hit your goal of $5K/mo predictably!
(SIDE NOTE! If you don't know how to pick a niche, how to cold email and pitch, how to create a portfolio site, etc. then you need to take my free class. Click here to sign up for free, instant access.)
See, when you map your tasks out on a calendar and track the results, you start to get an idea of the results you can expect in the future.
For example, if you start converting 1 out of every 20 cold emails you send to a client that pays $500+, then you know that:
—> You only need 10 clients at $500 to hit your goal of $5K.
—> You're going to have to send about 200 cold emails to get the clients you need to hit $5K.
Obviously, not everything is this cut and dry. But it's still incredibly helpful to think about things this way.
So PLEASE do yourself the favor of sitting down to map out your big goals, and then put your smaller goals into a calendar that you hold yourself accountable to.
And remember, you must focus on revenue-generating tasks – no wasting time on other random bullshit tasks that feel "busy" but aren't actually landing you paid work.
Once you've got a proven marketing plan you're putting into place to land clients, pretty much the only other reasons you would fail are mindset issues.
The most common one is:
5. Not having a "business owner mindset."
This will pretty much set you up to fail no matter what you do, and it manifests in several ways, like:
(…lol get ready to get dragged – lovingly, of course)
"I'm not going to spend any money on my business until it makes money!"
"I'm just going to charge $15 per blog post and become my client's bitch."
"I'm too scared of rejection or failure to even act! Maybe I'll just read a few more blog posts…"
First of all, you've gotta spend money to make money. That's just the way it is.
If you're not even willing to shell out a bit of cash for the BASIC ESSENTIALS, like a pro freelance writer website, you're screwing yourself over from the start.
(I've invested in my business in so many ways over the years, from websites to courses and coaching to software and beyond. Because that's what it takes!)

And look…
You need to charge for your work like a business owner. And you need to stop using unconfident language in your pitches / acting like an employee who is desperate for a "job."
(You aren't looking for "freelance writing jobs." You're a business owner looking for "clients!")
Don't even get me started on letting fear hold you back. I mean, I get it. Fear sucks.
But fear happens to everyone.
The successful people push through and take action anyway.
You're going to screw up! So what?
Give yourself that permission and learn from your mistakes.
(…Although, you're MUCH LESS likely to screw up if you follow the tips in this email and take my free class on how to create a marketing strategy that gets you to your first $1,000 as a freelance writer. Just sayin'.)
6. You're disconnected from your "why" – AKA your reason for your goal.
Why do you want to become a freelance writer?
…Don't just say "to make money."
That's cool and everyone can relate.
But WHY do you want to make the money?
Maybe it's one or all of these reasons…
—> "So I can travel full-time!"
—> "So I can quit my soul-sucking day job!"
—> "So I can be at home with my kids!"
Write your "why" down, because it's going to be the thing that keeps you motivated when you're facing fear, rejection, and mindset issues.
The good news: You don't have to keep feeling stuck and wondering why you can't find any freelance writing jobs.
In fact, freelance writing clients doesn't have to be hard. 
…It just requires you to make some changes. To your mindset. To your actions. And to the way you approach finding work.
I'm not going to say finding freelance writing jobs is the easiest thing on the planet, but it's definitely easier  than I thought it would be when I started out.
…At least, once I found the right marketing strategy and used the right pitching process, it was easier.
Yes, it required spending time pitching and investing in myself, but it was so damn worth it.
If I hadn't invested in myself in 2015 and started a business BEFORE I felt ready, I wouldn't be where I am today (working from home making a great living, traveling when I want to, and having freedom from shitty bosses and jobs!).
I don't want you to let 2020 slip by (btw can you believe it's already the middle of January?! holy shittt.) without accomplishing your goal of growing a freelance writing business.
So right now, I want you to SET A GOAL (write it down!) and create a plan of action for 2020.
No more feeling like you can't find any freelance writing jobs, friend.
If you don't know EXACTLY what you should be putting into your calendar and what you need to do to get clients….
Click here to sign up and get instant access to my free class on how to make your first (or next) $1,000 freelance writing, even with no experience.
See you there. 🙂